July 11, 2021 by jacobrohrbach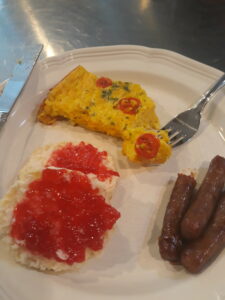 Are you looking for an easy, colorful breakfast casserole that looks amazing and tastes great?  Well, we have the answer for you with our Italian Egg Bake.  This is one of our favorite savory dishes, especially when we have a full house. 
This recipe makes approx. 10 servings and here are the ingredients you will need: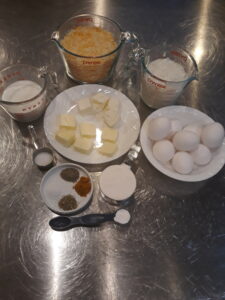 8 Eggs
1 cup half and half
1/2 teaspoon salt
1/2 teaspoon pepper
2 teaspoons sugar
1/2 teaspoon McCormick Italian Seasoning
1 teaspoons turmeric
6 tablespoons (3/4 stick) unsalted butter, cut into cubes and softened to room temperature
4 oz. cream cheese, cut into cubes and softened to room temperature
1 16 oz. Container of small curd cottage cheese
4 cups of four Mexican cheeses, shredded 
1/2 cup flour
1 teaspoon baking powder
2 tablespoons of chopped parsley, divided
a few Roma tomatoes
Preheat oven to 350F and spray a 9″ by 13″ pan with Pam.
In a large mixing bowl, beat eggs and mix in half and half, salt, pepper, sugar, Italian seasoning and turmeric. 
Beat in softened butter, and the softened cream cheese.  Now beat in cottage cheese, thoroughly.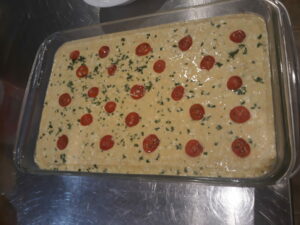 Add four shredded cheeses; mix in flour and baking powder, 1/2 tablespoon of parsley then mix all that in thoroughly.
 Pour all into greased pan; sprinkle with remaining parsley and place some thin slides of Roma tomatoes on top.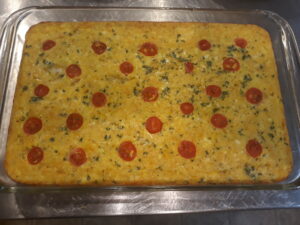 Cook at 350F for approximately 45 minutes or until set and ever so slightly browned around edges. 
Let cool for about 5-10 minutes, cut into 8-12 pieces. Serve with a side of breakfast sausage  and of course a homemade Southern Biscuit.
April 25, 2021 by jacobrohrbach
Just in time for the summer season – here's a new scone we call Strawberries & Cream.  Our returning guests are in for a real treat this year.
Strawberries and Cream Scones  – serves 16
3/4 C cold butter (1 1/2 stick)
1 C buttermilk
2 sample bags of Original Scone mix
1 C  dried chopped strawberries *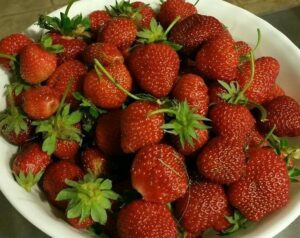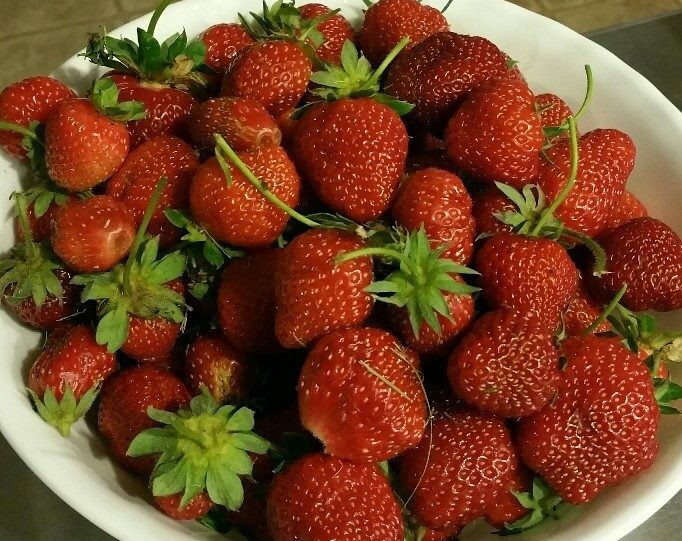 Last year we purchased a new dehydrator so when we have a batch of strawberries that we're not going to be able to use right away, we slice them up and dehydrate them for another day.  And today's the day.

Pour contents of bags into mixing bowl. Cut in 1 1/2 sticks chilled butter until mixture is fine and crumbly.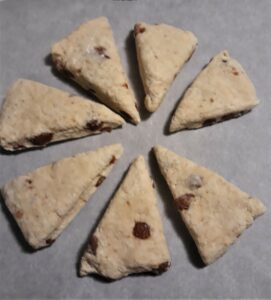 Now chop the strawberries if needed and add to the mixture.
Stir in buttermilk.  Dough will form a soft ball. Turn dough out onto floured board, and knead gently 3-4 times
Pat out the ball of dough into a flattened circle, 6-7" in diameter, approximately 3/4- 1" thick.
Using a sharp knife, cut circle into eighths.
At this point you may freeze the dough to be used later.
Place scones on parchment lined cookie sheet. Bake in preheated oven at 425 degrees for 13-18 minutes (time will vary with scone size). Top should be light golden brown when done.
While the scones are in the oven, it's time to make the cream .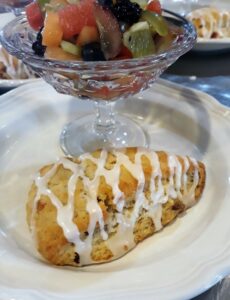 Cream Drizzle Glaze:
3/4 C Powdered Sugar
2-4 Tablespoons Heavy Whipping Cream**
Add cream to sugar one tablespoon at a time and stir with spoon until mix is smooth and falls gently and evenly from elevated spoon.  Drizzle over scone or spread in an even glaze to top of cooled scone.
Tips:
– Butter should be really cold, the colder the better
– Treat scones like biscuits, the less you play with them the better
– Place cut scones on parchment/wax paper and freeze, then store in a plastic bag in the freezer. This allows you to remove and bake only what you need.
– Bake from frozen, no need to thaw
*If strawberries are over dehydrated you may reconstitute them, just make sure you drain them well before use
**  You can use 1/2 & 1/2 or milk if needed, but the whipping cream really dose make a difference to the flavor of the glaze 
(Recipe adapted from our friends at Victorian House Scones)
January 25, 2021 by jacobrohrbach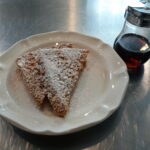 Here is a delicious twist on an old classic. Crunchy French Toast is a cereal crusted french toast recipe.  Thick slices of bread are dipped in a cinnamon batter and then coated in crushed cereal.  It's light and fluffy on the inside, crunchy on the outside and super easy to make.  This is a sure bet to become your family's new favorite breakfast!
This recipe makes four servings and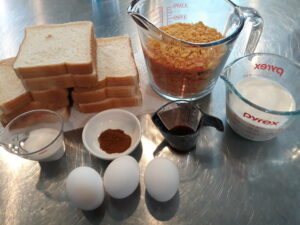 here are the ingredients you will need:
3 large eggs
1 cup half-and-half
2 tablespoons sugar
1 teaspoon vanilla extract
1/2 teaspoon ground cinnamon
pinch of nutmeg
3 cups coarsely crushed cornflakes cereal
8 (3/4 inch think) diagonally cut slices of French or challah bread – We use Texas Toast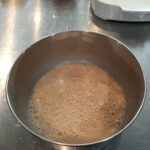 In a shallow bowl, combine eggs, half and half, sugar, vanilla cinnamon and nutmeg; beat well.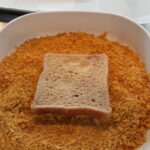 Place crushed cereal in another shallow bowl.
Dip each bread slice in the egg mixture. making sure bread is well soaked egg mixture is absorbed.
Then coat each slice with cereal crumbs.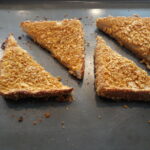 Place on 15x10x1 baking sheet; cover and place in freezer for 1 – 2 hours or until firm.  
Heat oven to 400 F.  Bake bread slices 15-20 minutes or until golden brown, turning once.
To serve, slice baked French Toast on the diagonal; serve 2-3 piece per person.  Garnish with powdered sugar, syrup, fresh berries and/or whipped cream.
At the Inn we often whip up a batch of cannoli dip to serve on the side.
2 cups ricotta chees
1 (8 ounce) package cream cheese
1 1/2 cups confectioners' sugar
1 teaspoon vanilla extract
1/2 cup miniature semisweet chocolate chip
Beat ricotta cheese and cream cheese together in a bowl until smooth then add the sugar and vanilla.  Continue to stir mixture until sugar is completely incorporated.  Fold chocolate chips through the cheese mixture.
Cover the bowl with plastic wrap and refrigerate until chilled, at least 10 minutes.  To serve with Crunchy French Toast, scope into a small bowl, garnish with some additional chocolate chips.  
Try our Crunchy French Toast and Cannoli Dip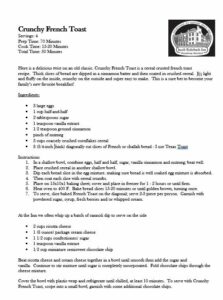 October 27, 2020 by jacobrohrbach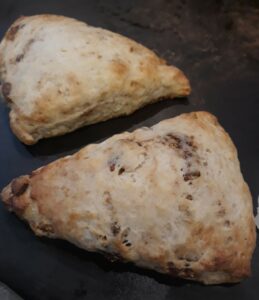 Each year we try to add a few new varieties of scones to our selection list, especially for our returning guests.  This year one of our favorites is a Fig, Walnut and Goat Cheese scone.  It is perfect for the holiday season.
Fig, Walnut and Goat Cheese  Scones  – serves 16
3/4 C cold butter (1 1/2 stick)
1 C buttermilk
2 sample bags of Original Scone mix
1/2 C  dried chopped figs – *soak in 2T balsamic vinegar for 15 minutes
1/4 C  walnuts, chopped
8 oz. crumbly goat cheese*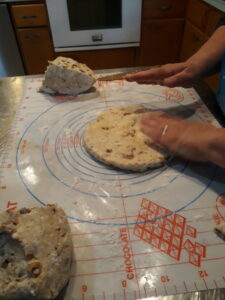 Pour contents of bags into mixing bowl. Cut in 1 1/2 sticks chilled butter until mixture is fine and crumbly.
Now add the crumbled cheese and chopped walnuts. Drain chopped figs and add to mixture.
Stir in buttermilk.  Dough will form a soft ball. Turn dough out onto floured board, and knead gently 3-4 times
Pat out the ball of dough into a flattened circle, 6-7" in diameter, approximately 3/4- 1" thick.
Using a sharp knife, cut circle into eighths.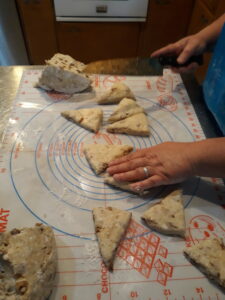 At this point you may freeze the dough to be used later.
Place scones on parchment lined cookie sheet. Bake in preheated oven at 425 degrees for 13-18 minutes (time will vary with scone size). Top should be light golden brown when done.
Lightly powder scones and serve warm with a to small scoop of cinnamon butter.
Tips:
– Butter should be really cold, the colder the better
– Treat scones like biscuits, the less you play with them the better
– Place cut scones on parchment/wax paper and freeze, then store in a plastic bag in the freezer. This allows you to remove and bake only what you need.
– Bake from frozen, no need to thaw
*May substitute gorgonzola for a more savory taste
(Recipe adopted from our friends at Victorian House Scones)
Print the recipe
Fig Walnut and Goat Cheese Scones
August 4, 2020 by jacobrohrbach
As we close out the Dog Days of Summer and start dreaming of the cool weather of Fall, here's a perfect breakfast or brunch dish to get you in that Autumn mindset.

Baked oatmeal is a traditional and comforting Amish breakfast dish . Unlike regular oatmeal, which is made on the stove-top and has a porridge-like consistency, baked oatmeal is made in the oven and has a consistency similar to bread pudding.
These recipe makes six servings and here are the ingredients you will need:
• 2 cups old-fashioned rolled oats (not instant) 
• ¾ cup light brown sugar 
• 1 cup walnuts or pecans, divided
• ½ cup raisins 
• 1 teaspoon baking powder 
• 2 teaspoons cinnamon 
• ½ teaspoon salt 
• 2 eggs 
• 2 cups milk
• 1 teaspoon Vanilla extract
• 4 Tablespoons unsalted butter, melted, plus more for dish 
• 2 tart yet sweet baking apples, like Honey Crisp, peeled and cut into ½-inch chunks (about 2 cups)
Preheat the oven to 325°F. Grease an 8 or 9-inch baking dish with butter (we use individual ramekins).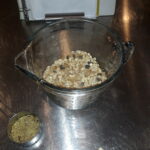 In a medium bowl, combine the oats, brown sugar, ½ cup of the nuts, raisins, baking powder, cinnamon and salt. Mix well.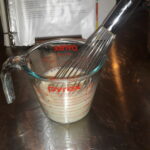 In another bowl, break up the eggs; then whisk in the milk and vanilla until well combined.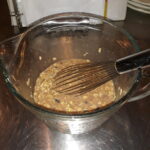 Add the milk mixture to the oat mixture, along with the melted butter.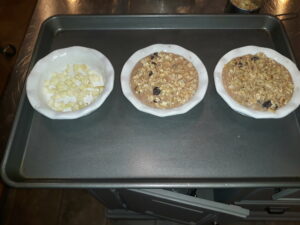 Scatter the apples evenly on the bottom of the prepared baking dish. Pour the oatmeal mixture over top and spread evenly. Sprinkle remaining ½ cup nuts on top. Bake for 40-45 minutes, until the top is golden and the oats are set.
Serve warm or at room temperature. Dust with powdered sugar.
Try our Amish Style Baked Oatmeal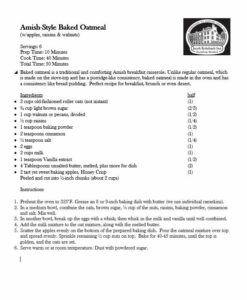 May 6, 2020 by jacobrohrbach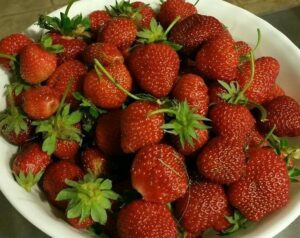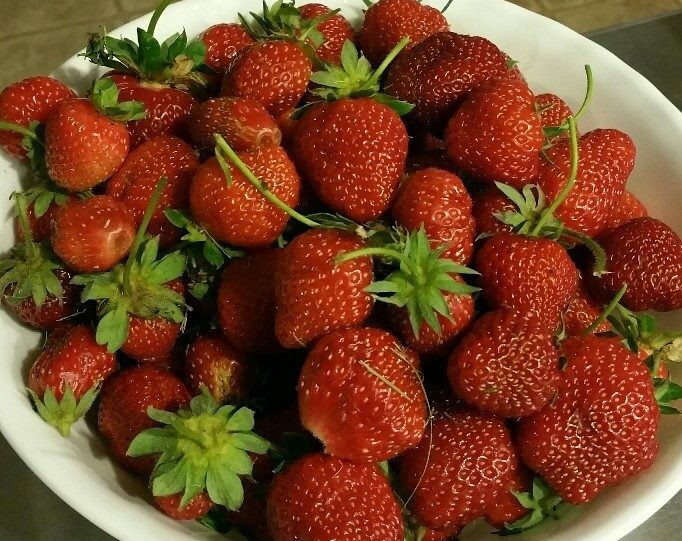 Nothing is better than fresh Strawberries – and May is National Strawberry Month!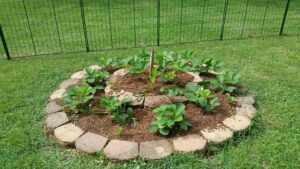 We love them so much we even have a patch, or three, at the Inn and try to serve them every chance we get.  This super easy recipe makes the best jam you have ever eaten.
Mix crushed strawberries with sugar, and let stand for 10 minutes, stirring occasionally. Meanwhile, stir the pectin into the water in a small saucepan. Bring to a boil over medium-high heat, and boil for 1 minute, stirring constantly. Immediately pour the boiling pectin mixture onto the strawberries.   Mix for approximately 3 minutes or until sugar is totally dissolved before pouring into jars or other storage containers.
Place tops on the containers and leave at room temperature until set.  Can be left at room temperature for a maximum of 24 hours, but it usually only takes a few hours to solidify. Place into freezer, and store frozen until ready to use.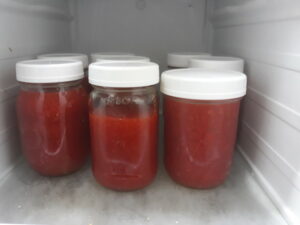 Makes 4 cups
2 cups fresh strawberries – crushed
4 cups sugar
3/4 cup water
1 (1.75 ounce) package dry pectin
This strawberry freezer jam is quick, easy and delicious on toast, ice cream or even in milkshakes. Keep jars of this in the freezer and take them out when you are ready to use them. Once thawed, the jam will technically last about 1 month in the refrigerator, but we have never had a jar not disappear in a week!
February 29, 2020 by jacobrohrbach
We love to do frittatas at the Inn.  They are super easy and versatile, yet look really impressive when served.  Breakfast, lunch, brunch or even dinner, they make a beautiful and filling meal.  While we plan ours and use ingredients based on what is seasonal, they are a great way to 'clean out the fridge'.  I am giving the ingredients used for our veggie version, but you could easily add meat to yours if you wanted.  Most frittatas are done in a cast iron skillet on the stove top and then baked in the oven.  While you can use that method, we do ours in ramekins (as I have a bit of an obsession with them at the moment) and just bake them.  It allows us to customize each one if needed, depending on dietary requirements.  You could go crazy and make each one different and do a frittata tasting to find your favorite.
Ingredients:  makes 4 individual frittatas
1/2 cup chopped onion
1/2 cup chopped green pepper
1/2 cup chopped sweet red pepper
1 cup potato, cooked and cubed
1 cup chopped spinach
3 tablespoons butter or olive oil
8 large eggs
1/2 cup shredded cheese of choice
1/2 cup sour cream
salt and pepper to taste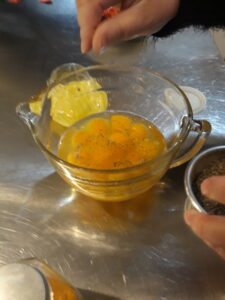 Spray individual ramekins well with non stick spray and set on foil lined tray.
In large bowl beat eggs until well blended, add sour cream and mix again.  Stir in cheese, salt and pepper and set aside.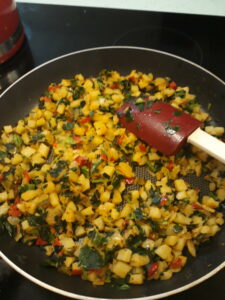 Add oil and a little butter to a pan over medium heat, add cubed potatoes and brown all sides.  Remove potatoes to a bowl and set aside.  Add another pat of butter to warm pan and add peppers and onions, cook until tender, stir as needed  When onions and peppers are cooked add chopped spinach to pan (add a little more oil or butter pat as needed).  Stir frequently to prevent spinach from burning and cook until wilted.  Add potatoes back to veggie mixture and mix well and until all ingredients are warm.
Divide veggies between the 4 ramekins and then ladle egg mixture over top.
Bake at 350 degrees for approx 30 minutes,  remove and let set for 5 minutes.  This can either be served in the ramekin or removed and then plated.
OK, now that I have given you the ingredient list, I'm going to make a confession……I usually just wing it.  These are the amounts that I started with and a few thousand frittatas later, I just eyeball it.  Good rule of thumb is 2 eggs per person, depending on how 'loaded' you plan on making them.  That is why I love frittatas so much.  There is no right or wrong way to do them.  Hate onions or spinach, leave them out….love potatoes, load it up…..need meat, throw it in!  You are only limited by your imagination (or the contents of your fridge!)
Now, a few tips that you might find helpful on your frittata journey.   It's OK to use frozen breakfast potatoes if you don't have a leftover baked potato, just brown them good first.  Frozen chopped spinach can be a lifesaver during the winter when you can't find, or afford, good fresh produce.  Regardless of what your children might tell you, no one ever died from eating spinach!  I know I said cheese of choice,  but go light on the cheddar it tends to get oily when you bake it.   You might also notice that there is no milk or cream listed, I almost never use it in my egg dishes. I use sour cream instead, it makes all of your egg dishes really light and fluffy.  Seriously, try it, you can thank me later….
October 29, 2019 by jacobrohrbach
This is the perfect breakfast for when  you want something a little special, but don't have time to make a fuss.   It is a twist on traditional french toast, but you make it the night before and just pop it into the oven the next day.   With the gooey center and chewy edges it's a crowd pleaser at a holiday brunch.  Because of its' sweetness, it is best served with salty bacon or spicey sausage
Butter or spray a large 15″ rectangular dish.  Slice the cinnamon raisin bread (Ours is fresh from Burkholders Baked Goods here in Sharpsburg) about an inch thick and lay slices flat to completely fill the dish.  You may need to cut the edges or add pieces as necessary to ensure the dish is filled.
In a medium size bowl, combine the eggs, milk, cream, vanilla, cinnamon, and nutmeg.  Mix well.  Pour over bread slices, then cover and refrigerate overnight.
The next day, remove from the refrigerator at least 30 minutes before baking.  Preheat oven to 350 degrees.
In a small bowl, combine the butter, brown sugar, and corn syrup for topping, mix well.  (It will be very thick like frosting.)
Spread over top of bread evenly.
Bake 45-60 minutes or until puffed and golden.  Remove from the oven and let sit for 5-10 minutes to allow topping to set nicely.  Cut into squares and serve with warm.  This French toast is plenty sweet on its own but can be served with warm maple syrup, fresh whip cream or a light dusting of powdered sugar.
Serves 8
8 slices of one inch thick Cinnamon Raisin Bread*
6 Eggs
1 cup cream or half & half
1 cup milk
2 teaspoons vanilla
1/2 teaspoon ground cinnamon
1/2 teaspoon nutmeg
Topping
1/2 cup butter (softened)
1 cup brown sugar (firmly packed)
2 tablespoon light corn syrup
*If you can't find whole loaf bread, you can stack 2 thin slices
August 2, 2019 by jacobrohrbach
Guests often want to know what we, the Innkeepers, have for breakfast.   Often we are so busy that we skip breakfast (I know, the HORROR!) and have an early lunch.  On those rare days that we have a little spare time, or when family comes to visit, we like to whip up some Cheesy Eggs.  Who doesn't like eggs with cheese – cheese makes everything better!   But these aren't your typical boring scrambled eggs with a little cheese sprinkled on them.  These are infused with cheesy goodness, and with only a few ingredients, are super easy to prepare.  It also looks like it took a lot of effort to prepare, so you score extra points with your company.   We have one or two 'secret weapons' that take this dish from good to amazing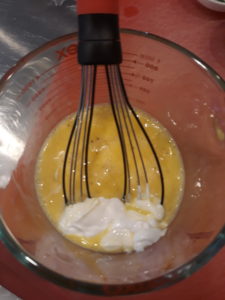 Start by whisking your eggs, add a little pepper to taste.  (Skip the salt, you won't need it.  No seriously, put it down, you won't need it)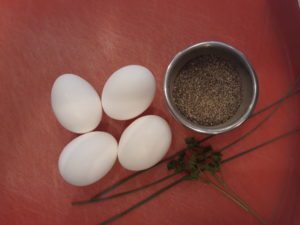 Add a little bit of herbs.  We used parsley and chives, because that is what I grow and had them handy.  You can add any kind of herbs, or not add any at all.  These are your eggs,  make them how you like.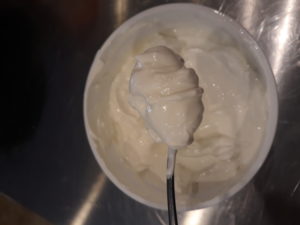 This is our first secret ingredient- sour cream.  What……yep, that's right.  Skip the milk and add sour cream to your eggs.  This makes them super light and fluffy.  Just whisk them enough to break up and incorporate the sour cream, you should still see little bits floating around.
Now for the main secret weapon – Palmetto Cheese!  I can see all of our Southern guests out there going 'yes, mam' and all of the Northern ones wondering 'what the heck is Palmetto Cheese'     We found this amazing cheese when we were stationed in Alabama.   It's a rich, creamy spread with pieces of cheddar cheese, onion, pimentos and cream cheese.  (It's so good, a lot of people just use it to make a sandwich)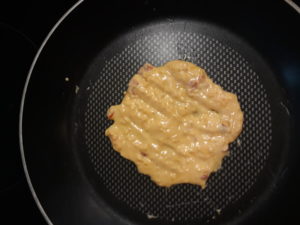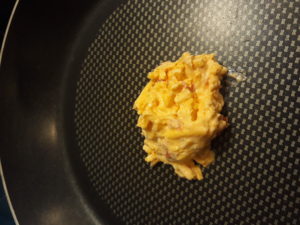 Put 2 TBS of spread in a non stick pan and stir it once or twice until it starts to melt.  Add in you egg mixture and continue to fold until well cooked.  When finished, sprinkle with some chopped chives and a little parsley.  Serve with toast and sliced tomatoes.  DELISH!
Serves 2-4
4 Eggs
Pepper to taste
2 TBS Sour Cream
2 TBS Palmetto Cheese
Choice of Herbs (optional)
See told you it was just a few things!
Need to serve a crowd?  My rule of thumb is  2 Eggs per person and  1 TBS Sour Cream and 1 TBS of Palmetto Cheese per person.  You can add more or less for your personal taste.
April 28, 2019 by jacobrohrbach
Dutch Puff Pancake  – Servings: 2-4
If you are looking for an easy way to impress people with your cooking skills (when you have none!) this is the recipe for you.  This thick, puffy pancake makes such an impression that it is often greeted by 'ooh' and 'wow' when presented to  guests.  It's such a versatile dish that with just a few tweaks it can be sweet or savory and is perfect for breakfast, brunch or even dessert.
Basic Recipe (serves four)
4 eggs
1 cup milk
1 cup flour
½ tsp fine salt
4 Tbs butter
4 Tbs sugar
2 tsp Vanilla extract
1 large skillet or two 8 inch skillets
Instructions:
Blend the batter: Place the flour, milk, eggs, sugar, vanilla, and salt in a blender or food processor fitted with the blade attachment. Blend for 10 seconds, scrape down the sides, and then blend for another 10 seconds. The batter will be quite thin and loose.
Rest the batter: Leave the batter in the blender and set aside to rest 20 to 25 minutes. This gives the flour time to absorb the liquid. You will be tempted to swirl it around or stir it – don't!
Heat the pan and oven:  Heat the oven to 425°F and place the skillet you're using on a middle rack to warm up with the oven.  You might want to take the top rack out now in case it gets extra puffy.
Melt the butter: When you're ready to make the pancake, remove the skillet from the oven (using oven mitts), add the butter and swirl the pan to melt the butter and coat the bottom and sides of the pan.  (It will seem like too much butter, trust us, it's not!)
Add the batter: Pour the batter on top of the butter.  Place the skillet back on the middle rack in the oven.
Bake the Dutch baby: Bake until the Dutch baby is puffed, lightly browned across the top, and darker brown on the sides and edges, 15 to 20 minutes.
Serve while hot: You can either serve from the pan or transfer the Dutch baby to a serving platter. Dust with powdered sugar.
See additional serving suggestions below.
For breakfast : Cut into wedges and serve with maple syrup or jam . Serve with sausage patties or links, and a twisted orange slice
For brunch:  Add a sharp shredded cheese to the batter and place diced ham in the pan before adding batter.
For dessert:  Cut into wedges, add a scoop of ice cream and drizzle with hot caramel or chocolate sauce.
Fruit* or Meat filled Dutch baby: Arrange fruits like blueberries or raspberries or place diced ham or crumbled bacon over the bottom of the skillet and then pour the batter over top. (Scattering fruit/meat on top of the batter will keep it from rising as impressively.)
*Fresh or Canned Fruits can be added to the pancake in the center after baking is complete, either prior to or just after cutting into wedges.
August 1, 2018 by jacobrohrbach
August is National Peach Month.  That's right, peaches are so fabulous that they get to have their very own month!
Peaches are so popular in our area that the Annual Leitersburg Peach Festival  is held every August.  Not only can you get your fill of fresh, local peaches, there are craft vendors, demonstrations, music, a tractor show and of course the crowning of the Peach Princess.
We are so lucky that we have two mature peach trees in our garden.  The good news is that they did great this year and the bad news is that they did great this year.   It seemed like everyday we were picking peaches, and now what do you do with all those peaches??   Peach pie, peach cobbler, peach cakes… those are all delicious but not necessarily for breakfast.  (Well….not GUEST breakfast!)
Of course we used the peaches to make a few different types of scones and we did a few peach tarts, and just cut up some fresh.  Naturally I made some jam, (actually lots of jam, 30 pints to be exact) but I really wanted to try something different for our returning guests.  So I racked my brain and scoured good ole Google and after a few trials and errors I created a chilled peach soup!  It is amazing and so easy to make, I feel like that mom from the old rice krispies commercials.  (You know, where you throw some flour on your face like you've been working for hours but were really just watching HGTV/Food Network)  I'll post the recipe below – it really is simple!
Chilled Peach Soup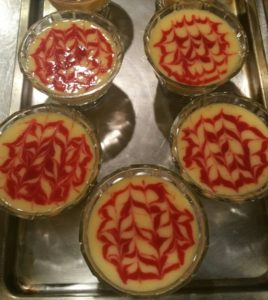 Serves 4-6
2 Lg Peaches – peaches and sliced/diced
1 cup vanilla yogurt
1/2 cup of peach juice*
1 T honey/sugar (to taste)
* substitute orange juice if you can't find peach
Add all of the above to a blender and puree until smooth.  Chill in fridge for at least an hour and can be made the night before.   I made a raspberry coulis for in ours but you could just garnish it with a raspberry, mint spring or slices of peach.
ENJOY!
April 5, 2018 by jacobrohrbach
One of our favorite signature dishes is our "Eggs Rohrbach".  It has all the same yummy ingredients of traditional Eggs Benedict but is simple to make.  It's SO easy that even Chris can make it.
Serves 4
You will need:
5 eggs
4 Slices Canadian bacon
2 English muffins
3/4 cup milk
Shredded Cheese (optional)
Salt / pepper to taste
First, spray four ramekins with some nonstick spray.   Then slice and cube two English muffins into approximately ½" size cubes.
Now place a slice of Canadian bacon centered in each ramekin and  sprinkle with a small amount of cheese.  Place some cubed muffin on top of the cheese and then sprinkle the remaining cheese on top of muffin.
In a medium bowl, beat the eggs, milk and seasoning together and gently pour over muffin.  Cover with foil and refrigerate overnight.
In the morning, pull out the ramekins about 30 minutes prior to baking.  Preheat your oven to 350°F and bake uncovered for 30-35 minutes, until set.
Just before the eggs are done go ahead and start whipping together your favorite Hollandaise Sauce.  We have an easy recipe for that too, but that's a secret… just kidding tune in for another blog in the future.
When done, run a knife around the edge, invert onto plate.  Top with Hollandaise and garnish with chopped parsley or chives.  Serve with some fresh herb tomatoes and a side of our Apple Maple sausage.  Enjoy!
Tips:
–  Can be made the same day, just allow enough time for the muffin to soak up the egg mixture.
–  No ramekins? No problem!  Use a jumbo muffin tin.
–  Once inverted onto plate, keep ramekin on until ready to top with Hollandaise Sauce.