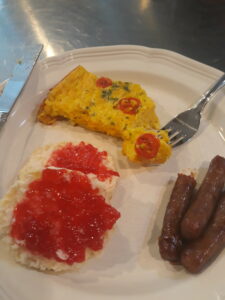 Are you looking for an easy, colorful breakfast casserole that looks amazing and tastes great? Well, we have the answer for you with our Italian Egg Bake. This is one of our favorite savory dishes, especially when we have a full house.
This recipe makes approx. 10 servings and here are the ingredients you will need: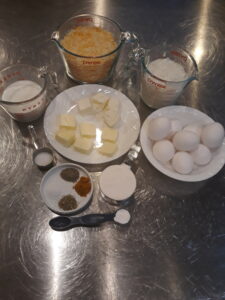 8 Eggs
1 cup half and half
1/2 teaspoon salt
1/2 teaspoon pepper
2 teaspoons sugar
1/2 teaspoon McCormick Italian Seasoning
1 teaspoons turmeric
6 tablespoons (3/4 stick) unsalted butter, cut into cubes and softened to room temperature
4 oz. cream cheese, cut into cubes and softened to room temperature
1 16 oz. Container of small curd cottage cheese
4 cups of four Mexican cheeses, shredded
1/2 cup flour
1 teaspoon baking powder
2 tablespoons of chopped parsley, divided
a few Roma tomatoes
Preheat oven to 350F and spray a 9″ by 13″ pan with Pam.
In a large mixing bowl, beat eggs and mix in half and half, salt, pepper, sugar, Italian seasoning and turmeric.
Beat in softened butter, and the softened cream cheese. Now beat in cottage cheese, thoroughly.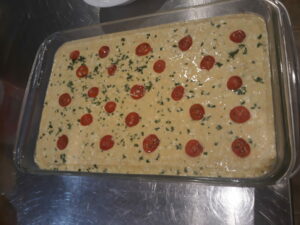 Add four shredded cheeses; mix in flour and baking powder, 1/2 tablespoon of parsley then mix all that in thoroughly.
Pour all into greased pan; sprinkle with remaining parsley and place some thin slides of Roma tomatoes on top.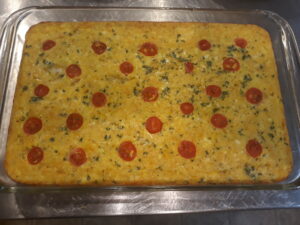 Cook at 350F for approximately 45 minutes or until set and ever so slightly browned around edges.
Let cool for about 5-10 minutes, cut into 8-12 pieces. Serve with a side of breakfast sausage and of course a homemade Southern Biscuit.