February 29, 2020 by jacobrohrbach
You may have noticed that we're a little behind in getting the Rohrbach INNsider out this quarter.  It's not because we were on vacation… although we wish we were, it's because of the renovations being done at the Inn.  Each year now during the month of January we choose a project and do some renovations.  This year we closed the whole month!  For most people that means it's time to relax and go on vacation… but not us, it means time to get to work.
This year our number one priority was to redo the bathroom in the Antietam Room.  With an old tub-shower combo and a small vanity this one was in despite need of a face lift.
Just after New Years  Smith Renovations, LLC come in to demo and begin the work.  But as with all projects, we have learned that nothing ever goes according to the plan nor on a projected timeline.
But no worries, the work progressed and we decided to freshen up the paint in the bedroom as well, so the Antietam  is an all around NEW ROOM!  Hats off to Brandon, Andrew and their dad, Bryan for doing an OUTSTANDING job.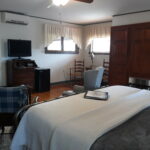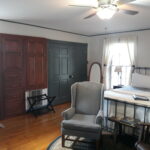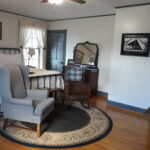 While this was going we had to do some minor repair work to the ceiling at the back entrance.  The initial plan was to replace the ceiling and repaint that space.  Well, after taking down the ceiling, and doing a little investigating, we realized that the doorway from the foyer into the hall was a more recent addition (maybe 1980's) so we decided to remove it and open the space.
We also took down the wainscoting and wallpaper, repaired the plaster and added a ceiling light too.  It looks like a different hallway now.  So much room to come in and very welcoming with all the natural light.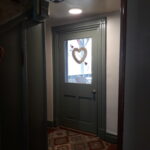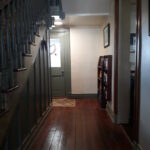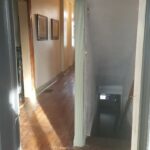 So while ALL this was going on, we were also giving the General's Quarter a fresh new coat of paint.  Thanks to our painter and handyman, Lucas Turner for his help on these two projects.
WOW!  A brand new room, just a little paint and lots of TLC.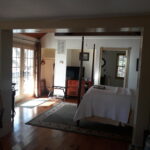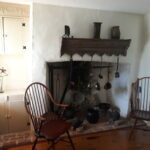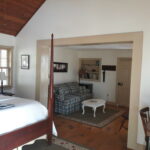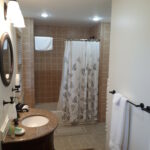 We are done for now, but there is one more big project on the horizon this spring.
Maybe next January we will actually get to take that vacation……
February 29, 2020 by jacobrohrbach
We love to do frittatas at the Inn.  They are super easy and versatile, yet look really impressive when served.  Breakfast, lunch, brunch or even dinner, they make a beautiful and filling meal.  While we plan ours and use ingredients based on what is seasonal, they are a great way to 'clean out the fridge'.  I am giving the ingredients used for our veggie version, but you could easily add meat to yours if you wanted.  Most frittatas are done in a cast iron skillet on the stove top and then baked in the oven.  While you can use that method, we do ours in ramekins (as I have a bit of an obsession with them at the moment) and just bake them.  It allows us to customize each one if needed, depending on dietary requirements.  You could go crazy and make each one different and do a frittata tasting to find your favorite.
Ingredients:  makes 4 individual frittatas
1/2 cup chopped onion
1/2 cup chopped green pepper
1/2 cup chopped sweet red pepper
1 cup potato, cooked and cubed
1 cup chopped spinach
3 tablespoons butter or olive oil
8 large eggs
1/2 cup shredded cheese of choice
1/2 cup sour cream
salt and pepper to taste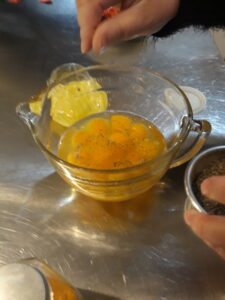 Spray individual ramekins well with non stick spray and set on foil lined tray.
In large bowl beat eggs until well blended, add sour cream and mix again.  Stir in cheese, salt and pepper and set aside.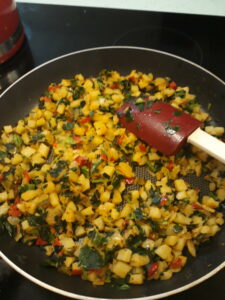 Add oil and a little butter to a pan over medium heat, add cubed potatoes and brown all sides.  Remove potatoes to a bowl and set aside.  Add another pat of butter to warm pan and add peppers and onions, cook until tender, stir as needed  When onions and peppers are cooked add chopped spinach to pan (add a little more oil or butter pat as needed).  Stir frequently to prevent spinach from burning and cook until wilted.  Add potatoes back to veggie mixture and mix well and until all ingredients are warm.
Divide veggies between the 4 ramekins and then ladle egg mixture over top.
Bake at 350 degrees for approx 30 minutes,  remove and let set for 5 minutes.  This can either be served in the ramekin or removed and then plated.
OK, now that I have given you the ingredient list, I'm going to make a confession……I usually just wing it.  These are the amounts that I started with and a few thousand frittatas later, I just eyeball it.  Good rule of thumb is 2 eggs per person, depending on how 'loaded' you plan on making them.  That is why I love frittatas so much.  There is no right or wrong way to do them.  Hate onions or spinach, leave them out….love potatoes, load it up…..need meat, throw it in!  You are only limited by your imagination (or the contents of your fridge!)
Now, a few tips that you might find helpful on your frittata journey.   It's OK to use frozen breakfast potatoes if you don't have a leftover baked potato, just brown them good first.  Frozen chopped spinach can be a lifesaver during the winter when you can't find, or afford, good fresh produce.  Regardless of what your children might tell you, no one ever died from eating spinach!  I know I said cheese of choice,  but go light on the cheddar it tends to get oily when you bake it.   You might also notice that there is no milk or cream listed, I almost never use it in my egg dishes. I use sour cream instead, it makes all of your egg dishes really light and fluffy.  Seriously, try it, you can thank me later….
February 28, 2020 by jacobrohrbach
As discussed in early Farmstead blogs, Joseph Chapline had been acquiring hundreds of acres of land along the Potomac River through grants and purchases.  After the French and Indian War ended, Chapline was rewarded for his contributions and service.  Maryland Governor Horatio Sharpe granted Chapline over 10,000 acres adjacent to his existing estate in 1763.  Joseph Chapline was one of the largest landholders west of Frederick town with more than 15,000 acres, or 24 square miles in the Antietam Valley, 
Joseph Chapline died on January 8, 1769, and in his Last Will and Testament, the huge estate was divided among Joseph's nine children.  A large portion of the tract of land known as the Resurvey of Hills and Dales and Vineyard lay to the east of the Antietam Creek.  Several of the children sold parts of the land tracts that they received and Abraham Baker purchased 140 acres of the Resurvey of Hills and Dales and Vineyard tract on March 18, 1812.  Just over a month later on April 26, 1812 Baker sold 126 3/4 acres of the property to Philip Pry, Sr., a relative newcomer to Washington County.
Philip's father was a German-born immigrant of Huguenot descent named John DeBrie.  John immigrated to colonial America with his siblings and mother as an indentured servant when he was six years old.  Unfortunately, John's mother died on the voyage across the Atlantic.  In New York,  John served out his indenture and was raised by a gentleman named Mr. Rohrer. On his twenty-first birthday, John was given a horse and he moved to Pennsylvania.  Once there he changed his last name from DeBrie to either Bryen or Bryan and later to Bry.   John married and in 1760 had a son, Philip.
Philip's first wife, Anna Elizabeth died early in their marriage leaving no children. His second wife Susannah would bear him three children: Samuel (1814), Susannah (1815) and Philip, Jr. (1817).  Philip arrived in Washington County, Maryland in 1810.  It was here that Philip changed his name to Pry, purchased the property from Abraham Baker, started farming and began his family.  Philip Sr. most likely farmed his lands until his death on May 1, 1823.  He was buried in Fairview Cemetery in Keedysville.  According to his will, he left this land to his wife, Susannah to manage.  When Philip Jr., who was six years old at the time, reached the age of twenty-one the estate would be divided between the two sons – Philip and Samuel.
Philip and his brother Samuel would continue to add land to their family holdings.  In April 1839, the Pry brothers purchased an eighteen acre parcel of land from the tract of Resurvey of the Hill and Dales and the Vineyards owned by Catherine Hershey.  According to the land records, this was "adjoining the lands owned 'by the heirs of Philip Pry deceased'".
It is unknown if this addition included the rise of high ground just east of the Antietam Creek with a commanding view to the west, but it is on this crest where Philip and Samuel would build a two-story brick house in the summer of 1844.  This Greek Revival architectural style was very popular at the time.  The bricks were manufactured on site and Philip carved his name and date on two of them, one on each side of the main entrance.
Once the house was completed a large bank barn was constructed just down the hill from the house with stalls, feeding mangers, and "run ins"  to manage the livestock on the lower level.  The upper level was used to process field crops and storehouses for fodder and grain.  A spring was just off to the side of the barn.
Just to the west side of the house was the kitchen and domestic building.  To the front of the house at the bottom of the slope stood a few stone buildings and the root cellar.
Samuel and Barbara Keedy Cost, a prominent Keedysville family were good friends of the Prys.  Samuel was a lifelong resident of the area, a successful shoemaker and farmer, and would amass a farm of more than 450 acres.  Samuel and Barbara had six children and two of their daughters – Mary Ann and Elizabeth Ellen, would eventually marry the Pry brothers.
On December 17, 1844 Mary Ann and Samuel would be married and have seven children.  Just three years later on December 2, 1847, Elizabeth Ellen and Philip were also married and had seven children, five by the time of the battle: Samuel Cost (1848), Alfred Luther (1850), Ellen Elizabeth (1853), Jacob Alexander (1857), Charles Webster (1859), Annie Deaner (1861) and Mary Elizabeth (1866).  All but Ellen Elizabeth survived to adulthood.
Just a year earlier, the property along the Little Antietam and the Antietam Creek, adjacent to the the Pry's was subdivided into a 20.25 acre tract (with the Hitt mill) and a 130 acre tract (Hitt farm).  Mary Ann and Elizabeth Ellen's older brother, Jacob Cost would purchase the 130 acre farm and on December 17, 1847, Samuel and Philip Pry purchased the mill property.  Samuel Pry would become the sole proprietor of the mill in 1850 and rebuilt the two-story stone mill with brick, and the mill assumed the shape it still has today . The first two levels are the coursed stone of the original mill.  The mill property would remain in the Pry family until 1941 although milling operations ceased in 1926.
The Pry and the Cost families were members of the Reformed Church and very active in the congregation of the Mount Vernon German Reformed Church of Keedysville.  As the Pry's raised their families, the farm and the grist mill prospered in the years prior to 1860.  According to the 1860 census, Philip's farm was valued at $14,000 with another $1,800 in personal property.  Samuel's mill was listed at $12,000 with $1,500 in personal property.  In 1861, Philip purchased more than 160 acres from Samuel Mumma, what he called "lower farm", for $10,500.  Phillip renamed the 166 acre property the "Bunker Hill Farm".  Phillip and his family continued to live at their farm just across the Antietam but rented the Bunker Hill Farm to a tenant named Joseph Parks. (Learn about the Joseph Parks Farm)
Philip had his two older boys to help with the work around the farm, but he also hired a farm hand that lived with them, 22 year old William Gitmaker.  It is unclear whether or not the Pry's owned any slaves in 1860 but two African-American women lived in the household—Amanda Samper, age twenty, and Georgiana Rollins, age twelve.  Amanda served as the house keeper and  Georgianna served as a domestic servant.
Like many of the local families in the Antietam Valley, they began to gather at their places of worship on Sunday morning, September 14, 1862.  Just a few miles away on South Mountain, the Confederate Army clashed with Union forces moving west from Frederick.  Throughout the day and into the early evening the battle raged. Despite the Confederates attempt to hold the mountain passes, General Robert E. Lee's army suffered heavy losses and was forced to withdraw back toward the Potomac River.  Wagons of wounded men moved down the Keedysville Pike past the Pry Farm heading to Shepherdstown, VA while the remainder of Lee's army would hold up just across the Antietam Creek at Sharpsburg along the cemetery ridge.
The next day on September 15, the Union army under Major General George B. McClellan pursued the rebel rear guard through Boonsboro and Keedysville to the Antietam Creek.  There the Federals began to converge along the Keedysville Pike.  As it was getting too late in the day to begin any advance across the creek the Union Second Corp under Major General Edwin V. Sumner went into camp around the Pry farm.
The following morning a heavy fog blanketed the Antietam Valley as more Union troops and artillery took up positions along the east side of the Antietam.  By mid-day the fog began to burn off and Confederate gunners on Cemetery Hill started to shell the Union forces.  At the Pry farm, the family were in the middle of their daily chores when according to family lore a young captain by the name of George Armstrong Custer knocked on their door.  Captain Custer, being a staff officer on McClellan's staff, informed them that their farm would serve as a forward command post for Gen. McClellan.
Soon the Pry farm became a hub of activity and a gathering place for Gen. McClellan, his staff and other officers.  A system of signal stations had been established at Red Hill, the high peak on Elk Ridge and other locations across the Union line to observe the Confederate positions and movement on the west side of the Antietam.  Couriers were continually riding in with reports and updates.  Telescopes had been set up on the bluff by the house to observe the field.  That afternoon, McClellan accompanied Major General Joseph Hooker and his First Corps as they crossed over the Antietam Creek at the Upper Bridge past Samuel Pry's Mill and the Samuel Cost farm.  Later that evening McClellan returned to the Pry house after ordering the Union Twelfth Corps, under Brigadier General Joseph Mansfield, to take the same route of march to support Hooker's men.  The stage had been set for the next days battle that would become the bloodiest single day in American history.
The battle began at daybreak on Wednesday, September 17 with some skirmishing in the East Woods that turned into a major engagement.  Soon the artillery joined in from both sides. Gen. McClellan and his staff watched the opening salvos from the bluff as Hooker's men moved south from the North Woods.  Soon wounded officers and men began to arrive at the farm which was quickly being turned into a hospital.  McClellan ordered an ambulance to take Mrs. Pry and the children to the home of Jacob Keedy near Keedysville.  Philip Pry stayed at the farm during the entire battle.  During the early morning fight a Mr. Rohrer from Keedysville was brought to the bluff 'to plot smoke from artillery burst on a large map in the yard'. It is said that several times during the fighting McClellan went up to the attic to stand on a barrel out the trapdoor to look over the field from this vantage point.
Around  7:30am, McClellan gave orders to Gen. Sumner to move the Second Corps over the Antietam to join in the fight.  Dr. J.H. Taylor, stayed behind to begin setting up hospitals not only at the Pry Farm but at the Cost Farm and Samuel Pry's Mill.  Gen. Hooker arrived with a wound to his foot that morning.  He was treated in the parlor and taken to Keedysville. Soon the barn and outbuildings were filled with wounded soldiers and Union officers were being brought to the house.  Major General Israel B. Richardson, a Second Corps division commander was severely wounded by a shell burst near the Sunken Road.  Richardson was evacuated to the Pry Mill for initial treatment before taken to the Pry House.  He was taken to the large bedroom on the second floor.   "General McClellan sent Dr. Horace, a member of his staff, and Medical Director Dr. Jonathan Letterman to examine Richardson. Both men feared shrapnel had lodged in his left lung and deemed the wound mortal"  Two weeks after the battle on October 2nd, during a visit to the battlefield, President Abraham Lincoln stopped at the Pry house to visit the wounded General Richardson. Under the care of Dr. Taylor and Richardson's wife Fannie, he started to recover but tragically Richardson succumbed to his wounds and died in the upstairs room of the Pry house on November 3, 1862.
By night fall on September 17 the battle would be over but the wounded were still coming to the farm.  An estimated 1,500 injured soldiers were cared for at the Pry farm.  Gen. McClellan left that night to return to his headquarters west of Keedysville. On September 19, the Union army pursued Lee's retreating army to the Potomac and the campaign would come to an end with a battle at the Shepherdstown Ford the following day.   Like many, if not all the Pry's neighbors and friends in the area, the war had come and gone but they were left with the remnants.  Several weeks later when Dr. Elijah Harris of the U.S. Sanitary Commission came to inspect the hospital, he reported that 250 wounded and sick men were still receiving attention.    The Pry farm would remain a hospital for at least two months.  Their crops had been eaten, fields destroyed, and their fences were cut down for firewood.
The Prys would do their best to recover after the battle but it almost ruined Philip Pry.  According to Mr. Pry a board of appraiser would be around to appraise the value of the property used, but the army had moved on before the task could be completed. He had to wait until November 27, 1865 to receive his first payment in the amount of $2,662.50 for military damages.
When the claim was submitted, an agent came to investigate.  They questioned several individuals loyalty to the Union during wartime and character witness were interviewed.  "Jacob Cost, C. M. Keedy, Samuel Keedy, Alfred N. Cost, Ezra Lantz, F. Wyand, and David Bell testified that they were farmers and neighbors of the Prys. They reported visiting the Pry farm frequently in the fall of 1862, and personally knowing that Philip lost heavily."  Philip stated that Union horses consumed 900 bushels of wheat and twenty acres of corn, 85 acres of the farm was used as a pasture by the Union horses, and fifteen hundred feet of lumber had been taken to build Union hospitals.  Phillip also sought rent for the use of his house as a hospital during and after the battle.
Two other claims were paid out seven years later in 1872 for a total amount of 1,581.03, a full decade after the Battle of Antietam. However there was a claim made by the government that this was an overpayment. Unfortunately, the government deemed part of this to be overpayment and Philip Pry was forced to repay $1,209.38.  With this financial burden of overpayment, legal fees, and attempting to get the farm back into shape the Prys were forced to sell the farm and move to Tennessee in 1874.
Maryland Senator, William T. Hamilton, writing from the U. S. Senate Chamber on February 25, 1874, said of Philip Pry:  "Before the war he was a prosperous man, owning one of- the finest farms in the county lying in the vicinity of the battlefield of Antietam. He is now in serious circumstances. I have known him for thirty years, an upright, honest man and good citizen. His loyalty is unquestioned".
The farm was sold to Daniel W. Wyand of Washington County for the sum of $14,172.50 containing 141 ½ acres.  Before departing for eastern Tennessee, friends and family in the community gathered and made a Memory Quilt as a parting gift. Many of the friends and neighbors that Elizabeth and Philip had known all their lives personalized a block of the quilt with their signatures or brief sentimental notes.
The Prys lived near Johnson City, Tennessee until Elizabeth passed away on February 1, 1886.  Upon her death, Elizabeth wished to return home to Keedysville, so Philip and their daughter Annie accompanied her remains back to Maryland to be buried next to her family at Fairview Cemetery in Keedysville.  After the service, Philip stopped one last time to visit the home he had built over forty year before on that bluff overlooking the Antietam Creek.  Annie's daughter Elizabeth Jones wrote of this return visit, "As you enter the house to your left is a room then from that room you enter a room–that was where all the children were born. Mamma told me when she and her father visited the house he stopped in that room and cried".  Philip passed away on February 3, 1900 and was buried alongside his wife.
The farm changed hands eight times until January 31, 1956 when Leo B. and Vila M. Wyand purchased the farm and 123 acres from Victor and Ruth Stine.  The Wyand's continued to farm the property until 1971 when the land was resurveyed and a parcel of 155.68 acres was sold to Recreational Properties Associates.  Three years later on March 7, 1974, the Recreational Properties Associates sold a tract of land containing two acres around the Pry house and barn to the United States Government with 24.67 acres scenic easement for $62,500.
In the fall of 1976 an electrical fire damaged part of the first and second floors.  The National Park Service restored and renovated the structure.  In 2005 the Park Service partnered with the National Civil War Medicine Museum to establish the Pry House Field Hospital Museum.  Today the Pry House is one of the two farmsteads on the battlefield that are open to the public.  Visitors to the  Pry House Field Hospital Museum are able to explore the house, barn and grounds of the farm.  Here they learn about the medical aspects of the battle and they hear the tragic story of the Pry family and how their farm became an eyewitness to history on September 17, 1862.
Sources:
Barron, Lee and Barbara Barron, The History of Sharpsburg, Maryland: Founded by Joseph Chapline, 1763. Sharpsburg: self-published, 1972.
Gardner, Alexander, Library of Congress Prints and Photographs Division, Selected Civil War Photographs Collection, Washington, D.C., 1862. Retrieved from http://www.loc.gov/pictures/related/?fi=name&q=Gardner%2C%20Alexander%2C%201821-1882
The National Museum of Civil War Medicine, Pry House and Family History, Frederick MD. 2020.  Retrieved from http://www.civilwarmed.org
Washington County Historical Trust, Pry Mill, circa 1820, west of Keedysville, MD, Hagerston, MD 1998. Retrieved from http://washingtoncountyhistoricaltrust.org/pry-mill-circa-1820-west-of-keedysville-md
Maryland Historical Trust, Hitt's Mill Complex, WA-II-120, Maryland Inventory of Historic Properties Form, 1978, July 2003.
Reardon, Carol and Tom Vossler, A Field Guide to Antietam: experiencing the battlefield through history, places and people, Chapel Hill: The University of North Carolina Press, 2016.
Schildt, John W., Drums Along the Antietam. ParsonMcClain Printing Company, 2004.
U.S. National Park Service, Antietam National Battlefield, National Register of Historic Place, ANTI-WA-II-477, Washington D.C.: Government Printing Office, 1990.
U.S. National Park Service, Philip Pry House, Antietam National Battlefield, Historic Structures Report Washington D.C.: Government Printing Office, 2004.
U.S. War Department, Atlas of the battlefield of Antietam, prepared under the direction of the Antietam Battlefield Board, lieut. col. Geo. W. Davis, U.S.A., president, gen. E.A. Carman, U.S.V., gen. H Heth, C.S.A. Surveyed by lieut. col. E.B. Cope, engineer, H.W. Mattern, assistant engineer, of the Gettysburg National Park. Drawn by Charles H. Ourand, 1899. Position of troops by gen. E. A. Carman. Published by authority of the Secretary of War, under the direction of the Chief of Engineers, U.S. Army, 1908." Washington, Government Printing Office, 1908. Retrieved from https://www.loc.gov/resource/g3842am.gcw0248000/?sp=5.
Walker, Kevin M and K. C. Kirkman, Antietam Farmsteads: A Guide to the Battlefield Landscape. Sharpsburg: Western Maryland Interpretive Association, 2010.
Western Maryland Regional Library, The Illustrated Atlas of Washington County, Maryland was published in 1877. Lake, Griffing & Stevenson of Philadelphia, 1877. Retrieved from http://whilbr.org/Image.aspx?photo=wcia053s.jpg&idEntry=3497&title=Sharpsburg+-+District+No.+1
January 19, 2020 by jacobrohrbach
Wow! This will be our fifth year of hosting the Civil War Lecture Series.  Since we started, we've raised over $1500 for the Save Historic Antietam Foundation through our summer fundraiser.  We have seven new guest speakers presenting and another outstanding slate of lectures scheduled at the  Jacob Rohrbach Inn.  Come learn from Antietam Battlefield Guides and other leading historians as they discuss intriguing topics of the Maryland Campaign and the Civil War during our summer lecture series.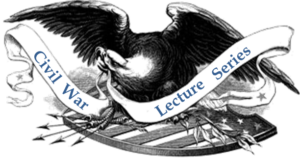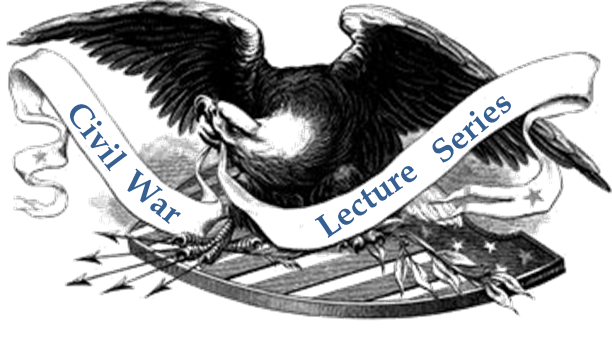 June 3 – Gordon Dammann – "The Wounding of Oliver Wendell Holmes, Jr"
June 10 – Brad Gottfried – "Lee Invades the North: A Comparison of 1862 & 1863"
June 17 – Darin Wipperman – "Immortal Respect: Col. Henry Post and the 2nd U.S. Sharpshooters in the Antietam Campaign"
June 24 – Alann Schimdt – "The Dunker Church"
July 1 – Laura Marfut – "Veterans of Antietam: The Rest of the Story "
July 8 – Sharon Murray – "The Long Gray Line of '54"
July 15 – Richard P. D'Ambrisi – "Baseball in the Civil War"
July 22 – Perry Jamieson – "Maj. Gen. Winfield Scott Hancock on the First Day of the Battle of Gettysburg."
July 29 – Nigel Wainwright – "The Civil War and The World"
Aug 5 – Matt Borders – "The Loudoun Valley Campaign of 1862: McClellan's Final Advance"
Aug 12 – Justin Mayhue – "Small Arms Weapons at Antietam"
Aug 19 – Alex Rossino – "The Tale Untwisted: George McClellan and the Discovery of Lee's Lost Orders, September 13, 1862"
Aug 26 – John Schildt – "The 'What Ifs' of the Maryland Campaign"
These Wednesday evening programs are free and open to the public. They will be held outdoors on the grounds of the Inn at 7:00 p.m, so bring a chair to sit around our event tent. In case of inclement weather the program will be moved to the Sharpsburg Christ Reformed United Church of Christ on Main Street.  Check our Blog and Facebook page for weekly updates about the speakers and their topics.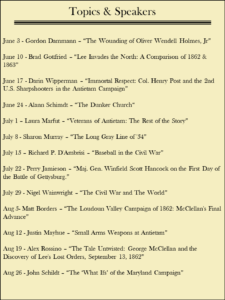 October 29, 2019 by jacobrohrbach
For those that remember the PBS series "The Civil War" by Ken Burns, the opening scenes begin with this statement:
"The Civil War was fought in 10,000 places, from Valverde, New Mexico, and Tullahoma, Tennessee, to St. Albans, Vermont, and Fernandina on the Florida coast. More than 3 million Americans fought in it, and over 600,000 men—2 percent of the population—died in it.  American homes became headquarters, American churches and schoolhouses sheltered the dying, and huge foraging armies swept across American farms and burned American towns. Americans slaughtered one another wholesale, right here in America in their own cornfields and peach orchards, along familiar roads and by waters with old American names."
No where was this more true than here at Sharpsburg.  The Battle of Antietam had effected everyone living in and around Sharpsburg. The battle only lasted one day but for the civilians living in the wake of this man-made disaster, the effects of the battle were felt for weeks', months', and even years.
Sharpsburg was the first organized community in the United States to suffer widespread damage from both the combat and the sheer presence of two opposing armies of more than 120,000 Rebel and Yankee soldiers and some 50,000 horses & mules.
This would led to a tremendous threat of disease from the thousands of dead men and animals rotting in the warm September sun and the thousands of wounded left to be cared for in the field hospitals.
Combat and disease were not the only threats posed by the large battle. Economic devastation loomed as an all-too-real possibility. At Sharpsburg  soldiers from both sides raided farms and homes, carrying off valuables, destroying property, and confiscating livestock and crops as provender for the armies.
The Antietam National Battlefield is said to be one of the most pristine and well restored Civil War battlefields. When you look across the landscape little has changed since that fateful day of September 17, 1862. The preserved fence lines, fields and woodlots help us understand the ebb and flow of the battle. The details of the Battle of Antietam are well known to students of the Civil War, but as you survey the battlefield, you see scattered across the countryside the proof that battles are not fought in a vacuum. Several farmsteads dot the landscape as well. We tend to forget about the civilians that were caught up in the events swirling around the homes where for generations families lived, worked, played, and died.
Now you can join the Antietam Battlefield Guides for a Specialty Tour of "The Farmsteads of Antietam".  Chief Guide, Chris Vincent has formatted a 3-hour guided tour of the historic Farmsteads of Antietam to learn about the families, their history, the farmsteads and how they recovered from the battle.
The tour will take you to each of the eleven farmsteads across the battlefield to discuss:
Who lived on the farmsteads at the time of the battle?
What did the farm look like?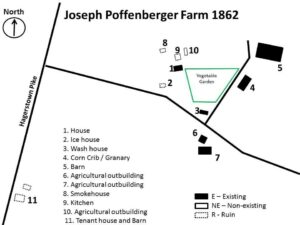 What did the families do during the battle?
What happened to the families and farms after the battle?
For more information about this tour and other Specialty Tours offered by the Antietam battlefield Guides, contact the Antietam Museum Store at 301-432-4329.
October 29, 2019 by jacobrohrbach
The local bakery in town is just as well known as Nutter's Ice Cream.  Burkholder's Baked Goods has been providing delicious fresh donuts, dinner rolls, fresh cakes and pies, breads, milk, and cheese for almost 25 years now in Sharpsburg.
About Burkholder's Baked Goods
Nathan and his wife Ruth Burkholder, started selling baked goods out of their van at the old Amoco or BP station in Sharpsburg.  They had recently sold their farm near the Hagerstown airport and moved to a farm near Sharpsburg.   The business become so successful selling out of the van, that they opened their first commercial bakery on Main Street in the Town Square.  In 2000, they sold their farm and purchased a home in Sharpsburg and remodeled the garage into the current bakery facility.
Unique Items at the Bakery   
There is not a Dunkin Donut or Krispy Cream shop within miles of Sharpsburg, but not to worry, Burkholders Baked Goods beats them hands down when it comes to fresh made donuts.  The display counter in the bakery is not that big, but they carry at least two dozen different kinds of donuts every morning.  Powdered, glazed, filled with fruit or filled with cream, and my two favorites apple fritters and bear claws.
If you're not into donuts, the Burkholders also make cookies each day too. You can always find oatmeal raisin, peanut butter blossoms,  short bread, sugar cookies and depending on the season, decorated butter cut-outs.  Of course pies and cakes are one of the best sellers. Pumpkin, apple and pecan pie (again, my favorite) are popular around the holidays.
Even though we love the donuts, cookies, and pies; a popular breakfast item at the Inn is the homemade bread.  That's right, we use Burkerholder's bread for a number of breakfast dishes.  Their famous Cheese Bread is toasted just enough to brown the edges and bubble the cheese that's carefully folded into the dough.  This makes a perfect side to any egg dish.  We recently posted the recipe for our Caramelized French Toast.  Of course you could use store bought bread, but we love the Cinnamon Raisin bread.  The extra cinnamon, raisins and yeasty sweetness makes this one of our most requested breakfast dishes.  Burkholder's makes several kinds of bread, and they are all really good.
In addition to all these wonderful baked goods, they also sell local dairy products and honey.  They have farm fresh eggs, cheese and their milk comes in the old-fashioned glass milk bottles.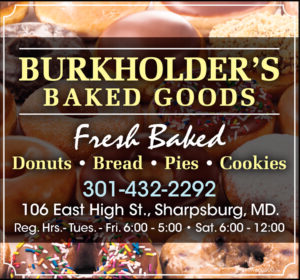 So the next time you're at the Inn or visiting Sharpsburg, stop by Burkholders to get some fresh homemade baked goods to snack on or take home.
Burkholder's Baked Goods
301-432-2292
106 W High St
Sharpsburg, MD 21782
The bakery is open from 6am to 5 p.m. Tuesday –  Friday, 6am-12pm Saturday (closed Sunday & Monday).
Directions
Driving from the Inn, Burkholder's Baked Goods is just at the end of the block on Hall Street, turn left on High Street.   You will cross over Mechanic Street and the bakery will be on your right.  Parking is available behind the house. (Click here for Google Maps)
October 29, 2019 by jacobrohrbach
This is the perfect breakfast for when  you want something a little special, but don't have time to make a fuss.   It is a twist on traditional french toast, but you make it the night before and just pop it into the oven the next day.   With the gooey center and chewy edges it's a crowd pleaser at a holiday brunch.  Because of its' sweetness, it is best served with salty bacon or spicey sausage
Butter or spray a large 15″ rectangular dish.  Slice the cinnamon raisin bread (Ours is fresh from Burkholders Baked Goods here in Sharpsburg) about an inch thick and lay slices flat to completely fill the dish.  You may need to cut the edges or add pieces as necessary to ensure the dish is filled.
In a medium size bowl, combine the eggs, milk, cream, vanilla, cinnamon, and nutmeg.  Mix well.  Pour over bread slices, then cover and refrigerate overnight.
The next day, remove from the refrigerator at least 30 minutes before baking.  Preheat oven to 350 degrees.
In a small bowl, combine the butter, brown sugar, and corn syrup for topping, mix well.  (It will be very thick like frosting.)
Spread over top of bread evenly.
Bake 45-60 minutes or until puffed and golden.  Remove from the oven and let sit for 5-10 minutes to allow topping to set nicely.  Cut into squares and serve with warm.  This French toast is plenty sweet on its own but can be served with warm maple syrup, fresh whip cream or a light dusting of powdered sugar.
Serves 8
8 slices of one inch thick Cinnamon Raisin Bread*
6 Eggs
1 cup cream or half & half
1 cup milk
2 teaspoons vanilla
1/2 teaspoon ground cinnamon
1/2 teaspoon nutmeg
Topping
1/2 cup butter (softened)
1 cup brown sugar (firmly packed)
2 tablespoon light corn syrup
*If you can't find whole loaf bread, you can stack 2 thin slices
August 2, 2019 by jacobrohrbach
Guests often want to know what we, the Innkeepers, have for breakfast.   Often we are so busy that we skip breakfast (I know, the HORROR!) and have an early lunch.  On those rare days that we have a little spare time, or when family comes to visit, we like to whip up some Cheesy Eggs.  Who doesn't like eggs with cheese – cheese makes everything better!   But these aren't your typical boring scrambled eggs with a little cheese sprinkled on them.  These are infused with cheesy goodness, and with only a few ingredients, are super easy to prepare.  It also looks like it took a lot of effort to prepare, so you score extra points with your company.   We have one or two 'secret weapons' that take this dish from good to amazing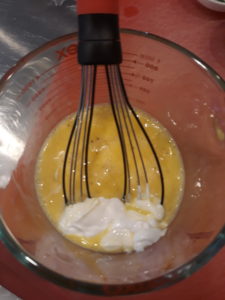 Start by whisking your eggs, add a little pepper to taste.  (Skip the salt, you won't need it.  No seriously, put it down, you won't need it)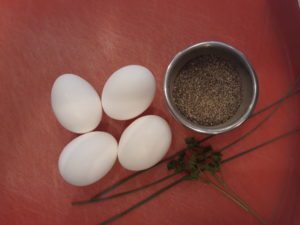 Add a little bit of herbs.  We used parsley and chives, because that is what I grow and had them handy.  You can add any kind of herbs, or not add any at all.  These are your eggs,  make them how you like.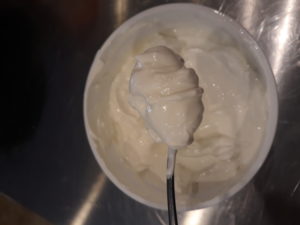 This is our first secret ingredient- sour cream.  What……yep, that's right.  Skip the milk and add sour cream to your eggs.  This makes them super light and fluffy.  Just whisk them enough to break up and incorporate the sour cream, you should still see little bits floating around.
Now for the main secret weapon – Palmetto Cheese!  I can see all of our Southern guests out there going 'yes, mam' and all of the Northern ones wondering 'what the heck is Palmetto Cheese'     We found this amazing cheese when we were stationed in Alabama.   It's a rich, creamy spread with pieces of cheddar cheese, onion, pimentos and cream cheese.  (It's so good, a lot of people just use it to make a sandwich)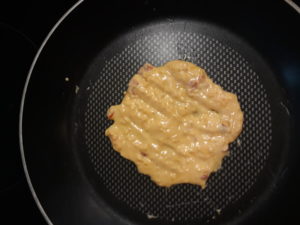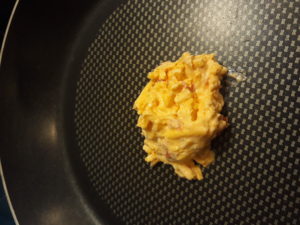 Put 2 TBS of spread in a non stick pan and stir it once or twice until it starts to melt.  Add in you egg mixture and continue to fold until well cooked.  When finished, sprinkle with some chopped chives and a little parsley.  Serve with toast and sliced tomatoes.  DELISH!
Serves 2-4
4 Eggs
Pepper to taste
2 TBS Sour Cream
2 TBS Palmetto Cheese
Choice of Herbs (optional)
See told you it was just a few things!
Need to serve a crowd?  My rule of thumb is  2 Eggs per person and  1 TBS Sour Cream and 1 TBS of Palmetto Cheese per person.  You can add more or less for your personal taste.
August 1, 2019 by jacobrohrbach
September 17, 1862 was the bloodiest day in American history. In twelve hours of horrific combat, soldiers from the North and the South fought the Battle of Antietam that would claim over 23,000 casualties.  Some historians believe that the Battle of Antietam was one of the key turning points of the American Civil War.  The battle ended Robert E. Lee's first Confederate invasion into the north and it led to President Abraham Lincoln announcing the Preliminary Emancipation Proclamation.
But the Battle of Antietam and the Maryland Campaign of 1862 is more than statistics and facts. According to our esteemed local historian, John Schildt, "History is about people and places".  Even though Antietam is one of the most pristine battlefields in the United States it is very difficult to understand the ebb and flow of the battle as you're standing at one of the park stops. Looking at the fields, the wood lots and the roads, it can be very confusing and you cannot begin to put yourself into the shoes of the soldiers that stood on the very same ground without the assistance of a licensed Antietam Battlefield Guide.
The Antietam Battlefield Guides
The Antietam Guides are a group of historians dedicated to providing outstanding interpretive tours of the Antietam Battlefield, as well as other sites related to the Maryland Campaign of 1862.   This is a group of incredibly talented and gifted professionals.  Many of the guides are published authors and have written articles for renowned Civil War magazines.  They are frequent lecturers at Civil War Roundtables and Historical Societies, as well as historical seminars and on forums, sharing their knowledge about Antietam and the American Civil War.  When not giving tours, many guides serve as volunteers at Antietam Battlefield.  You may find them at the Visitor Center desk, out on the field as Battlefield Ambassadors, on the Battery B, 4th US Artillery, (Antietam's living history interpreters), or behind the scenes helping out with park maintenance during the off season.  The Guides also support the Save Historic Antietam Foundation, the local organization that works to promote the preservation and restoration of the scenic area in and around the Antietam Battlefield.  Guides are frequently out helping clearing brush or restoring a fence line during their work days.
The First Guide and the start of the guide service 
The Antietam Battlefield Guides trace their start back to the first battlefield guide at Antietam, Oliver T. Reilly.  O.T. Reilly was just five years old at the time of the battle and is said to have witnessed it from a hill near Keedysville where he lived.   When he was just 15, O.T. began giving tours of the battlefield.  In 1890, he moved to Sharpsburg, where he opened a store on Main Street, selling novelties,  battlefield guide books, postcards and Civil War relics.  Reilly served as a battlefield guide for seven decades, often taking veterans on tours of the field.  The current guide service was founded in 2005 by Stephen Recker in partnership with the Western Maryland Interpretive Association, a non-profit organization at Antietam.  In the fall of 2011, Jim Rosebrock became the new Chief of the Antietam Battlefield Guides.  Under Jim's leadership the program envolved and expanded to include other areas associated with the Maryland Campaign.  Now visitors can experience the whole Maryland Campaign by visiting Harpers Ferry, the South Mountain Battlefields and Antietam National Battlefield.  At the beginning of 2019, Chris Vincent was honored to be selected to succeed Jim as the Chief Guide.  Chris looks forward to leading the guides into the next decade with their new parent association Eastern National, which is a 501(c)3 not-for-profit cooperating association that manages the museum bookstore at the battlefield.
Becoming a Guide
Becoming an Antietam Battlefield Guide requires enthusiasm, a desire to learn and much preparation. The standards are high but the rewards are worth the effort.  After successfully passing a written exam, guide candidates are paired with a certified guide-mentor to begin preparing for their 3-hour field test. During this phase, candidates become participants in the Battlefield's Volunteers in the Parks (VIP) program. The experiences of volunteering provides the opportunity to interact with park visitors and get to know the rangers and other volunteers, many of whom are guides. It also affords the opportunity to spend time on the field and to sharpen interpretation skills.  Once candidates have completed all their requirements of the Mentoring Phase and feel they are ready, they take a 3-hour oral field test that consists of  a 3-hour tour with a National Park Service ranger and the Chief Guide. Upon successful completion of the field test, candidates become NPS Certified Battlefield Guides!
Antietam Battlefield Guides are constantly  researching and studying the  Maryland Campaign.  During the off-season, guides conduct professional development training by exploring seldom visited parts of the field and reviewing other aspects of the battle.  Guides can customize your tour to focus on a particular part of the battlefield or a specific unit.  If you had an ancestor who fought at Antietam your guide can tailor a part of the tour to those particular areas on the field where your ancestor's unit fought.
Booking a battlefield tour
The Antietam Guides are booked through the Antietam National Battlefield Museum Store.  The guide will drive your vehicle so you can focus on the field areas that the guide is talking about and what they are describing to you. There are currently five basic tours you can take and the cost is based on the number of people in your group.
Highlight Tour (2 hours): This tour is designed for those with young children or people on a tight schedule, and will cover the Cornfield, Sunken Road and Burnside Bridge overlook.
Standard Tour (3 hours): This is the standard tour and includes an introduction to the Maryland Campaign at the Visitors Center as well as stops at the Cornfield, Sunken Road and Burnside Bridge. It is designed for individuals or groups seeking general knowledge of the battle and the battlefield.
Extended Tour (4 hours): This tour is designed for those visitors interested in exploring the battlefield in greater depth. It includes all parts of the Standard Tour however time is built in for additional stops or extended time at the 3 Standard Tour stops.
Antietam Plus Tour (6 hours): This 6 hour tour includes a Standard Tour of Antietam and a trip to one other battlefield, of the visitor's choice, associated with the Maryland Campaign (either Harpers Ferry or South Mountain). All Antietam Plus tours originate at the Antietam Battlefield Visitors Center.
Campaign Tour (8 hours): The Campaign Tour covers all three battlefields of the Maryland Campaign (Antietam, South Mountain & Harpers Ferry). This tour originates at Antietam and travels to South Mountain and Harpers Ferry to explore the battles that preceded America's bloodiest day. After touring South Mountain & Harpers Ferry you return to Antietam for the 3 hour Standard Tour.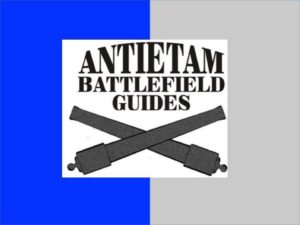 Walk-in service is available for the 2 hour and 3 hour tours, however with walk-in service a guide cannot be guaranteed. To guarantee a guide, make a reservation in advance of your visit to Antietam.
To book your Battlefield tour, call the Antietam Museum Store at (301) 432-4329.  Check the guide biographies on the website. If there is a particular guide you are interested in securing, let the bookstore associate know who you would like to lead your tour.
If you have other questions and inquiries, you can email the guides at AntietamTours@easternnational.org.  Follow along on the Antietam Battlefield Guide Facebook page for updates about the programs, what the guides are up to, and information about Antietam National Battlefield.
If your staying at the Inn take advantage of our Civil War Tour Specials and we'll book one of these outstanding tours with the Antietam Battlefield Guide for you.  We hope to see you soon!
July 29, 2019 by jacobrohrbach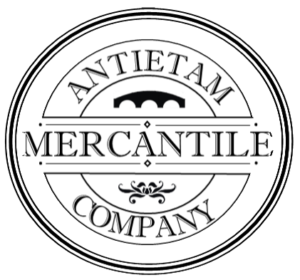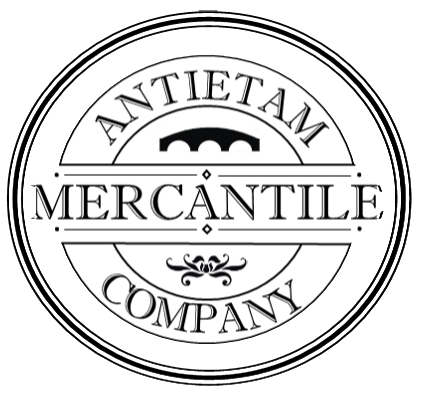 After many months of planning, preparing and praying, we are pleased to announce that our store is finally open.  The Antietam Mercantile Company will not only be an expansion of the Inn's gift shop, but we'll be carrying many of the primitives and home decor items that decorate the Inn. Over the years the ground  floor had been used for many things, including a barber shop, dress store and a souvenir shop.  Now, the newest store in Sharpsburg will allow you to stay local and shop local.  Stop in the Antietam Mercantile Company during your next visit to Sharpsburg.
The store will be open to guests everyday after breakfast to peruse through and shop.
For now, our store hours to the public will be:
Wednesday 5:00pm – 7:00pm
Friday & Saturday: 12:00am – 7:00pm
Sunday: 12:00am – 5:00pm.
Here is just a "sneak peak" of what you can expect at the Antietam Mercantile Company.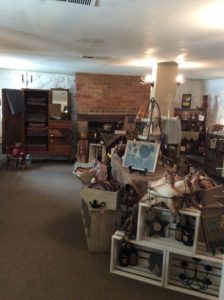 Antietam Mercantile Company
(240) 310-4011
138 W. Main Street (sidewalk entrance)
Sharpsburg, MD 21782
July 4, 2019 by jacobrohrbach
John Schildt hardly needs an introduction. He is well known for his many books relating the various aspects of the Maryland Campaign of 1862 and local history. Reverend Schildt graduated from Shepherd College, Wesley Theological Seminary and has studied at Western Maryland College, Gettysburg Seminary and West Virginia University.
Rev. Schildt was introduced to Civil War history by his great-grandmother who fed Union troops on the way to Gettysburg when she was a little girl. John has been a lecturer and guide for the Gettysburg College Civil War Institute, Bud Robertson's "Campaigning with Lee", the Chicago Civil War Round Table, and many other groups. He was the main speaker at the 125th anniversary of Antietam. Outside of Civil War history, John has led three educational excursions to Normandy and took part in the American and French commemoration of the 50th anniversary of the D-day landing in 1994. While leading explorations, he likes to make history come alive by sharing human interest stories about people and places. Having been a lifelong student of Antietam, John has written many books on the subject, including "September Echoes," "Drums along the Antietam," "Roads to Antietam," and several others.
Rev. John Schildt will be our final speaker of the season on Wednesday, August 28th.  John often talks about history being about 'people' and 'places'.  John will present his Summer Lecture Series talk – "People and Places at Antietam".  John will go from George Washington, to "the Horse Without A Tail", to John Ticknor, Martin Eakle, Dr. William Child, Clara Barton and Axel Steele, to Dr. Dunn, Black Jack Logan, the Hoffman farm, Drs. Biggs and Shealy, the Grove family, JFK, Jimmy Carter, Patrick Roy, and Lincoln, as well as other people and places connected with the Maryland Campaign.
Come join leading historians and Antietam Battlefield Guides as they discuss intriguing topics of the Maryland Campaign of 1862 and the Civil War during our Civil War Summer Lecture Series.
These outdoors programs will be held at the Jacob Rohrbach Inn on Wednesday evenings at 7:oo p.m.   To ensure adequate seating, please bring a chair.  In case of inclement weather, lectures will be held at the Sharpsburg Christ Reformed Church of Christ.  Parking is available on Main and Hall Streets.  For updates and a full schedule of presenters & topics check our Facebook page.
July 4, 2019 by jacobrohrbach
The discovery of Robert E. Lee's Special Orders no. 191 outside of Frederick, Maryland on September 13, 1862 is one of the most important and hotly disputed events of the American Civil War. For more than 150 years historians have debated if George McClellan, commander of the Union Army of the Potomac, dawdled upon receiving a copy of the orders before advancing to challenge Lee's forces at the Battle of South Mountain.
Alexander Rossino will discuss how 'Little Mac' moved with uncharacteristic energy to counter the Confederate threat and take advantage of Lee's divided forces, striking a blow in the process that wrecked Lee's plans and sent his army reeling back toward Virginia. ​
​On Wednesday, August 21st Dr. Alex Rossino will put a final word on the debate over the fate and impact of the Lost Orders on the history of the 1862 Maryland Campaign during his talk – "The Tale Untwisted: George McClellan and the Discovery of Lee's Lost Orders, September 13, 1862".
Dr. Rossino earned his PhD in History at Syracuse University in 1999. He is the author of Hitler Strikes Poland: Blitzkrieg, Ideology, and Atrocity, a study of German policies against Polish Christians and Jews during the Nazi invasion of Poland in September 1939. He worked for 9 years as an historian at the United States Holocaust Memorial Museum before moving to the private sector to provide market analysis for the government contracting community, work he continues to this day. Following a long hiatus from writing, Dr. Rossino moved to Western Maryland in 2013 and turned his studies to the American Civil War, a subject of interest to him since childhood. In 2017 he published Six Days in September: A Novel of Lee's Army in Maryland, 1862 with Savas Beatie. The novel examines the history of the second half of the Confederate invasion of Maryland from a first-person perspective, combining history and fiction to help general readers better understand the importance of the 1862 Maryland Campaign to Robert E. Lee and his army. A sequel to the book giving the same treatment to McClellan's army is due out in 2019. Dr. Rossino is also the author of two new articles on the Civil War in Maryland: one on the Confederate Army in Frederick and the other on George McClellan's handling of Lee's Lost Orders in September 1862, which he co-authored with Cartographer Gene Thorp. Last, but not least, he is the editor of Savas Beatie's new Civil War Spotlight essay series, a service publishing historical essays on issues of importance to Civil War studies. His talk today is based on the inaugural offering in that series.​
Come join leading historians and Antietam Battlefield Guides as they discuss intriguing topics of the Maryland Campaign of 1862 and the Civil War during our Civil War Summer Lecture Series.
These outdoors programs will be held at the Jacob Rohrbach Inn on Wednesday evenings at 7:oo p.m.   To ensure adequate seating, please bring a chair.  In case of inclement weather, lectures will be held at the Sharpsburg Christ Reformed Church of Christ.  Parking is available on Main and Hall Streets.  For updates and a full schedule of presenters & topics check our Facebook page.