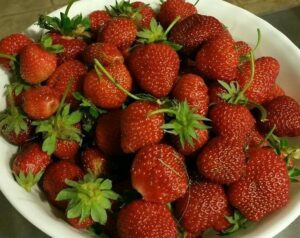 Nothing is better than fresh Strawberries – and May is National Strawberry Month!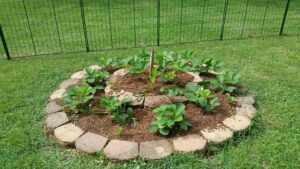 We love them so much we even have a patch, or three, at the Inn and try to serve them every chance we get.  This super easy recipe makes the best jam you have ever eaten.
Mix crushed strawberries with sugar, and let stand for 10 minutes, stirring occasionally. Meanwhile, stir the pectin into the water in a small saucepan. Bring to a boil over medium-high heat, and boil for 1 minute, stirring constantly. Immediately pour the boiling pectin mixture onto the strawberries.   Mix for approximately 3 minutes or until sugar is totally dissolved before pouring into jars or other storage containers.
Place tops on the containers and leave at room temperature until set.  Can be left at room temperature for a maximum of 24 hours, but it usually only takes a few hours to solidify. Place into freezer, and store frozen until ready to use.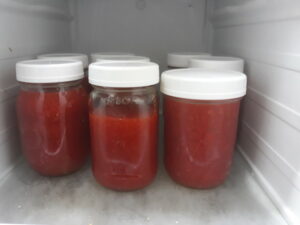 Makes 4 cups
2 cups fresh strawberries – crushed
4 cups sugar
3/4 cup water
1 (1.75 ounce) package dry pectin
This strawberry freezer jam is quick, easy and delicious on toast, ice cream or even in milkshakes. Keep jars of this in the freezer and take them out when you are ready to use them. Once thawed, the jam will technically last about 1 month in the refrigerator, but we have never had a jar not disappear in a week!