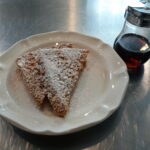 Here is a delicious twist on an old classic. Crunchy French Toast is a cereal crusted french toast recipe.  Thick slices of bread are dipped in a cinnamon batter and then coated in crushed cereal.  It's light and fluffy on the inside, crunchy on the outside and super easy to make.  This is a sure bet to become your family's new favorite breakfast!
This recipe makes four servings and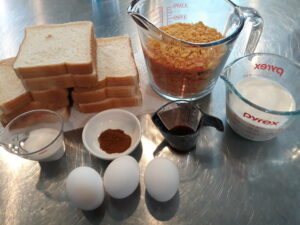 here are the ingredients you will need:
3 large eggs
1 cup half-and-half
2 tablespoons sugar
1 teaspoon vanilla extract
1/2 teaspoon ground cinnamon
pinch of nutmeg
3 cups coarsely crushed cornflakes cereal
8 (3/4 inch think) diagonally cut slices of French or challah bread – We use Texas Toast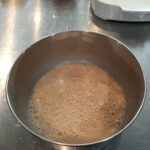 In a shallow bowl, combine eggs, half and half, sugar, vanilla cinnamon and nutmeg; beat well.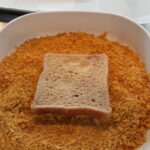 Place crushed cereal in another shallow bowl.
Dip each bread slice in the egg mixture. making sure bread is well soaked egg mixture is absorbed.
Then coat each slice with cereal crumbs.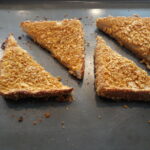 Place on 15x10x1 baking sheet; cover and place in freezer for 1 – 2 hours or until firm.  
Heat oven to 400 F.  Bake bread slices 15-20 minutes or until golden brown, turning once.
To serve, slice baked French Toast on the diagonal; serve 2-3 piece per person.  Garnish with powdered sugar, syrup, fresh berries and/or whipped cream.
At the Inn we often whip up a batch of cannoli dip to serve on the side.
2 cups ricotta chees
1 (8 ounce) package cream cheese
1 1/2 cups confectioners' sugar
1 teaspoon vanilla extract
1/2 cup miniature semisweet chocolate chip
Beat ricotta cheese and cream cheese together in a bowl until smooth then add the sugar and vanilla.  Continue to stir mixture until sugar is completely incorporated.  Fold chocolate chips through the cheese mixture.
Cover the bowl with plastic wrap and refrigerate until chilled, at least 10 minutes.  To serve with Crunchy French Toast, scope into a small bowl, garnish with some additional chocolate chips.  
Try our Crunchy French Toast and Cannoli Dip