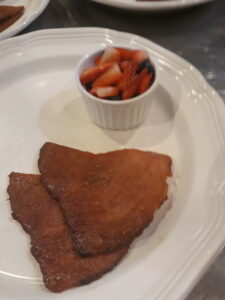 Baked Ham Slices with a Brown Sugar Glaze is a great side to any breakfast entrée. This easy glaze is made with brown sugar, orange juice, honey, and spices and makes the PERFECT addition to a holiday ham. Best of all it only takes 5 minutes to make!
This recipe makes approx. 10 servings and here are the ingredients you will need: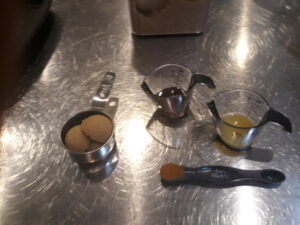 10 Precooked thick ham slices
3 Tablespoons light brown sugar packed
1 Tablespoon orange juice
1 Tablespoon honey
1/4 teaspoon cinnamon
Preheat oven to 400
Arrange ham slices on a foil lined baking sheet.
In a small sauce pan, bring the ingredients to a boil together on medium heat and cook for 3-4 minutes to thicken.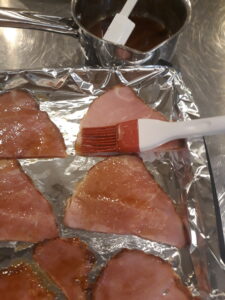 Spoon onto ham slices and brush to ensure each slice is covered. Bake for 15 minutes.
Replace the orange juice with apple cider for a different holiday flavor.
The glaze uses cinnamon, but you can also add nutmeg, ground cloves, or allspice to the sauce.
If baking a whole ham, just increase the glaze ingredients by 5.