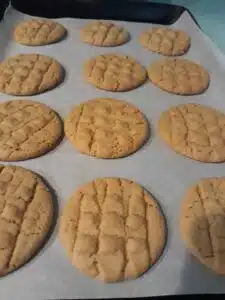 This quick and easy recipe for Peanut Butter Cookies is only 4 very basic ingredients.   They're also Gluten Free and absolutely delicious!  This is the ideal cookie to double batch so you can pop some in the freezer to pull out whenever you want a tasty snack because they freeze beautifully.  This is also a very "kid friendly" recipe so it's perfect to get the kids and grandkids involved in the kitchen. 
Here are the four ingredients you'll need:
1 Cup Peanut Butter – smooth or crunchy
1 Cup Granulated Sugar
1 Egg – room temperature
1 Teaspoon Vanilla
First preheat oven to 350 degrees F. Line a baking sheet with parchment paper or very lightly grease a baking sheet with Pam and set aside. In a medium bowl, combine peanut butter and sugar until well combined, about 2 minutes. Then add the egg and vanilla and mix for another 2 minutes. GENTLY roll into small walnut sized balls and place on baking sheet and create a crisscross pattern with a fork. Bake for 10-12 minutes, until lightly browned and tops have a classic 'cracked' look. Cool on a baking sheet for several minutes to allow to firm up.  Transfer to a wire rack or directly into your mouth. 
Cookies will last in an airtight container at room temperature for up to 4 days. – ENJOY!
TIPS :
If your dough appears 'dry' or it falls apart when rolling it into balls add water to mix 1 tablespoon at a time until desired consistency
Cookie dough can be frozen after step 3. Place the dough balls side-by-side on a baking sheet until frozen through then store in a freezer bag. Just bake them for 2-3 minutes longer.
If you want a thicker, fatter cookie, add a teaspoon of baking powder to mix.
If you want a thinner, flatter cookie add a teaspoon of baking soda to mix.