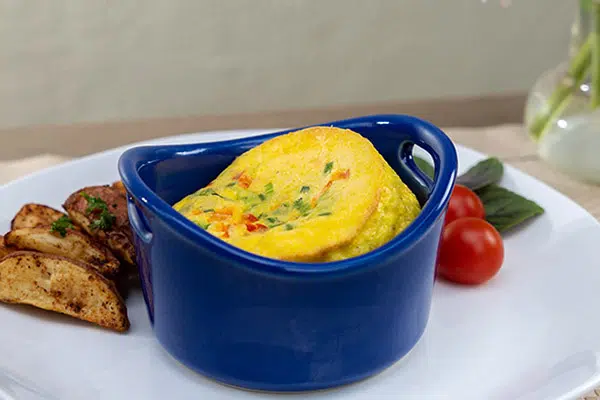 One of the most visually impressive dishes we serve is our version of an egg soufflé. It's super easy to make and if you time it just right, the egg is popping out of the dish just in time for your friends and family to be amazed.
Another great thing about this recipe is it's easy to make for small or large groups. Here's the ingredients you need to make for two.
Preheat the oven to 325 degrees F. We like to bake this in our 8oz. high blue ramekins but you can use a glass dish or cast-iron skillet especially for a large group. Spray or butter the two individual ramekins well.
4 eggs
3 Tbsps. sour cream
3 Tbsps. milk
¼ Tsp salt
Pinch pepper
2 ½ tsp chopped green onions
2 ½ tsp chopped red bell pepper
1 tsp turmeric
6 Tbsps. grated cheese – we use Parmigiano-Reggiano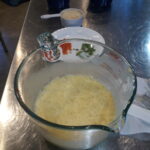 Next, in a small bowl, add the eggs, sour cream, milk, salt, pepper, and turmeric. Beat until light and airy, then add the green onions, red peppers, and grated cheese.
Place the ramekins on baking sheet and add the mixture evenly to the ramekins.
Then bake for about 35 minutes, until set but still moist. Soufflé will raise above the ramekin. Try to serve straight from the oven to ensure the Soufflé doesn't have a chance to cool and fall.