April 5, 2018 by jacobrohrbach
One of our favorite signature dishes is our "Eggs Rohrbach".  It has all the same yummy ingredients of traditional Eggs Benedict but is simple to make.  It's SO easy that even Chris can make it.
Serves 4
You will need:
5 eggs
4 Slices Canadian bacon
2 English muffins
3/4 cup milk
Shredded Cheese (optional)
Salt / pepper to taste
First, spray four ramekins with some nonstick spray.   Then slice and cube two English muffins into approximately ½" size cubes.
Now place a slice of Canadian bacon centered in each ramekin and  sprinkle with a small amount of cheese.  Place some cubed muffin on top of the cheese and then sprinkle the remaining cheese on top of muffin.
In a medium bowl, beat the eggs, milk and seasoning together and gently pour over muffin.  Cover with foil and refrigerate overnight.
In the morning, pull out the ramekins about 30 minutes prior to baking.  Preheat your oven to 350°F and bake uncovered for 30-35 minutes, until set.
Just before the eggs are done go ahead and start whipping together your favorite Hollandaise Sauce.  We have an easy recipe for that too, but that's a secret… just kidding tune in for another blog in the future.
When done, run a knife around the edge, invert onto plate.  Top with Hollandaise and garnish with chopped parsley or chives.  Serve with some fresh herb tomatoes and a side of our Apple Maple sausage.  Enjoy!
Tips:
–  Can be made the same day, just allow enough time for the muffin to soak up the egg mixture.
–  No ramekins? No problem!  Use a jumbo muffin tin.
–  Once inverted onto plate, keep ramekin on until ready to top with Hollandaise Sauce.
October 10, 2017 by jacobrohrbach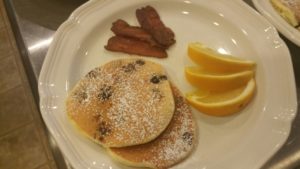 Whether serving a full house or just a few guests, our Lemon Ricotta Pancakes are always a big hit.  They are a little more involved than your traditional pancakes, but oh, SO worth the extra effort!
Serves 10 – (makes 2 pancakes each)
You will need:
2 cups ricotta
2 cups sour cream
6 eggs, separated
2 cups all purpose flour
1 tsp. Baking soda
2 dash salt
2 Tbs white sugar
4 Tbs lemon juice
4 tsp grated lemon zest
oil
Fresh blueberries – 2 cups (optional)*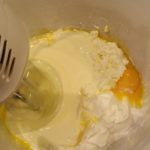 Beat together ricotta, sour cream, and egg yolks.
Combine baking soda, flour, salt, and sugar.
Beat egg whites until fairly stiff but not dry
Heat a griddle or large skillet over medium-low heat while you finish batter.
Stir flour mixture into cheese mixture, blending well but not beating.
Add blueberries.
Stir in lemon juice and zest, then gently fold in beaten egg whites; they should remain somewhat visible in batter.
Grease griddle or skillet with butter, oil or spray to coat surface.
When it is hot add batter, we use 1/4 cup per, making sure to include some egg white in each pancake.
Cook until lightly browned on bottom, 3-5 minutes, then turn and cook second side.
Serve with warm maple syrup, top with whip cream or try some of our homemade Blueberry Sauce
Tips:
– * Can use frozen berries- thaw slightly but do not rinse
– When adding dry mix into the wet ingredients do not overmix
– Gently fold the egg whites into the batter
– Be sure to test to see if the griddle is hot enough by sprinkling a couple of drops of cold water on it: If the water bounces and sputters, it is ready to use.
May 1, 2017 by jacobrohrbach
One of our signature accompaniments for breakfast at the Inn is our Apple Maple Sausage Patties.  This delicious side compliments any sweet or savory dish that we serve.  Guests rave about the flavor and request them on return visits.  This is an easy recipe that will quickly become a family favorite!
Serves 10 – (makes 20 patties)
You will need:
2 pounds of ground lean sausage*
1 tsp fine salt
1 tsp black pepper
½ tsp ground sage, dried
3 Tbs organic maple syrup
1 large apple, peeled, cored, and shredded*
Heat the oven to 425°F. Cover a cookie sheet with foil.
Peel, core, and grate one large apple.
In a large mixing bowl combine two pounds of ground sausage, grated apple, salt, pepper, sage and syrup.
Using clean hands, or a large spoon, mix well to incorporate.
We use a ¼ cup measuring cup to get the right amount of sausage to place in our two-patty sausage press.  If you don't have a sausage press, don't worry just roll into balls and then you can pat them into small patties – not too big, not too small.  Place sausage patties evenly across sheet.
Bake sausage for 15 minutes.  Flip patties over and bake another 5 – 10 minutes until golden brown.
You can serve with any main entree but we like to serve them with our Oven Omelets or Baked French Toast
*We use tart apples from Distillery Lane Ciderworks but a nice Granny Smith works well.  We also purchase our ground sausage from Crestview Meats in Martinsburg.  Just make sure you use lean, quality meat, this is not the time to try to save a few cents.  Trust us, it makes a difference!
Tips:
– Place sausage patties on parchment/wax paper and freeze, then store in a plastic bag in the freezer. This allows you to remove and bake only what you need.
– Pull out sausages the night before and place in refrigerator.
– We bake the patties instead of frying; this allows the meat to bake in the naturally blended juices of the meat, apple and maple syrup.