February 29, 2020 by jacobrohrbach
We love to do frittatas at the Inn.  They are super easy and versatile, yet look really impressive when served.  Breakfast, lunch, brunch or even dinner, they make a beautiful and filling meal.  While we plan ours and use ingredients based on what is seasonal, they are a great way to 'clean out the fridge'.  I am giving the ingredients used for our veggie version, but you could easily add meat to yours if you wanted.  Most frittatas are done in a cast iron skillet on the stove top and then baked in the oven.  While you can use that method, we do ours in ramekins (as I have a bit of an obsession with them at the moment) and just bake them.  It allows us to customize each one if needed, depending on dietary requirements.  You could go crazy and make each one different and do a frittata tasting to find your favorite.
Ingredients:  makes 4 individual frittatas
1/2 cup chopped onion
1/2 cup chopped green pepper
1/2 cup chopped sweet red pepper
1 cup potato, cooked and cubed
1 cup chopped spinach
3 tablespoons butter or olive oil
8 large eggs
1/2 cup shredded cheese of choice
1/2 cup sour cream
salt and pepper to taste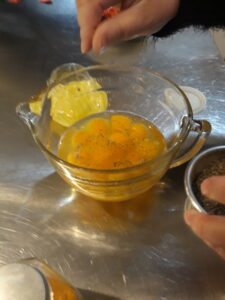 Spray individual ramekins well with non stick spray and set on foil lined tray.
In large bowl beat eggs until well blended, add sour cream and mix again.  Stir in cheese, salt and pepper and set aside.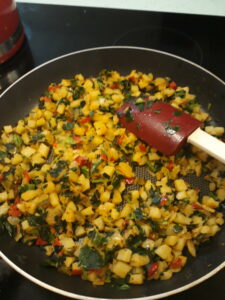 Add oil and a little butter to a pan over medium heat, add cubed potatoes and brown all sides.  Remove potatoes to a bowl and set aside.  Add another pat of butter to warm pan and add peppers and onions, cook until tender, stir as needed  When onions and peppers are cooked add chopped spinach to pan (add a little more oil or butter pat as needed).  Stir frequently to prevent spinach from burning and cook until wilted.  Add potatoes back to veggie mixture and mix well and until all ingredients are warm.
Divide veggies between the 4 ramekins and then ladle egg mixture over top.
Bake at 350 degrees for approx 30 minutes,  remove and let set for 5 minutes.  This can either be served in the ramekin or removed and then plated.
OK, now that I have given you the ingredient list, I'm going to make a confession……I usually just wing it.  These are the amounts that I started with and a few thousand frittatas later, I just eyeball it.  Good rule of thumb is 2 eggs per person, depending on how 'loaded' you plan on making them.  That is why I love frittatas so much.  There is no right or wrong way to do them.  Hate onions or spinach, leave them out….love potatoes, load it up…..need meat, throw it in!  You are only limited by your imagination (or the contents of your fridge!)
Now, a few tips that you might find helpful on your frittata journey.   It's OK to use frozen breakfast potatoes if you don't have a leftover baked potato, just brown them good first.  Frozen chopped spinach can be a lifesaver during the winter when you can't find, or afford, good fresh produce.  Regardless of what your children might tell you, no one ever died from eating spinach!  I know I said cheese of choice,  but go light on the cheddar it tends to get oily when you bake it.   You might also notice that there is no milk or cream listed, I almost never use it in my egg dishes. I use sour cream instead, it makes all of your egg dishes really light and fluffy.  Seriously, try it, you can thank me later….
October 29, 2019 by jacobrohrbach
The local bakery in town is just as well known as Nutter's Ice Cream.  Burkholder's Baked Goods has been providing delicious fresh donuts, dinner rolls, fresh cakes and pies, breads, milk, and cheese for almost 25 years now in Sharpsburg.
About Burkholder's Baked Goods
Nathan and his wife Ruth Burkholder, started selling baked goods out of their van at the old Amoco or BP station in Sharpsburg.  They had recently sold their farm near the Hagerstown airport and moved to a farm near Sharpsburg.   The business become so successful selling out of the van, that they opened their first commercial bakery on Main Street in the Town Square.  In 2000, they sold their farm and purchased a home in Sharpsburg and remodeled the garage into the current bakery facility.
Unique Items at the Bakery   
There is not a Dunkin Donut or Krispy Cream shop within miles of Sharpsburg, but not to worry, Burkholders Baked Goods beats them hands down when it comes to fresh made donuts.  The display counter in the bakery is not that big, but they carry at least two dozen different kinds of donuts every morning.  Powdered, glazed, filled with fruit or filled with cream, and my two favorites apple fritters and bear claws.
If you're not into donuts, the Burkholders also make cookies each day too. You can always find oatmeal raisin, peanut butter blossoms,  short bread, sugar cookies and depending on the season, decorated butter cut-outs.  Of course pies and cakes are one of the best sellers. Pumpkin, apple and pecan pie (again, my favorite) are popular around the holidays.
Even though we love the donuts, cookies, and pies; a popular breakfast item at the Inn is the homemade bread.  That's right, we use Burkerholder's bread for a number of breakfast dishes.  Their famous Cheese Bread is toasted just enough to brown the edges and bubble the cheese that's carefully folded into the dough.  This makes a perfect side to any egg dish.  We recently posted the recipe for our Caramelized French Toast.  Of course you could use store bought bread, but we love the Cinnamon Raisin bread.  The extra cinnamon, raisins and yeasty sweetness makes this one of our most requested breakfast dishes.  Burkholder's makes several kinds of bread, and they are all really good.
In addition to all these wonderful baked goods, they also sell local dairy products and honey.  They have farm fresh eggs, cheese and their milk comes in the old-fashioned glass milk bottles.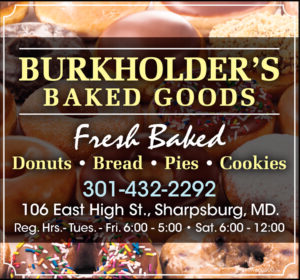 So the next time you're at the Inn or visiting Sharpsburg, stop by Burkholders to get some fresh homemade baked goods to snack on or take home.
Burkholder's Baked Goods
301-432-2292
106 W High St
Sharpsburg, MD 21782
The bakery is open from 6am to 5 p.m. Tuesday –  Friday, 6am-12pm Saturday (closed Sunday & Monday).
Directions
Driving from the Inn, Burkholder's Baked Goods is just at the end of the block on Hall Street, turn left on High Street.   You will cross over Mechanic Street and the bakery will be on your right.  Parking is available behind the house. (Click here for Google Maps)
October 29, 2019 by jacobrohrbach
This is the perfect breakfast for when  you want something a little special, but don't have time to make a fuss.   It is a twist on traditional french toast, but you make it the night before and just pop it into the oven the next day.   With the gooey center and chewy edges it's a crowd pleaser at a holiday brunch.  Because of its' sweetness, it is best served with salty bacon or spicey sausage
Butter or spray a large 15″ rectangular dish.  Slice the cinnamon raisin bread (Ours is fresh from Burkholders Baked Goods here in Sharpsburg) about an inch thick and lay slices flat to completely fill the dish.  You may need to cut the edges or add pieces as necessary to ensure the dish is filled.
In a medium size bowl, combine the eggs, milk, cream, vanilla, cinnamon, and nutmeg.  Mix well.  Pour over bread slices, then cover and refrigerate overnight.
The next day, remove from the refrigerator at least 30 minutes before baking.  Preheat oven to 350 degrees.
In a small bowl, combine the butter, brown sugar, and corn syrup for topping, mix well.  (It will be very thick like frosting.)
Spread over top of bread evenly.
Bake 45-60 minutes or until puffed and golden.  Remove from the oven and let sit for 5-10 minutes to allow topping to set nicely.  Cut into squares and serve with warm.  This French toast is plenty sweet on its own but can be served with warm maple syrup, fresh whip cream or a light dusting of powdered sugar.
Serves 8
8 slices of one inch thick Cinnamon Raisin Bread*
6 Eggs
1 cup cream or half & half
1 cup milk
2 teaspoons vanilla
1/2 teaspoon ground cinnamon
1/2 teaspoon nutmeg
Topping
1/2 cup butter (softened)
1 cup brown sugar (firmly packed)
2 tablespoon light corn syrup
*If you can't find whole loaf bread, you can stack 2 thin slices
August 2, 2019 by jacobrohrbach
Guests often want to know what we, the Innkeepers, have for breakfast.   Often we are so busy that we skip breakfast (I know, the HORROR!) and have an early lunch.  On those rare days that we have a little spare time, or when family comes to visit, we like to whip up some Cheesy Eggs.  Who doesn't like eggs with cheese – cheese makes everything better!   But these aren't your typical boring scrambled eggs with a little cheese sprinkled on them.  These are infused with cheesy goodness, and with only a few ingredients, are super easy to prepare.  It also looks like it took a lot of effort to prepare, so you score extra points with your company.   We have one or two 'secret weapons' that take this dish from good to amazing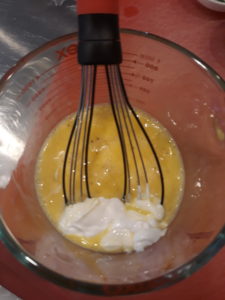 Start by whisking your eggs, add a little pepper to taste.  (Skip the salt, you won't need it.  No seriously, put it down, you won't need it)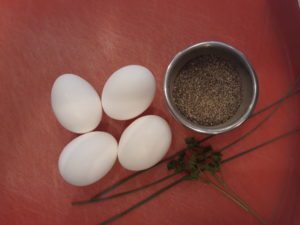 Add a little bit of herbs.  We used parsley and chives, because that is what I grow and had them handy.  You can add any kind of herbs, or not add any at all.  These are your eggs,  make them how you like.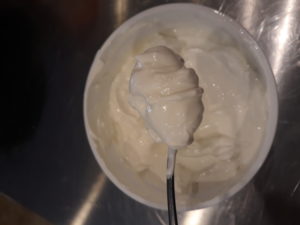 This is our first secret ingredient- sour cream.  What……yep, that's right.  Skip the milk and add sour cream to your eggs.  This makes them super light and fluffy.  Just whisk them enough to break up and incorporate the sour cream, you should still see little bits floating around.
Now for the main secret weapon – Palmetto Cheese!  I can see all of our Southern guests out there going 'yes, mam' and all of the Northern ones wondering 'what the heck is Palmetto Cheese'     We found this amazing cheese when we were stationed in Alabama.   It's a rich, creamy spread with pieces of cheddar cheese, onion, pimentos and cream cheese.  (It's so good, a lot of people just use it to make a sandwich)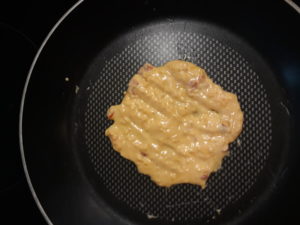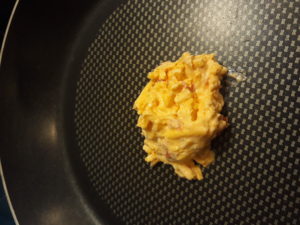 Put 2 TBS of spread in a non stick pan and stir it once or twice until it starts to melt.  Add in you egg mixture and continue to fold until well cooked.  When finished, sprinkle with some chopped chives and a little parsley.  Serve with toast and sliced tomatoes.  DELISH!
Serves 2-4
4 Eggs
Pepper to taste
2 TBS Sour Cream
2 TBS Palmetto Cheese
Choice of Herbs (optional)
See told you it was just a few things!
Need to serve a crowd?  My rule of thumb is  2 Eggs per person and  1 TBS Sour Cream and 1 TBS of Palmetto Cheese per person.  You can add more or less for your personal taste.
April 28, 2019 by jacobrohrbach
Dutch Puff Pancake  – Servings: 2-4
If you are looking for an easy way to impress people with your cooking skills (when you have none!) this is the recipe for you.  This thick, puffy pancake makes such an impression that it is often greeted by 'ooh' and 'wow' when presented to  guests.  It's such a versatile dish that with just a few tweaks it can be sweet or savory and is perfect for breakfast, brunch or even dessert.
Basic Recipe (serves four)
4 eggs
1 cup milk
1 cup flour
½ tsp fine salt
4 Tbs butter
4 Tbs sugar
2 tsp Vanilla extract
1 large skillet or two 8 inch skillets
Instructions:
Blend the batter: Place the flour, milk, eggs, sugar, vanilla, and salt in a blender or food processor fitted with the blade attachment. Blend for 10 seconds, scrape down the sides, and then blend for another 10 seconds. The batter will be quite thin and loose.
Rest the batter: Leave the batter in the blender and set aside to rest 20 to 25 minutes. This gives the flour time to absorb the liquid. You will be tempted to swirl it around or stir it – don't!
Heat the pan and oven:  Heat the oven to 425°F and place the skillet you're using on a middle rack to warm up with the oven.  You might want to take the top rack out now in case it gets extra puffy.
Melt the butter: When you're ready to make the pancake, remove the skillet from the oven (using oven mitts), add the butter and swirl the pan to melt the butter and coat the bottom and sides of the pan.  (It will seem like too much butter, trust us, it's not!)
Add the batter: Pour the batter on top of the butter.  Place the skillet back on the middle rack in the oven.
Bake the Dutch baby: Bake until the Dutch baby is puffed, lightly browned across the top, and darker brown on the sides and edges, 15 to 20 minutes.
Serve while hot: You can either serve from the pan or transfer the Dutch baby to a serving platter. Dust with powdered sugar.
See additional serving suggestions below.
For breakfast : Cut into wedges and serve with maple syrup or jam . Serve with sausage patties or links, and a twisted orange slice
For brunch:  Add a sharp shredded cheese to the batter and place diced ham in the pan before adding batter.
For dessert:  Cut into wedges, add a scoop of ice cream and drizzle with hot caramel or chocolate sauce.
Fruit* or Meat filled Dutch baby: Arrange fruits like blueberries or raspberries or place diced ham or crumbled bacon over the bottom of the skillet and then pour the batter over top. (Scattering fruit/meat on top of the batter will keep it from rising as impressively.)
*Fresh or Canned Fruits can be added to the pancake in the center after baking is complete, either prior to or just after cutting into wedges.
February 23, 2019 by jacobrohrbach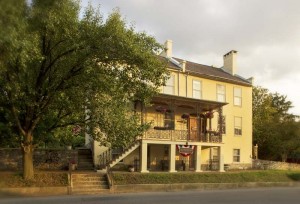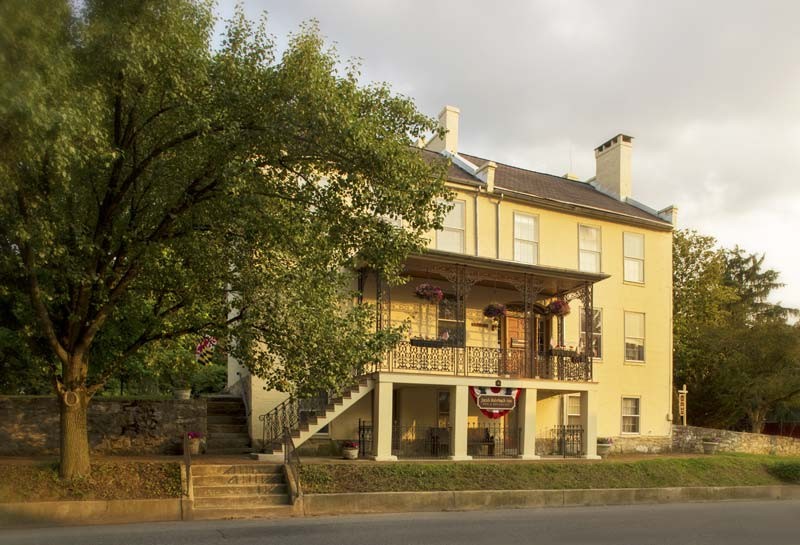 Hotels, motels, house rentals, Bed & Breakfasts…. Travelers today have more lodging options than ever before and trying to decide where to stay can be overwhelming. Whether you're travelling for business or pleasure, finding the right accommodation is important.  However, with so many choices, why should you consider a bed and breakfast over another accommodation type?   That's easy – they're great!  No seriously, they are so not what you expect.  B&B's are experiencing a huge resurgence in popularity and they often provide better value compared to hotels and other types of accommodations
If you have never stayed in a Bed & Breakfast, you owe it to yourself to try it.  If you HAVE stayed in a Bed & Breakfast, you owe it to yourself to go back.  (And, if you stayed in one and thought it was 'just ok' you owe it to yourself to try ours!)  Here is our top 5 reasons why you should stay at a B&B, especially the Jacob Rohrbach Inn:
1 – A Personal Experience: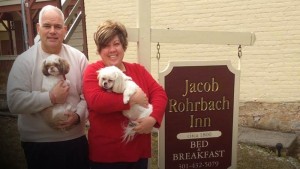 You can get good customer service at a hotel, but often you're just a room number.  Here at the Jacob Rohrbach Inn you will get a personalized experience.  When you check in, you get to meet an Innkeeper, not an employee or just a book listing the rules and a few suggestions of things to do.  We actually know your name and where you are from, we know that it's your birthday or anniversary and we even know if you want coffee or tea at breakfast.  We also know if it's your first time to the area or your 20th and know just where to send you to find a great experience.  Want to go to a winery?  Let us know what type you are looking for and we can send you to just the right place.  Want a romantic dinner, or maybe just looking for a quick bite between activities – we know the perfect place for both.  Want to hang out on one of the porches with a book or just take a nap?  DO IT!  Want to sit down and chat with us about how we came to do this, or why you are here?  Great – we love to hear about you and your story.  Only want to see us at check-in and breakfast?  That is perfect too.  No judgment here- this is YOUR stay.  A stay designed by YOU!  Our goal is to make you feel comfortable and relaxed so that you leave with great memories.
2 – Affordable and All Inclusive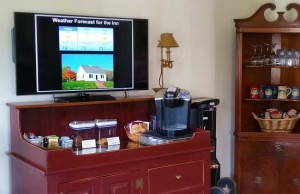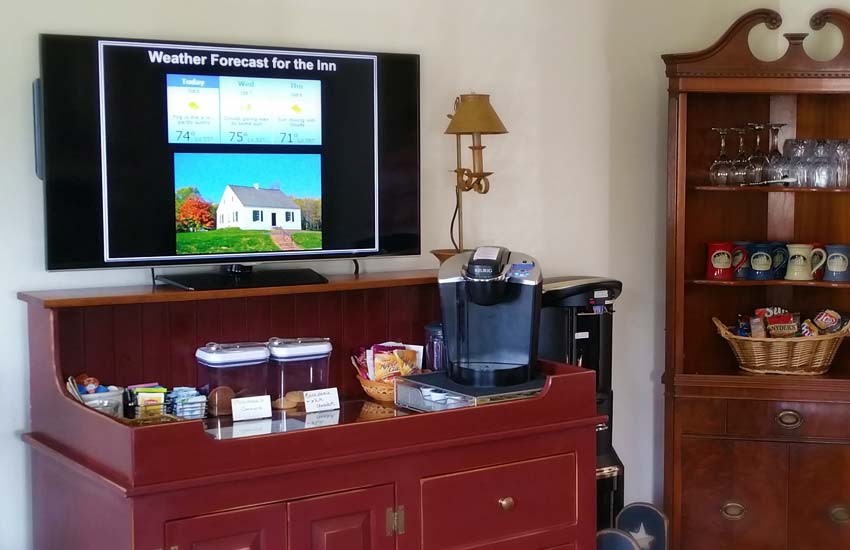 You may find some hotels or other rental accommodations appear cheaper but the value at a B&B is far better.  When you check into a hotel, you might get free parking and a so-so continental breakfast, Wi-Fi is almost always an extra cost and there might be an overpriced vending machine for late night munchies.  We recently went to a conference and learned that if we wanted a mini fridge in our room, we had to pay an additional fee each day.  Who does that?  At our bed and breakfast it's all included!  Off-street parking – free, High speed internet – free, Mini-fridge in room – free, Soda, coffee or tea – free, Fresh, homemade goodies and snacks– free, Amazing multi-course breakfast – free.  (I feel like that tax commercial: free, free, free-free-free, free.)  But seriously, It's all FREE!
3 – Breakfast to Remember

At a hotel, you might get a disappointing grab-n-go cold breakfast, or maybe you will get lucky with a "hot" breakfast.  But should questionable eggs and a rubbery waffle sitting under a heat lamp be called breakfast?  You will find none of that when you stay at our Bed & Breakfast.  Wake up to the scent of locally roasted and fresh ground coffee brewing, or the aromas of thick Applewood-smoked slices of bacon sizzling in the oven.  That's what you will find at the Jacob Rohrbach Inn.  A homemade, multi-course breakfast brimming with local products and flavors is simply the best way to start your day.  That wonderful coffee is out on the comfort station by 7:00am and breakfast is served in the dining room at 8:30. Our menu is 'chef's choice' and alternates each day between sweet and savory.  If you don't like making small talk in the morning – no worries.  At the Jacob Rohrbach Inn we don't make you 'sit with strangers'.  All of our tables are individual and allow you, the guest, to be in control of how interactive you are.  Remember this is YOUR stay, you get to decide.  Need an earlier start to the day?  We will be happy to provide you with a 'road ready' breakfast to get you on your way.  Don't worry if you have any food allergies or dietary restrictions, just let us know ahead of time and we will be happy to accommodate them.
4 – Unique and Authentic Experience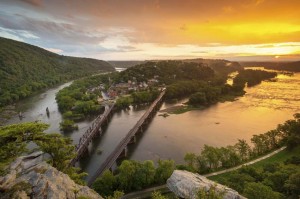 When you stay at many brand name hotels, they attempt to provide you the same experience in every location.  Which means no matter where you stay, NYC or Bali, you will find the exact same thing. Boring!  A Bed and Breakfast is owned by local residents and provides a unique and authentic experience. If you really want to 'live like a local', here is your chance!  Get the scoop on attractions and activities that are off the beaten path and find out where the hidden gems of the area are.  We know the best place to go to capture a sunrise/sunset.  We know where to send you for a short relaxing hike or where to go for a challenge.  Where is the best place to get your bike on or off the C & O canal? We can tell you that too.  Need to find a place to take the kids on a rainy afternoon, or a pet friendly restaurant?  Don't worry, we've got you covered.  At the Jacob Rohrbach Inn, you will find your Innkeepers are an outstanding source of local information.
5 – Historic Properties and Beautiful Rooms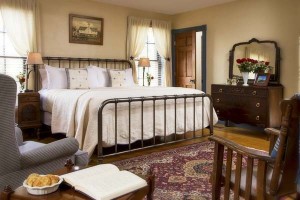 Quite a few Bed and Breakfasts are historic buildings, architecturally distinctive and no two ever look alike.  Many of these are in restored buildings that are hundreds of years old and have played an important role in the history of their town.  The Jacob Rohrbach Inn also has a rich history and unique story.  Situated along the main street, our motto is "An Eyewitness to History Since 1804". Be sure to ask us the story of our Inn during your stay.  Unlike small cookie-cutter hotel rooms, the Inn has five spacious and comfortable rooms.  All five have been thoughtfully restored to maintain their historic character.  But don't let the word historic fool you, we're not 'Grandma's house' with plastic slip covers and doilies everywhere.  Our rooms and suites are individually furnished and come with all the modern amenities that will make you feel at home.   If you are traveling with another couple, check out their room.  You will be surprised at the differences between each one.  Our website allows you to view large pictures of each guest room and select the one that most appeals to you.  At the Jacob Rohrbach Inn you get to choose your room, not your room type.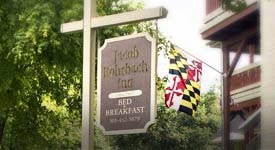 So, the next time you are traveling, or planning a vacation, don't get overwhelmed by all the choices.  Choose a Bed and Breakfast. Come stay at the Jacob Rohrbach Inn for a great experience!
April 5, 2018 by jacobrohrbach
One of our favorite signature dishes is our "Eggs Rohrbach".  It has all the same yummy ingredients of traditional Eggs Benedict but is simple to make.  It's SO easy that even Chris can make it.
Serves 4
You will need:
5 eggs
4 Slices Canadian bacon
2 English muffins
3/4 cup milk
Shredded Cheese (optional)
Salt / pepper to taste
First, spray four ramekins with some nonstick spray.   Then slice and cube two English muffins into approximately ½" size cubes.
Now place a slice of Canadian bacon centered in each ramekin and  sprinkle with a small amount of cheese.  Place some cubed muffin on top of the cheese and then sprinkle the remaining cheese on top of muffin.
In a medium bowl, beat the eggs, milk and seasoning together and gently pour over muffin.  Cover with foil and refrigerate overnight.
In the morning, pull out the ramekins about 30 minutes prior to baking.  Preheat your oven to 350°F and bake uncovered for 30-35 minutes, until set.
Just before the eggs are done go ahead and start whipping together your favorite Hollandaise Sauce.  We have an easy recipe for that too, but that's a secret… just kidding tune in for another blog in the future.
When done, run a knife around the edge, invert onto plate.  Top with Hollandaise and garnish with chopped parsley or chives.  Serve with some fresh herb tomatoes and a side of our Apple Maple sausage.  Enjoy!
Tips:
–  Can be made the same day, just allow enough time for the muffin to soak up the egg mixture.
–  No ramekins? No problem!  Use a jumbo muffin tin.
–  Once inverted onto plate, keep ramekin on until ready to top with Hollandaise Sauce.
October 10, 2017 by jacobrohrbach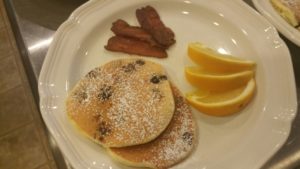 Whether serving a full house or just a few guests, our Lemon Ricotta Pancakes are always a big hit.  They are a little more involved than your traditional pancakes, but oh, SO worth the extra effort!
Serves 10 – (makes 2 pancakes each)
You will need:
2 cups ricotta
2 cups sour cream
6 eggs, separated
2 cups all purpose flour
1 tsp. Baking soda
2 dash salt
2 Tbs white sugar
4 Tbs lemon juice
4 tsp grated lemon zest
oil
Fresh blueberries – 2 cups (optional)*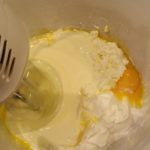 Beat together ricotta, sour cream, and egg yolks.
Combine baking soda, flour, salt, and sugar.
Beat egg whites until fairly stiff but not dry
Heat a griddle or large skillet over medium-low heat while you finish batter.
Stir flour mixture into cheese mixture, blending well but not beating.
Add blueberries.
Stir in lemon juice and zest, then gently fold in beaten egg whites; they should remain somewhat visible in batter.
Grease griddle or skillet with butter, oil or spray to coat surface.
When it is hot add batter, we use 1/4 cup per, making sure to include some egg white in each pancake.
Cook until lightly browned on bottom, 3-5 minutes, then turn and cook second side.
Serve with warm maple syrup, top with whip cream or try some of our homemade Blueberry Sauce
Tips:
– * Can use frozen berries- thaw slightly but do not rinse
– When adding dry mix into the wet ingredients do not overmix
– Gently fold the egg whites into the batter
– Be sure to test to see if the griddle is hot enough by sprinkling a couple of drops of cold water on it: If the water bounces and sputters, it is ready to use.
May 1, 2017 by jacobrohrbach
One of our signature accompaniments for breakfast at the Inn is our Apple Maple Sausage Patties.  This delicious side compliments any sweet or savory dish that we serve.  Guests rave about the flavor and request them on return visits.  This is an easy recipe that will quickly become a family favorite!
Serves 10 – (makes 20 patties)
You will need:
2 pounds of ground lean sausage*
1 tsp fine salt
1 tsp black pepper
½ tsp ground sage, dried
3 Tbs organic maple syrup
1 large apple, peeled, cored, and shredded*
Heat the oven to 425°F. Cover a cookie sheet with foil.
Peel, core, and grate one large apple.
In a large mixing bowl combine two pounds of ground sausage, grated apple, salt, pepper, sage and syrup.
Using clean hands, or a large spoon, mix well to incorporate.
We use a ¼ cup measuring cup to get the right amount of sausage to place in our two-patty sausage press.  If you don't have a sausage press, don't worry just roll into balls and then you can pat them into small patties – not too big, not too small.  Place sausage patties evenly across sheet.
Bake sausage for 15 minutes.  Flip patties over and bake another 5 – 10 minutes until golden brown.
You can serve with any main entree but we like to serve them with our Oven Omelets or Baked French Toast
*We use tart apples from Distillery Lane Ciderworks but a nice Granny Smith works well.  We also purchase our ground sausage from Crestview Meats in Martinsburg.  Just make sure you use lean, quality meat, this is not the time to try to save a few cents.  Trust us, it makes a difference!
Tips:
– Place sausage patties on parchment/wax paper and freeze, then store in a plastic bag in the freezer. This allows you to remove and bake only what you need.
– Pull out sausages the night before and place in refrigerator.
– We bake the patties instead of frying; this allows the meat to bake in the naturally blended juices of the meat, apple and maple syrup.