If you haven't been able to the inn lately, you're in for a BIG surprise. This past year we completed two projects – a fairly small one inside and a LARGE one outside. The small project was giving the upstairs room a much needed facelift. We repainted the upstairs vestibule to tie in with the staircase and foyer.
This is a perfect place to play a game of chess or checkers or a game of solitaire. The cabinet is filed with DVDs, playing cards, board games and coloring books for those rainy days.
The large project was putting in a stamped concrete patio and SureBrooming the existing walks. The first step was to remove the railings to open up the back porch.
Next, pull out all the old curb blocks and remove the sod.
Then prep the area for the concrete.
The concrete pour went well… except for a cicada or two.
Next the stamping and finally the staining.
Once the patio was finished, the existing concrete was ground down and prepared for the SureBroom. The SureBroom provided a thin layer of new concrete over the old and damaged walks to make them look brand new.
Once all the SureBroom and the patio was done the "Ground Crew" came in to work on the sod and reseed the grass.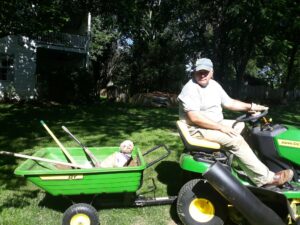 The open porch is great for a summer morning breakfast and the new patio is the ideal location to sit back and relax after long day exploring the