October 31, 2021 by jacobrohrbach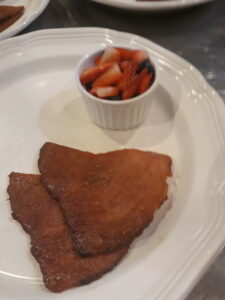 Baked Ham Slices with a Brown Sugar Glaze is a great side to any breakfast entrée. This easy glaze is made with brown sugar, orange juice, honey, and spices and makes the PERFECT addition to a holiday ham.  Best of all it only takes 5 minutes to make!
This recipe makes approx. 10 servings and here are the ingredients you will need: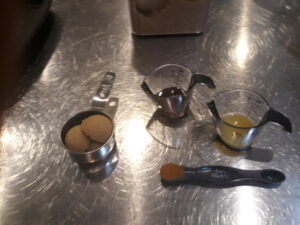 10 Precooked thick ham slices
3 Tablespoons light brown sugar packed
1 Tablespoon orange juice
1 Tablespoon honey
1/4 teaspoon cinnamon
Preheat oven to 400
Arrange ham slices on a foil lined baking sheet.
In a small sauce pan, bring the ingredients to a boil together on medium heat and cook for 3-4 minutes to thicken.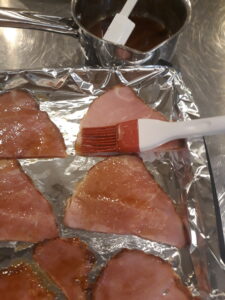 Spoon onto ham slices and brush to ensure each slice is covered. Bake for 15 minutes.
Replace the orange juice with apple cider for a different holiday flavor.
The glaze uses cinnamon, but you can also add nutmeg, ground cloves, or allspice to the sauce.
If baking a whole ham, just increase the glaze ingredients by 5.
October 27, 2020 by jacobrohrbach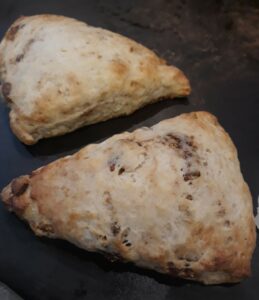 Each year we try to add a few new varieties of scones to our selection list, especially for our returning guests.  This year one of our favorites is a Fig, Walnut and Goat Cheese scone.  It is perfect for the holiday season.
Fig, Walnut and Goat Cheese  Scones  – serves 16
3/4 C cold butter (1 1/2 stick)
1 C buttermilk
2 sample bags of Original Scone mix
1/2 C  dried chopped figs – *soak in 2T balsamic vinegar for 15 minutes
1/4 C  walnuts, chopped
8 oz. crumbly goat cheese*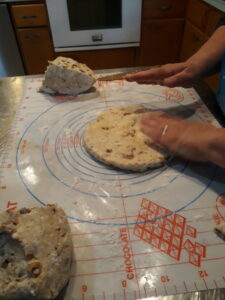 Pour contents of bags into mixing bowl. Cut in 1 1/2 sticks chilled butter until mixture is fine and crumbly.
Now add the crumbled cheese and chopped walnuts. Drain chopped figs and add to mixture.
Stir in buttermilk.  Dough will form a soft ball. Turn dough out onto floured board, and knead gently 3-4 times
Pat out the ball of dough into a flattened circle, 6-7" in diameter, approximately 3/4- 1" thick.
Using a sharp knife, cut circle into eighths.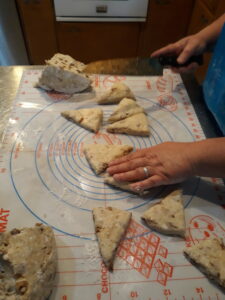 At this point you may freeze the dough to be used later.
Place scones on parchment lined cookie sheet. Bake in preheated oven at 425 degrees for 13-18 minutes (time will vary with scone size). Top should be light golden brown when done.
Lightly powder scones and serve warm with a to small scoop of cinnamon butter.
Tips:
– Butter should be really cold, the colder the better
– Treat scones like biscuits, the less you play with them the better
– Place cut scones on parchment/wax paper and freeze, then store in a plastic bag in the freezer. This allows you to remove and bake only what you need.
– Bake from frozen, no need to thaw
*May substitute gorgonzola for a more savory taste
(Recipe adopted from our friends at Victorian House Scones)
Print the recipe
Fig Walnut and Goat Cheese Scones