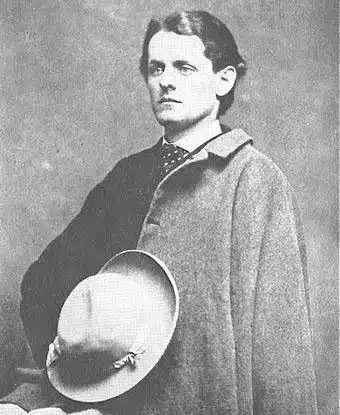 Henry Kyd Douglas was a local young man that had grew up at Ferry Hill. His father twice pastored the German Reformed Church on Main Street In Sharpsburg, Naturally, he became famous with the famed Stonewall Brigade and as an aide to Jackson. He attended Jackson's funeral and was the last commander of the Stonewall Brigade. Douglas was imprisoned for posing for photos on the way home from Appomattox. He witnessed the hanging of the Lincoln conspirators and was a leading lawyer after the war in Hagerstown and Winchester.   Douglas was active in Veterans Affairs, both North and South, and the creation of the Confederate section of Elmwood Cemetery in Shepherdstown. Had many friends among former foes, and hosted George B. McClellan during the 1885 Memorial Day events in Sharpsburg, and this former Confederate was Adjutant General of the Maryland Militia in the 1890's, now it is the Maryland Army National Guard. John Schildt will close out or summer series on August 30, with his presentation on The Life and Times of Henry Kyd Douglas.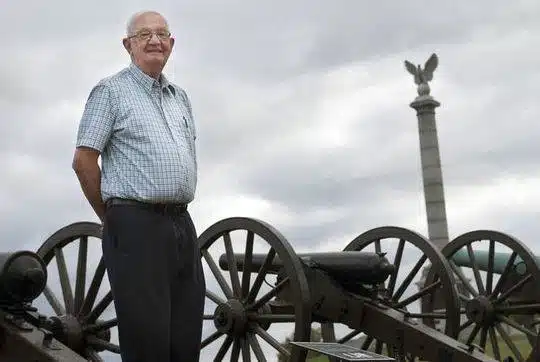 Reverend John Schildt graduated from Shepherd College, Wesley Theological Seminary and has studied at Western Maryland College, Gettysburg Seminary and West Virginia University. John's first book, September Echoes, published in 1960, was the first on Antietam since Francis Palfrey in 1887.  This led to an appointment to the Maryland Centennial Committee. He wrote the account of the battle for the Official Centennial Program and was the guest speaker for the 125h anniversary.  John has been a lecturer and guide for several Civil War organizations, Round Tables, and many other groups. John led his first tour of Antietam in 1958. Since then, 2,000 additional tours have followed.  John has written over thirty-five books relating the various aspects of the Maryland Campaign of 1862 and local history. This list includes Drums along the Antietam, Roads to Antietam, Four Days in October, Islands of Mercy, and Roads to Gettysburg. He and his wife and daughter live in Sharpsburg.
Come join leading historians and Antietam Battlefield Guides as they discuss intriguing topics of the Maryland Campaign of 1862 and the Civil War during our Civil War Summer Lecture Series.
These outdoors programs will be held at the Jacob Rohrbach Inn on Wednesday evenings at 7:00 p.m. These outdoor programs are free and open to the public. To ensure adequate seating, please bring a chair. In case of inclement weather, lectures will be held at the Sharpsburg Christ Reformed UCC Church at 117 Main Street. For updates and changes to the schedule check our Facebook page.