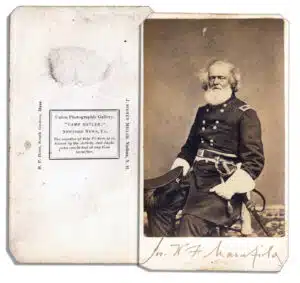 A universal desire for both soldiers and civilians alike is to leave something behind, something to prove you were there, or as a memento for a loved one. Often this was done with grand monuments, displays of architecture, heirlooms passed down through generations or masterful paintings, none of which were options for everyone. However, just prior to the outbreak of the American Civil War, the invention of mass-produced photographic images, or cartes de visite, made this possible for anyone and everyone.
The outbreak of the war only increased the desire to have one's image taken. Soldiers wanted pictures of those they left behind, as well as their own comrades in arms. The war made celebrities of generals and soon images of officers and politicians were being produced and traded like base cards would be just a couple generations later. The images became so cheap that they were used as calling cards and it was not uncommon for a soldier to have multiple images of himself made over the course of his career. Because of the enormity of this popularity, hundreds of thousands of CDV's still exist today, giving us tantalizing clues into the soldiers and civilians in those images. Join Matt Borders and Joe Stahl on Wednesday, June 21, as we breakdown the Civil War CDV's and how to better read them.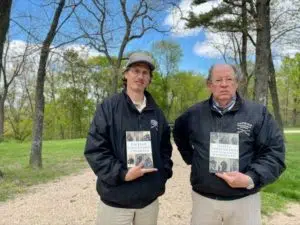 A graduate of Michigan State and Eastern Michigan University, Matthew Borders holds a BA in United States History with a focus in the American Civil War and a MS in Historic Preservation. Following graduation he taught at Kalamazoo Valley Community College before accepting a  position with the National Park Service's American Battlefield Protection Program. He worked as the historian for the ABPP for six years, during which time he became a certified battlefield guide at Antietam National Battlefield and Harpers Ferry National Historic Site. He is also the President of the Frederick County Civil War Round Table and a founding member of the Antietam Institute.
Joseph W. Stahl grew up in St. Louis and received BS, MS, and MBA degrees from Missouri University of Science and Technology and Washington University. After retiring from the Institute for Defense Analyses, he became a volunteer and NPS Licensed Battlefield Guide at Antietam and Harpers Ferry. Joe has authored more than two dozen articles and is co-author of several books, including: Identification Discs of Union Soldiers in the Civil War, Faces of Union Soldiers at Antietam, Faces of Union Soldiers at South Mountain and Harpers Ferry and the Faces of Union Soldiers at Fredericksburg.
The Faces of Union Soldiers books are available for purchase at the Antietam Mercantile Company.
Come join leading historians and Antietam Battlefield Guides as they discuss intriguing topics of the Maryland Campaign of 1862 and the Civil War during our Civil War Summer Lecture Series.
These outdoors programs will be held at the Jacob Rohrbach Inn on Wednesday evenings at 7:00 p.m.  These outdoor programs are free and open to the public. To ensure adequate seating, please bring a chair.  In case of inclement weather, lectures will be held at the Sharpsburg Christ Reformed UCC Church at 117 Main Street.  For updates and changes to the schedule check our Facebook page.