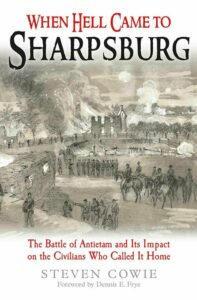 On Wednesday, August 24, author Steve Cowie will present his recently published book on the stories of the civilians of Sharpsburg during the Battle of Antietam. When Hell Came to Sharpsburg investigates how the battle and its armies wreaked emotional, physical, and financial havoc on the people of Sharpsburg. For proper context, the author explores the savage struggle and its gory aftermath and explains how soldiers stripped the community of resources and spread diseases. Cowie carefully and meticulously follows fortunes of individual families like the Mummas, Roulettes, Millers, and many others—ordinary folk thrust into harrowing circumstances—and their struggle to recover from their unexpected and often devastating losses.

Steve Cowie is the author of When Hell Came to Sharpsburg: The Battle of Antietam and its Impact on the Civilians Who Called it Home, published by Savas Beatie. This comprehensive study is grounded in years of careful research. Cowie unearthed a trove of previously unused archival accounts and examined scores of sources such as letters, land records, regimental histories, and official reports. Cowie earned a degree from California State University, Long Beach, and currently resides in Tennessee with his wife and daughters.
When Hell Came to Sharpsburg is available for purchase at the Antietam Mercantile Company.
Come join leading historians and Antietam Battlefield Guides as they discuss intriguing topics of the Maryland Campaign of 1862 and the Civil War during our Civil War Summer Lecture Series.
These outdoors programs will be held at the Jacob Rohrbach Inn on Wednesday evenings at 7:00 p.m. These outdoor programs are free and open to the public. To ensure adequate seating, please bring a chair. In case of inclement weather, lectures will be held at the Sharpsburg Christ Reformed UCC Church at 117 Main Street. For updates and changes to the schedule check our Facebook page.