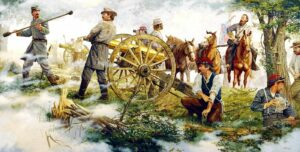 Join us on Wednesday, August 17 form Jim's presentation – "The Artillery at Antietam – New Insights". The talk will address insights on the artillery at Antietam uncovered during years of research that led up to writing the upcoming book Artillery of Antietam. We will talk about the different organizations and leaders of the United States and Confederate States artillery, some of the important but lesser-known artillery encounters, the key role of artillery horses, and finally the little-known or understood Federal artillery defense of Harpers Ferry.
Jim Rosebrock is the former Chief of the Antietam Battlefield Guides. He currently serves as a volunteer and tour guide at the Antietam National Battlefield. Jim is a retired army officer and recently retired from the Department of Justice. He is currently conducting research for a book that will tell the story of the artillery units during the Maryland Campaign. Jim also discusses interesting topics about the Maryland Campaign on his blog South From the North Woods.
Come join leading historians and Antietam Battlefield Guides as they discuss intriguing topics of the Maryland Campaign of 1862 and the Civil War during our Civil War Summer Lecture Series.
These outdoors programs will be held at the Jacob Rohrbach Inn on Wednesday evenings at 7:00 p.m. These outdoor programs are free and open to the public. To ensure adequate seating, please bring a chair. In case of inclement weather, lectures will be held at the Sharpsburg Christ Reformed UCC Church at 117 Main Street. For updates and changes to the schedule check our Facebook page.