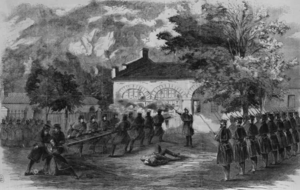 History books will forever cite the beginning of the American Civil War as April 12, 1861 in Charleston Harbor but to many the war began much earlier with some of the most famous, most infamous first shots fired on October 16th, 1859 at Harpers Ferry from the guns of John Brown's Raiders.
What brought Brown and his raiders to the U.S. arsenal at Harpers Ferry? What events preceded the dramatic and desperate actions of this committed abolitionist? The Louisiana Purchase followed by a war with Mexico brought with it a sense of "Manifest Destiny" to the United States, offering the opportunity for a new life to millions, but would it bring an expansion of slavery as well?
To address the many sectional differences during this time of change we'll discuss a series of legislative compromises which would defer open rebellion, …at least for a time. But it wasn't long before disorder would replace diplomacy and open violence would erupt even in the halls of Congress as the hope of peaceful compromise faded. In 1858 Abraham Lincoln, not yet President, would prophesize "a house divided against itself, cannot stand. …I believe this government cannot endure permanently half slave and half free." A little more than a year later John Brown would take matters in his own hands. After his capture, newspapers across the country would carry the gripping story of Brown's trial inflaming sectional tensions both North and South. Sentenced to the gallows, Brown would leave his final sentiment on a scrawled note he handed to his jailer, "I, John Brown am now quite certain that the crimes of this guilty land will never be purged away, but with Blood." Whether Brown was seen as a martyr or murderer, hero or villain his actions in October 1859 set in motion a transformation in our country that would eventually reunite North and South, not as it had been – but as it should be.
On Wednesday, July 13th, Mac Bryan will present his Summer Lecture Series talk, ""The End of Compromise; Events That Led John Brown to Harpers Ferry".
Mac Bryan is a life-long student of the American Civil War. Mac is a Certified Antietam Battlefield Guide, a contributing author in the recently released Antietam Institute book, the "Brigades of Antietam" and volunteer at Antietam National Battlefield.
Come join leading historians and Antietam Battlefield Guides as they discuss intriguing topics of the Maryland Campaign of 1862 and the Civil War during our Civil War Summer Lecture Series.
These outdoors programs will be held at the Jacob Rohrbach Inn on Wednesday evenings at 7:00 p.m. These outdoor programs are free and open to the public. To ensure adequate seating, please bring a chair. In case of inclement weather, lectures will be held at the Sharpsburg Christ Reformed UCC Church at 117 Main Street. For updates and changes to the schedule check our Facebook page.