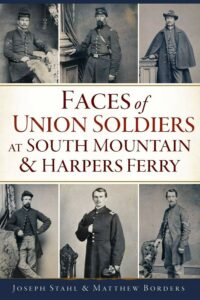 The first Confederate invasion of the North in the fall of 1862 led to a series of engagements known as the Maryland Campaign. Though best remembered for its climax, there was desperate fighting at both South Mountain and Harpers Ferry prior to the bloodletting at Antietam Creek. These battles in particular were desperate affairs of bloody attacks and determined defense. In their second book working together, Antietam Battlefield Guides – Matthew Borders and Joseph Stahl present the images of Union soldiers who struggled up the slopes of South Mountain or sheltered from Confederate cannons at Harpers Ferry.
On June 29th, join Matt and Joe as they introduce you to some of these men, their battles and their stories during their presentation – "Union Faces of South Mountain and Harpers Ferry".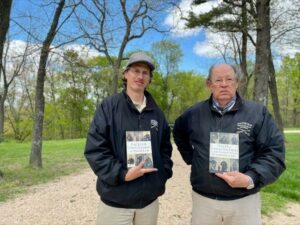 Matthew Borders is a graduate of Michigan State and Eastern Michigan University, with a BA in United States History and a MS in Historic Preservation. He taught at Kalamazoo Valley Community College before excepting a position with the National Park Service's American Battlefield Protection Program. He was the historian for the ABPP for six years, during which time he became a certified battlefield guide at Antietam National Battlefield. Currently Matthew is a park ranger at Monocacy National Battlefield in Frederick, Maryland. He, along with fellow guide Joe Stahl, have published three books in their Faces of Union Soldiers series.
Joseph W. Stahl grew up in St. Louis and received BS, MS, and MBA degrees from Missouri University of Science and Technology and Washington University. After retiring from the Institute for Defense Analyses, he became a volunteer and NPS Licensed Battlefield Guide at Antietam and Harpers Ferry. Joe has authored more than two dozen articles and is co-author of several books, including: Identification Discs of Union Soldiers in the Civil War, Faces of Union Soldiers at Antietam, Faces of Union Soldiers at South Mountain and Harpers Ferry and the Faces of Union Soldiers at Fredericksburg.
The Faces of Union Soldiers books are available for purchase at the Antietam Mercantile Company.
Come join leading historians and Antietam Battlefield Guides as they discuss intriguing topics of the Maryland Campaign of 1862 and the Civil War during our Civil War Summer Lecture Series.
These outdoors programs will be held at the Jacob Rohrbach Inn on Wednesday evenings at 7:00 p.m. These outdoor programs are free and open to the public. To ensure adequate seating, please bring a chair. In case of inclement weather, lectures will be held at the Sharpsburg Christ Reformed UCC Church at 117 Main Street. For updates and changes to the schedule check our Facebook page.