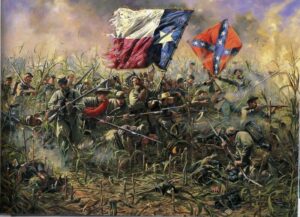 On Wednesday, June 22st, David Welker will present his Summer Lecture Series presentation, "The Cornfield: Antietam's Bloody Turning Point"
The Cornfield: Antietam's Bloody Turning Point tells the story of what happened in David Miller's once-peaceful farm field on 17 September 1862, which opened the Civil War Battle of Antietam – America's single bloodiest day. This is the story of human struggle against fearful odds, of men seeking to do their duty, of simply trying to survive in a contest which had implications that echoed decisively throughout Antietam's other actions and reverberated beyond the close of fighting that evening.
Author David A. Welker will share in his presentation some of the many human stories of those who fought in the Cornfield, while also clearly presenting the unfolding events of this often complex, swirling action and offering new analysis of the fight. Some of these will challenge conventional wisdom about Antietam—such as why General McClellan directed the fight as he did, why the Cornfield mattered at all in this great Civil War battle, and why the human cost for controlling this spot was so unbelievably high—but regardless if you agree with his insights, those attending will view the Battle of Antietam in a new light.
David A. Welker is the author of the recently released The Cornfield: Antietam's Bloody Turning Point. His previous publications include Tempest at Ox Hill: The Battle of Chantilly and A Keystone Rebel: The Civil War Diary of Joseph Garey, as well as numerous magazine and newspaper articles on the war. He currently serves as a historian and military analyst with the US Government, a post he has held for over 35 years. David holds a master's degree in international affairs from American University and a bachelor's degree in history and political science from Westminster College in Pennsylvania. He lives in Centreville, Virginia with his wife.
Come join leading historians and Antietam Battlefield Guides as they discuss intriguing topics of the Maryland Campaign of 1862 and the Civil War during our Civil War Summer Lecture Series.
These outdoors programs will be held at the Jacob Rohrbach Inn on Wednesday evenings at 7:00 p.m. These outdoor programs are free and open to the public. To ensure adequate seating, please bring a chair. In case of inclement weather, lectures will be held at the Sharpsburg Christ Reformed UCC Church at 117 Main Street. For updates and changes to the schedule check our Facebook page.