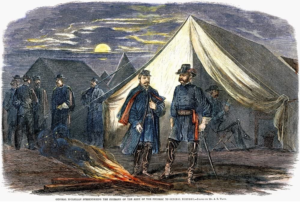 On Wednesday, June 8th, Darin Wipperman will present his Summer Lecture Series talk, "A Damaged Friendship: McClellan and Burnside's 1862 Correspondence".
Meeting at West Point, George McClellan and Ambrose Burnside became good friends. Although McClellan was 31 months younger, he was a year ahead of Burnside at the Military Academy. Their lives intersected a great deal in the years before the Civil War, with McClellan saving his woebegone pal from financial ruin. Both men remained on good terms as they wore stars in 1861. As general-in-chief, McClellan gave guidance to Burnside during the North Carolina expedition. They shared missives through August 1862, retaining a warm friendship. After Lee invaded Maryland, however, strife began, which burst into the open at South Mountain. The course of a friendship can be seen in the messages the two men shared across the year, especially during tense weeks in September. What damaged their relationship? What defining moment gave McClellan hope in Burnside once more?
This presentation, Darin Wipperman's fourth for the Summer Lecture Series at the Rohrbach Inn, was inspired by research included in his second Civil War manuscript, currently titled Burnside's Boys: The Union's Ninth Corps and the Civil War in the East. Stackpole Books published First for the Union: Life and Death in a Civil War Army Corps from Antietam to Gettysburg, in December 2020. In the 1990s, Darin earned B.A. and M.A. degrees in political science. After nearly 17 years as a federal employee, Darin and his wife moved to northern New Hampshire, where he was a reporter and editor for weekly newspapers for more than four years. When resting from Civil War research and writing, Darin manages the 64-acre forested parcel he and his wife live on in Lancaster, NH.
Darin's book, First for the Union is available at the Antietam Mercantile Company.
Come join leading historians and Antietam Battlefield Guides as they discuss intriguing topics of the Maryland Campaign of 1862 and the Civil War during our Civil War Summer Lecture Series.
These outdoors programs will be held at the Jacob Rohrbach Inn on Wednesday evenings at 7:00 p.m. These outdoor programs are free and open to the public. To ensure adequate seating, please bring a chair. In case of inclement weather, lectures will be held at the Sharpsburg Christ Reformed UCC Church at 117 Main Street. For updates and changes to the schedule check our Facebook page.