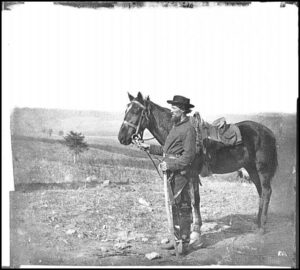 B. F. Davis spearheaded a "valiant coup that compared favorably with anything" his classmate JEB "Stuart had ever done" when he instigated and helped lead the breakout of Union Cavalry from Harpers Ferry on  Sept. 14, 1862.  This presentation will address the status of the Union Cavalry at the start of the Maryland Campaign, their activities prior to the Battle of Antietam, their actions on September 17, 1862 and a brief overview of the cavalry breakout and capture of Longstreet's Train near Williamsport, on September 15.
On Wednesday, July 14, Antietam Battlefield Guide Sharon Murray will discuss – "The Union Cavalry During the Maryland Campaign"
As a native Idahoan, Sharon Murray moved east in 2010 to volunteer at Antietam National Battlefield.  She has multiple degrees in mining engineering and history from the University of Idaho. Sharon has published a number of articles on Idaho mining history and won awards for photographs from the International California Mining Journal and the American Battlefield Trust. She is currently working on a book about a career army officer Colonel Benjamin Franklin Davis and has been a guide at Antietam since 2014.
Come join leading historians and Antietam Battlefield Guides as they discuss intriguing topics of the Maryland Campaign of 1862 and the Civil War during our Civil War Summer Lecture Series.
These outdoors programs will be held at the Jacob Rohrbach Inn on Wednesday evenings at 7:oo p.m.  Even though those programs are outdoors, guests are encouraged to wear face coverings and to social distance as much as possible. To ensure adequate seating, please bring a chair.  In case of inclement weather, lectures will be held at the Sharpsburg Christ Reformed UCC Church at 117 Main Street.  Parking is available on Main and Hall Streets.  For updates and a full schedule of presenters & topics check our Facebook page.