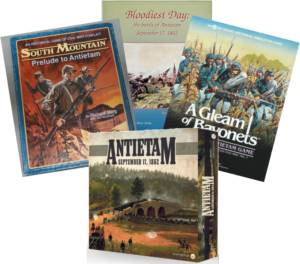 Experience the American Civil War Maryland Campaign of 1862 from a different perspective. This presentation will review military strategy board games along with some digital versions published from 1972 to 2021. The South Mountain and Antietam battles will be discussed showing examples of original packaging and the contents used to recreate history on a game board. War game simulation that follows historical accuracy while incorporating elements of chance is a unique way to explore the battlefields. As a commander, you make decisions that can affect the outcome of the game.
On Wednesday, July 7th, Richard P. D'Ambrisi will present his Summer Lecture Series talk "Military Board Games of the Maryland Campaign of 1862". Richard D'Ambrisi has been a Civil War civilian living historian since 1986 and is a Certified Interpretive Guide with the National Association for Interpretation. He has developed characterizations of a mid-19th Century ballist, apothecary, phrenologist, and railroad employee.
Come join leading historians and Antietam Battlefield Guides as they discuss intriguing topics of the Maryland Campaign of 1862 and the Civil War during our Civil War Summer Lecture Series.
These outdoors programs will be held at the Jacob Rohrbach Inn on Wednesday evenings at 7:oo p.m. Even though those programs are outdoors, guests are encouraged to wear face coverings and to social distance as much as possible. To ensure adequate seating, please bring a chair. In case of inclement weather, lectures will be held at the Sharpsburg Christ Reformed UCC Church at 117 Main Street. Parking is available on Main and Hall Streets. For updates and a full schedule of presenters & topics check our Facebook page.