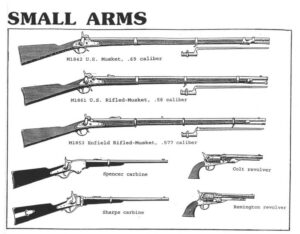 Small arms are the firearms carried by individual soldiers.  The American Civil War had witnessed a technological revolution in weaponry.  During the war small arms consisted of an incredible variety of muskets, rifles, carbines, revolvers, and even shotguns. Small arms, accounted for half of the war's 620,000 killed and wounded.  On Wednesday, August 12th, Antietam Battlefield Guide Justin Mayhue will discuss "Small Arms Weapons at Antietam".  Justin will discussion of the manufacturers of small arms, the types of weapons, what calibers there were and the uses at Antietam.
Justin Mayhue is a retired Battalion Chief of the Hagerstown, MD Fire Department, docent at the Hagerstown Fire Museum, author five books.  He is the past president of the Hagerstown Civil War Roundtable and he has been an actor in God's and Generals, Ladder 49 and numerous History Channel projects.  Justin is an Antietam Battlefield Guide certified at Antietam, Harper's Ferry and South Mountain. Justin has conduct over 1.000 career tours.
Join leading historians and Antietam Battlefield Guides as they discuss intriguing topics of the Maryland Campaign of 1862 and the Civil War during our Civil War Summer Lecture Series.
These outdoors programs will be held at the Jacob Rohrbach Inn on Wednesday evenings at 7:oo p.m.   Even though those programs are outdoors, we require attending guests to wear face coverings and to social distance as much as possible. To ensure adequate seating, please bring a chair.  In case of inclement weather, lectures will be held at 101 W. Main Street at Town Square.  Parking is available on Main and Hall Streets.  For updates and a full schedule of presenters & topics check our Facebook page.