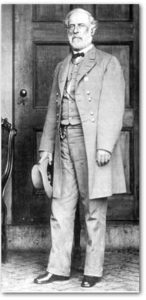 Although he is known for personally leading troops on the field during the Overland Campaign in 1864, the first time General Robert E. Lee actually took an active, direct role in tactical field operations was at the Battle of Antietam/Sharpsburg in September 1862. In this presentation, Alexander Rossino will document Lee's movements during the fight at Sharpsburg and weigh the impact the general's decisions had on the outcome of the battle.  ​On Wednesday, August 19th, Dr. Alex Rossino will present, "A Very Personal Fight: Robert E. Lee's Role on the Field at Sharpsburg, September 17, 1862".
Dr. Rossino earned his PhD in History at Syracuse University in 1999. He is the author of Hitler Strikes Poland: Blitzkrieg, Ideology, and Atrocity, a study of German policies against Polish Christians and Jews during the Nazi invasion of Poland in September 1939. He worked for 9 years as an historian at the United States Holocaust Memorial Museum before moving to the private sector to provide market analysis for the government contracting community, work he continues to this day. Following a long hiatus from writing, Dr. Rossino moved to Western Maryland in 2013 and turned his studies to the American Civil War, a subject of interest to him since childhood. In 2017 he published Six Days in September: A Novel of Lee's Army in Maryland, 1862 with Savas Beatie. The novel examines the history of the second half of the Confederate invasion of Maryland from a first-person perspective, combining history and fiction to help general readers better understand the importance of the 1862 Maryland Campaign to Robert E. Lee and his army. A sequel to the book giving the same treatment to McClellan's army is due out in 2019. Dr. Rossino is also the author of two new articles on the Civil War in Maryland: one on the Confederate Army in Frederick and the other on George McClellan's handling of Lee's Lost Orders in September 1862, which he co-authored with Cartographer Gene Thorp. Last, but not least, he is the editor of Savas Beatie's new Civil War Spotlight essay series, a service publishing historical essays on issues of importance to Civil War studies. His talk today is based on the inaugural offering in that series.
Come join leading historians and Antietam Battlefield Guides as they discuss intriguing topics of the Maryland Campaign of 1862 and the Civil War during our Civil War Summer Lecture Series.
These outdoors programs will be held at the Jacob Rohrbach Inn on Wednesday evenings at 7:oo p.m.   Even though those programs are outdoors, we require attending guests to wear face coverings and to social distance as much as possible. To ensure adequate seating, please bring a chair.  In case of inclement weather, lectures will be held at 101 W. Main Street at Town Square.  Parking is available on Main and Hall Streets.  For updates and a full schedule of presenters & topics check our Facebook page.