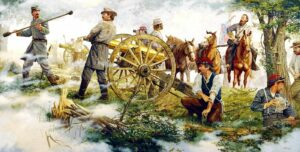 According to Antietam veteran and historian Ezra Carman, confusion 'reigned supreme' among the Confederates after they were dislodged from the Sunken Road, with several desperate attempts to turn the flanks of Union Generals French and Richardson and save Lee's center. In the midst of the confusion came James Longstreet's hastily prepared counter-attack that bent back French's line and nearly reached the Roulette farm. The audacity of the attackers and the independent maneuvers of the Union regiments that repulsed them are worth a closer look.  Join us on Wednesday, July 22 to hear Antietam Battlefield Guide Laura Marfut present "Longstreet's Attack on French's Right".
Laura Marfut is a retired U.S. Army colonel and graduate of the U.S. Army War College with a life-long interest in military history. Following her military retirement, she taught high school Homeland Security courses in Washington County, MD. Laura is an Antietam Battlefield Guide, certified to include Harper's Ferry. She lives in Hagerstown, MD with her husband, Ed. They have two grown sons and four grandchildren.
Come join leading historians and Antietam Battlefield Guides as they discuss intriguing topics of the Maryland Campaign of 1862 and the Civil War during our Civil War Summer Lecture Series.
These outdoors programs will be held at the Jacob Rohrbach Inn on Wednesday evenings at 7:oo p.m.   Even though those programs are outdoors, we require attending guests to wear face coverings and to social distance as much as possible. To ensure adequate seating, please bring a chair.  In case of inclement weather, lectures will be held at 101 W. Main Street at Town Square.  Parking is available on Main and Hall Streets.  For updates and a full schedule of presenters & topics check our Facebook page.