August is National Peach Month.  That's right, peaches are so fabulous that they get to have their very own month!
Peaches are so popular in our area that the Annual Leitersburg Peach Festival  is held every August.  Not only can you get your fill of fresh, local peaches, there are craft vendors, demonstrations, music, a tractor show and of course the crowning of the Peach Princess.
We are so lucky that we have two mature peach trees in our garden.  The good news is that they did great this year and the bad news is that they did great this year.   It seemed like everyday we were picking peaches, and now what do you do with all those peaches??   Peach pie, peach cobbler, peach cakes… those are all delicious but not necessarily for breakfast.  (Well….not GUEST breakfast!)
Of course we used the peaches to make a few different types of scones and we did a few peach tarts, and just cut up some fresh.  Naturally I made some jam, (actually lots of jam, 30 pints to be exact) but I really wanted to try something different for our returning guests.  So I racked my brain and scoured good ole Google and after a few trials and errors I created a chilled peach soup!  It is amazing and so easy to make, I feel like that mom from the old rice krispies commercials.  (You know, where you throw some flour on your face like you've been working for hours but were really just watching HGTV/Food Network)  I'll post the recipe below – it really is simple!
Chilled Peach Soup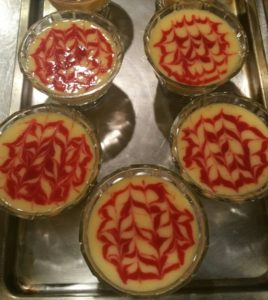 Serves 4-6
2 Lg Peaches – peaches and sliced/diced
1 cup vanilla yogurt
1/2 cup of peach juice*
1 T honey/sugar (to taste)
* substitute orange juice if you can't find peach
Add all of the above to a blender and puree until smooth.  Chill in fridge for at least an hour and can be made the night before.   I made a raspberry coulis for in ours but you could just garnish it with a raspberry, mint spring or slices of peach.
ENJOY!