April 25, 2021 by jacobrohrbach
Just in time for the summer season – here's a new scone we call Strawberries & Cream.  Our returning guests are in for a real treat this year.
Strawberries and Cream Scones  – serves 16
3/4 C cold butter (1 1/2 stick)
1 C buttermilk
2 sample bags of Original Scone mix
1 C  dried chopped strawberries *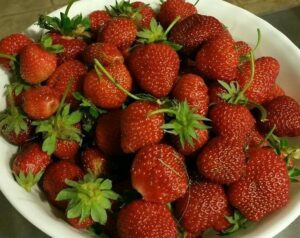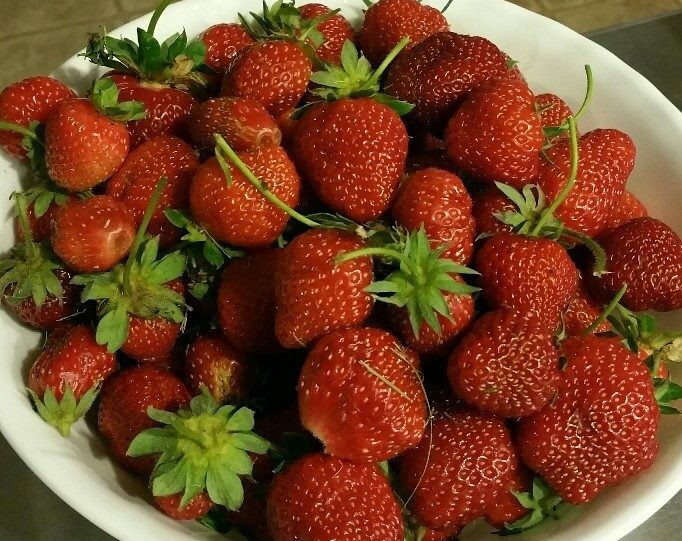 Last year we purchased a new dehydrator so when we have a batch of strawberries that we're not going to be able to use right away, we slice them up and dehydrate them for another day.  And today's the day.

Pour contents of bags into mixing bowl. Cut in 1 1/2 sticks chilled butter until mixture is fine and crumbly.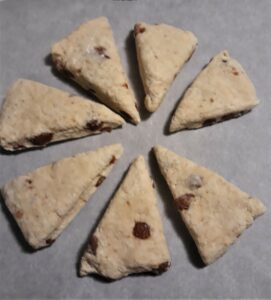 Now chop the strawberries if needed and add to the mixture.
Stir in buttermilk.  Dough will form a soft ball. Turn dough out onto floured board, and knead gently 3-4 times
Pat out the ball of dough into a flattened circle, 6-7" in diameter, approximately 3/4- 1" thick.
Using a sharp knife, cut circle into eighths.
At this point you may freeze the dough to be used later.
Place scones on parchment lined cookie sheet. Bake in preheated oven at 425 degrees for 13-18 minutes (time will vary with scone size). Top should be light golden brown when done.
While the scones are in the oven, it's time to make the cream .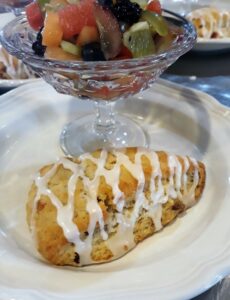 Cream Drizzle Glaze:
3/4 C Powdered Sugar
2-4 Tablespoons Heavy Whipping Cream**
Add cream to sugar one tablespoon at a time and stir with spoon until mix is smooth and falls gently and evenly from elevated spoon.  Drizzle over scone or spread in an even glaze to top of cooled scone.
Tips:
– Butter should be really cold, the colder the better
– Treat scones like biscuits, the less you play with them the better
– Place cut scones on parchment/wax paper and freeze, then store in a plastic bag in the freezer. This allows you to remove and bake only what you need.
– Bake from frozen, no need to thaw
*If strawberries are over dehydrated you may reconstitute them, just make sure you drain them well before use
**  You can use 1/2 & 1/2 or milk if needed, but the whipping cream really dose make a difference to the flavor of the glaze 
(Recipe adapted from our friends at Victorian House Scones)
May 6, 2020 by jacobrohrbach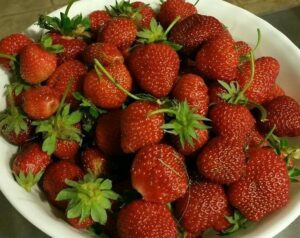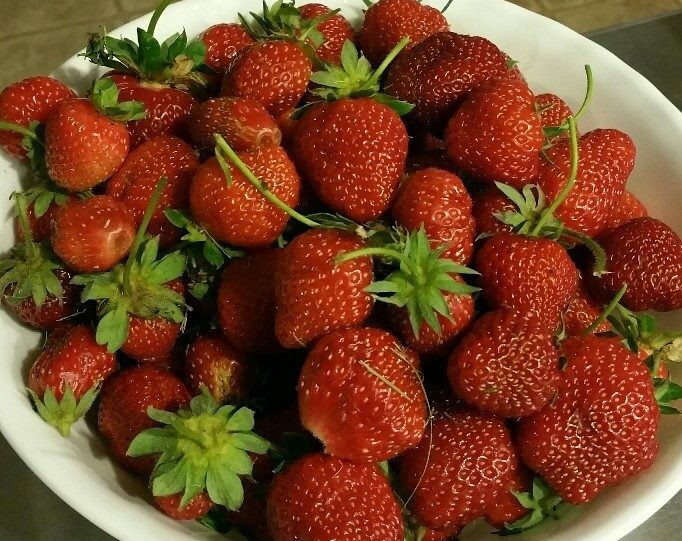 Nothing is better than fresh Strawberries – and May is National Strawberry Month!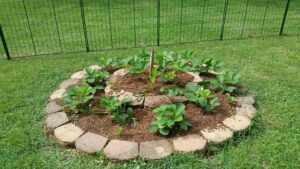 We love them so much we even have a patch, or three, at the Inn and try to serve them every chance we get.  This super easy recipe makes the best jam you have ever eaten.
Mix crushed strawberries with sugar, and let stand for 10 minutes, stirring occasionally. Meanwhile, stir the pectin into the water in a small saucepan. Bring to a boil over medium-high heat, and boil for 1 minute, stirring constantly. Immediately pour the boiling pectin mixture onto the strawberries.   Mix for approximately 3 minutes or until sugar is totally dissolved before pouring into jars or other storage containers.
Place tops on the containers and leave at room temperature until set.  Can be left at room temperature for a maximum of 24 hours, but it usually only takes a few hours to solidify. Place into freezer, and store frozen until ready to use.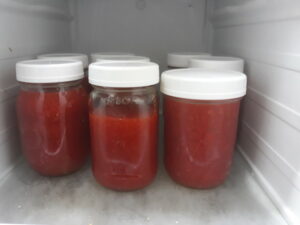 Makes 4 cups
2 cups fresh strawberries – crushed
4 cups sugar
3/4 cup water
1 (1.75 ounce) package dry pectin
This strawberry freezer jam is quick, easy and delicious on toast, ice cream or even in milkshakes. Keep jars of this in the freezer and take them out when you are ready to use them. Once thawed, the jam will technically last about 1 month in the refrigerator, but we have never had a jar not disappear in a week!