January 25, 2021 by jacobrohrbach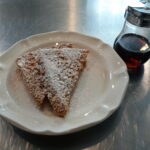 Here is a delicious twist on an old classic. Crunchy French Toast is a cereal crusted french toast recipe.  Thick slices of bread are dipped in a cinnamon batter and then coated in crushed cereal.  It's light and fluffy on the inside, crunchy on the outside and super easy to make.  This is a sure bet to become your family's new favorite breakfast!
This recipe makes four servings and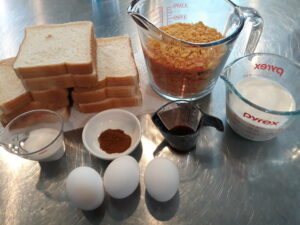 here are the ingredients you will need:
3 large eggs
1 cup half-and-half
2 tablespoons sugar
1 teaspoon vanilla extract
1/2 teaspoon ground cinnamon
pinch of nutmeg
3 cups coarsely crushed cornflakes cereal
8 (3/4 inch think) diagonally cut slices of French or challah bread – We use Texas Toast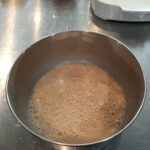 In a shallow bowl, combine eggs, half and half, sugar, vanilla cinnamon and nutmeg; beat well.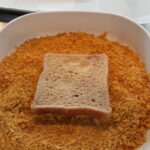 Place crushed cereal in another shallow bowl.
Dip each bread slice in the egg mixture. making sure bread is well soaked egg mixture is absorbed.
Then coat each slice with cereal crumbs.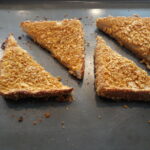 Place on 15x10x1 baking sheet; cover and place in freezer for 1 – 2 hours or until firm.  
Heat oven to 400 F.  Bake bread slices 15-20 minutes or until golden brown, turning once.
To serve, slice baked French Toast on the diagonal; serve 2-3 piece per person.  Garnish with powdered sugar, syrup, fresh berries and/or whipped cream.
At the Inn we often whip up a batch of cannoli dip to serve on the side.
2 cups ricotta chees
1 (8 ounce) package cream cheese
1 1/2 cups confectioners' sugar
1 teaspoon vanilla extract
1/2 cup miniature semisweet chocolate chip
Beat ricotta cheese and cream cheese together in a bowl until smooth then add the sugar and vanilla.  Continue to stir mixture until sugar is completely incorporated.  Fold chocolate chips through the cheese mixture.
Cover the bowl with plastic wrap and refrigerate until chilled, at least 10 minutes.  To serve with Crunchy French Toast, scope into a small bowl, garnish with some additional chocolate chips.  
Try our Crunchy French Toast and Cannoli Dip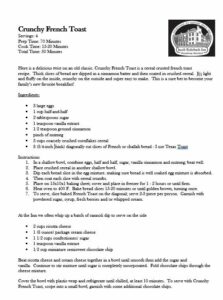 October 29, 2019 by jacobrohrbach
This is the perfect breakfast for when  you want something a little special, but don't have time to make a fuss.   It is a twist on traditional french toast, but you make it the night before and just pop it into the oven the next day.   With the gooey center and chewy edges it's a crowd pleaser at a holiday brunch.  Because of its' sweetness, it is best served with salty bacon or spicey sausage
Butter or spray a large 15″ rectangular dish.  Slice the cinnamon raisin bread (Ours is fresh from Burkholders Baked Goods here in Sharpsburg) about an inch thick and lay slices flat to completely fill the dish.  You may need to cut the edges or add pieces as necessary to ensure the dish is filled.
In a medium size bowl, combine the eggs, milk, cream, vanilla, cinnamon, and nutmeg.  Mix well.  Pour over bread slices, then cover and refrigerate overnight.
The next day, remove from the refrigerator at least 30 minutes before baking.  Preheat oven to 350 degrees.
In a small bowl, combine the butter, brown sugar, and corn syrup for topping, mix well.  (It will be very thick like frosting.)
Spread over top of bread evenly.
Bake 45-60 minutes or until puffed and golden.  Remove from the oven and let sit for 5-10 minutes to allow topping to set nicely.  Cut into squares and serve with warm.  This French toast is plenty sweet on its own but can be served with warm maple syrup, fresh whip cream or a light dusting of powdered sugar.
Serves 8
8 slices of one inch thick Cinnamon Raisin Bread*
6 Eggs
1 cup cream or half & half
1 cup milk
2 teaspoons vanilla
1/2 teaspoon ground cinnamon
1/2 teaspoon nutmeg
Topping
1/2 cup butter (softened)
1 cup brown sugar (firmly packed)
2 tablespoon light corn syrup
*If you can't find whole loaf bread, you can stack 2 thin slices