The Clara Barton Suite was the first room we renovated as soon as we purchased the Inn back in 2015. The original suite was two separate rooms connected by a pass-through closet. Since they were two different rooms, each were completely different colors. The bedroom was a two-tone brown and the smaller sitting room was a very deep pink.
The first thing we did was remove the closet and make repairs to the wall. This would allow for a king size bed in the main room. The large bathroom was wrapped in bead-board and had an antique clawfoot tub, which we decided to keep, but we upgraded to a larger vanity and new toilet. The whole suite received a new coat of a two-tone green paint. We also turned the smaller room into a second bedroom with a full sized bed.
After seven years the suite needed a fresh new look, so in March we painted again. This time the walls off-white and the trim a deep navy blue. Of course, that meant new curtains, blankets, and comforters. We also added new matching wing-back chairs that provide a perfect spot to read or watch TV. Oh, we also upgraded the bedside lamps to 3-way touch control lamps with a USB port and the ceiling lights & fans are remote controlled.
The Clara Barton suite is located on the second floor at the front of the Inn, in the portion of the house dating to the 1830's. This expansive two room suite offers entrance from inside the Inn. In the spacious main room, natural light from three windows illuminate a graceful, king sized iron bed. The adjoining second bedroom offers a full sized, four post pineapple bed. The large bath, wrapped in bead-board, features an antique clawfoot tub with shower.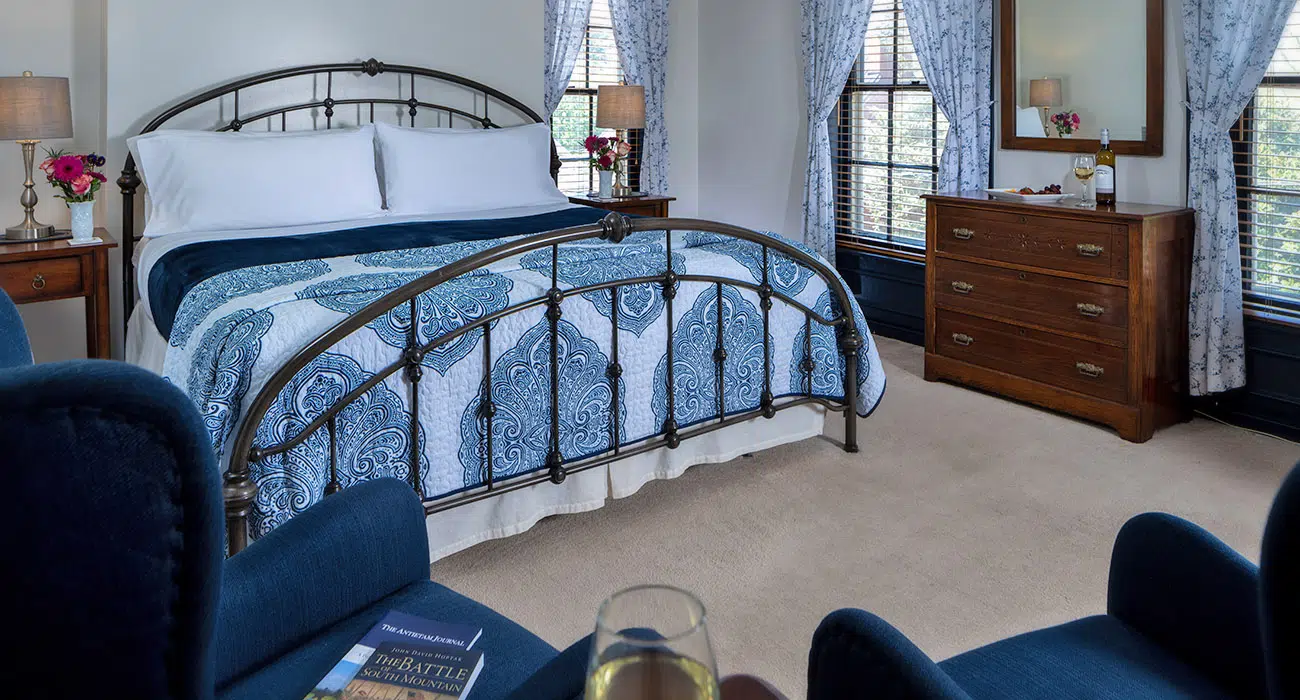 This suite is perfect for a family or friends and it can be combined with the Antietam Room to accommodate groups. The Clara Barton Suite is named for the valiant "Angel of the Battlefield" and founder of the American Red Cross.
Book your next stay in the Clara Barton Suite to – Relax, Refresh, & Renew.