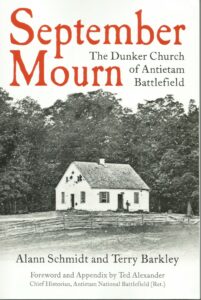 The Dunker Church is one of the most iconic structures of the American Civil War. Few people know much, if anything, about its fascinating back story, the role it played within the community of Sharpsburg, and its importance during and after the Battle of Antietam.
On Wednesday, June 24, Alann Schimdt will discuss the subject of his new book, "September Mourn: The Dunker Church of Antietam Battlefield".  Alann will look at the complete history of Antietam's Dunker Church, including it's background, role in the battle and aftermath, and the many ups and downs (figurative and literal!) it went through in the years since.
Alann Schmidt spent fifteen years as a park ranger at Antietam National Battlefield. He earned degrees from theUniversity of Pittsburgh, Shippensburg University, Shepherd University, and the Pittsburgh Institute of Mortuary Science. While a severe case of Lyme disease forced him into early retirement, he currently serves as a pastor for the Churches of God, and lives with his wife Tracy (and their many cats) on their family farm near Fort Littleton, Pennsylvania.
Join leading historians and Antietam Battlefield Guides as they discuss intriguing topics of the Maryland Campaign of 1862 and the Civil War during our Civil War Summer Lecture Series.
UPDATE: In light of social distancing recommendations, the talks will be conducted via Zoom video conferencing until the guidelines and safety allow for public gatherings.   The Zoom sessions will begin at 7:00 p.m.  The Zoom meeting link will be sent out to those signed up on our SLS Member list each week.  For those that can't attend live, the presentation will be recorded and posted on our Facebook page.
To sign up for the SLS Member list email us at: info@jacob-rohrbach-inn.com.  For updates and a full schedule of presenters & topics check our Facebook page.  The lecture schedule is subject to change.