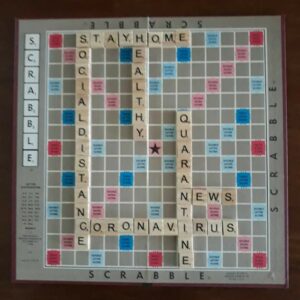 As we prepare to reopen we are faced with a number of challenges and unknowns.  Our number one concern is for the health and safety of all our guests, customers and staff.  We have always prided ourselves on the cleanliness of the guest rooms, common areas and store.  That attention to detail and awareness will only be amplified during this critical period.  To provide for everyone's health and safety we will be making a number of changes in the way we conduct business and what is allowable for guests and customers based on state and county guidelines.
Currently all five guest rooms are available for booking.
As per current state guidelines, all guests and customers are required to wear a face mask when outside of your room or in the store.
Decorative pillows, throws, books, magazines, and pamphlets have been removed from guest rooms.  We've encased the clean (extra) blanket in plastic and bathrobes will be available on request.
Daily housekeeping service will be provided by request only.  As always guests can contact us if more items are needed.
We will continue to serve our multi-course breakfast at 8:30 am in the dining room adhering to social distancing guidelines.
The Comfort Station will remain available for guest use but we ask you to adhere to social distancing.  We also ask that you refrain from gathering in the living room.
In between guest stays, the rooms are thoroughly cleaned by a two-step process using CDC recommended cleaning and disinfecting guidelines.  Cleaning staff is equipped with personal protective equipment (PPE) during the cleaning process.
The Antietam Mercantile will be open to the public and guests, but will be limited to a maximum of four customers in the store at one time.  Customers will be encouraged to use hand sanitizer when entering and exiting the store.
These changes will be revised as we move forward under the guidelines provided by state and local officials.
Unfortunately due to the Coronavirus Pandemic and the financial difficulties created by it we are forced to make some changes to our policies.
In order to ensure proper and through cleaning of each room, there is a 2 night minimum on ALL reservations.
Check in between 3:00–7:00 pm and check out at 11:00 am remains the same.  However due to stringent cleaning policies NO Early Arrivals or Late Check Out can be accommodated.
A non-refundable deposit of $30 per room is required to guarantee your reservation.  The deposit is applied towards your final statement.
All cancellations and changes to a reservation will be charged a processing fee of $30.00 per room.
Reservations cancelled less than 14 days prior to your arrival date will be charged for one night's stay.
Reservations cancelled less than 72 hours in advance, or if you do not arrive for your reservation as scheduled, will be charged for the entire stay booked.
Moving a reservation within the above cancellation period is considered a new reservation and will be charged the processing fee.
In the past we have provided discounts for active duty and retired military, Emergency First Responders and Seniors.  Over the last five years this has totaled close to $10,000.  Unfortunately, at this time we can no longer offer these discounts.  We will continue our guest Reward Program – the Rohrbach Regiment and offer specials and packages.
We are sorry for any inconvenience these changes may cause but thank you for you understanding.  We will get through this TOGETHER.