We love to do frittatas at the Inn.  They are super easy and versatile, yet look really impressive when served.  Breakfast, lunch, brunch or even dinner, they make a beautiful and filling meal.  While we plan ours and use ingredients based on what is seasonal, they are a great way to 'clean out the fridge'.  I am giving the ingredients used for our veggie version, but you could easily add meat to yours if you wanted.  Most frittatas are done in a cast iron skillet on the stove top and then baked in the oven.  While you can use that method, we do ours in ramekins (as I have a bit of an obsession with them at the moment) and just bake them.  It allows us to customize each one if needed, depending on dietary requirements.  You could go crazy and make each one different and do a frittata tasting to find your favorite.
Ingredients:  makes 4 individual frittatas
1/2 cup chopped onion
1/2 cup chopped green pepper
1/2 cup chopped sweet red pepper
1 cup potato, cooked and cubed
1 cup chopped spinach
3 tablespoons butter or olive oil
8 large eggs
1/2 cup shredded cheese of choice
1/2 cup sour cream
salt and pepper to taste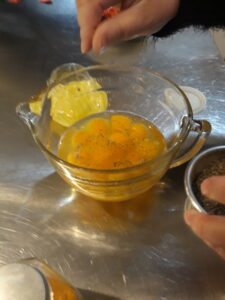 Spray individual ramekins well with non stick spray and set on foil lined tray.
In large bowl beat eggs until well blended, add sour cream and mix again.  Stir in cheese, salt and pepper and set aside.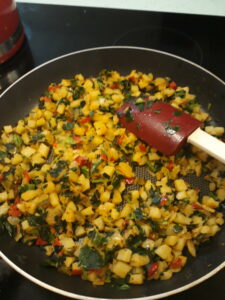 Add oil and a little butter to a pan over medium heat, add cubed potatoes and brown all sides.  Remove potatoes to a bowl and set aside.  Add another pat of butter to warm pan and add peppers and onions, cook until tender, stir as needed  When onions and peppers are cooked add chopped spinach to pan (add a little more oil or butter pat as needed).  Stir frequently to prevent spinach from burning and cook until wilted.  Add potatoes back to veggie mixture and mix well and until all ingredients are warm.
Divide veggies between the 4 ramekins and then ladle egg mixture over top.
Bake at 350 degrees for approx 30 minutes,  remove and let set for 5 minutes.  This can either be served in the ramekin or removed and then plated.
OK, now that I have given you the ingredient list, I'm going to make a confession……I usually just wing it.  These are the amounts that I started with and a few thousand frittatas later, I just eyeball it.  Good rule of thumb is 2 eggs per person, depending on how 'loaded' you plan on making them.  That is why I love frittatas so much.  There is no right or wrong way to do them.  Hate onions or spinach, leave them out….love potatoes, load it up…..need meat, throw it in!  You are only limited by your imagination (or the contents of your fridge!)
Now, a few tips that you might find helpful on your frittata journey.   It's OK to use frozen breakfast potatoes if you don't have a leftover baked potato, just brown them good first.  Frozen chopped spinach can be a lifesaver during the winter when you can't find, or afford, good fresh produce.  Regardless of what your children might tell you, no one ever died from eating spinach!  I know I said cheese of choice,  but go light on the cheddar it tends to get oily when you bake it.   You might also notice that there is no milk or cream listed, I almost never use it in my egg dishes. I use sour cream instead, it makes all of your egg dishes really light and fluffy.  Seriously, try it, you can thank me later….