If you're looking for a great local restaurant near the Inn with AMAZING food then Captain Bender's is the place.
About Captain Bender's Tavern
Raleigh Bender was born in Sharpsburg in 1873. Like many townsfolk in Sharpsburg, Raleigh worked on the Chesapeake & Ohio Canal and would become the captain of Canal Boat No. 1. Bender held several records during his time working on the canal. He had also worked the longest on the canal, over 36 years; he "held the record of 62 hours for the fastest time for an unloaded boat from Georgetown to Cumberland; and brought the last load of coal from Cumberland through the Paw Paw Tunnel". In 1936, Raleigh opened Bender's Tavern on Main Street in Sharpsburg and "reportedly told many stories about the canal and town". Since that time Captain Bender's Tavern "has fed the hungry, quenched the thirsty, and served loyally, the historic community of Sharpsburg".
Today, Captain Bender's Tavern is owned and operated by Steve Kemmett. Steve wanted the tavern "to be a fun place, a place where everybody can hang out and have fun" so in 2010 he began remodeling. Steve turned the tavern into our towns version of "Cheers" (the 1980s sitcom where 'everybody knows your name'). He said he wanted "a place where customers can feel at home and feel welcome."
The natural wood wainscoting, a tin ceiling and a long bar sets the atmosphere of a comfortable inviting pub. The inside restaurant and bar area seat about 50 guests with an added 30-seat beer garden in the rear for outdoor dining and drinking in warmer weather. Steve also added a dart tournament area and pool room for the Tavern Dart and Pool teams.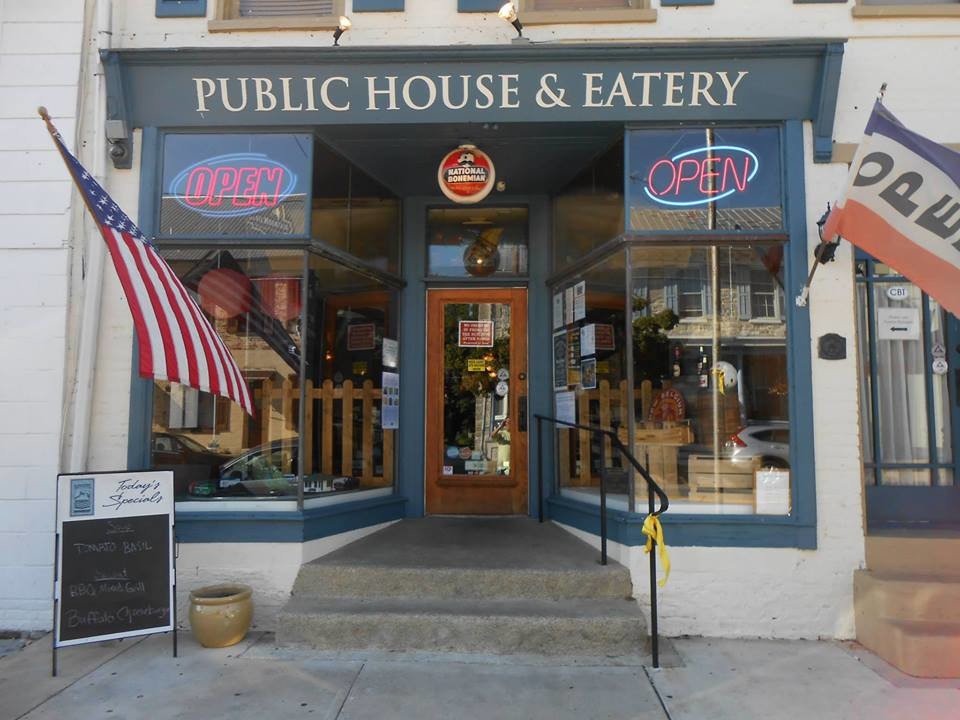 Unique Menu Items at Captain Bender's Tavern
Captain Bender's has a great menu filled with appetizers, soups, salads, sandwiches, entrees and speciality drinks. We have tried almost everything on the menu, but here are a few of our favorites…
For starters you have to try the Pickle Fries. If you have never had these you're in for a treat, cut like french fries they stay really crispy and are served with a zesty dipping sauce. If pickles aren't your thing, then go for the Hog Wings. Yep that's right, Hog Wings. Tender pieces of pork smothered in your choice of wing sauce. YUMMY! Everyday there is a new soup du jour, our top picks are the cream of crab and the french onion soup.
The Hub City Salad is chopped romaine, garden vegetables, bacon and shredded cheese topped with a blackened chicken breast. This is served with Steve's own amazing honey/lime/pistachio dressing.
One of our 'go to' menu items is the Fish & Chips. This freshly beer battered Tilapia is flash fried and served with coleslaw and some of the best seasoned hand-cut fries we've ever had.
If your hungry for a burger, and I mean HUNGRY, you need to order The Monument – Tower of Death
Not one, not two, but three 8 ounce Black Angus burger patties stacked high on a Ciabatta roll with lettuce and tomato. Then it is layered with chili, cheese, death sauce, fried pickles, onion rings and spicy dipping sauce. To top it off it is served with a dill pickle spear and cheese fries topped with bacon and sour cream. The best part is, IF you finish it all in 30 minutes, it's FREE!
While visiting this area and staying at the Inn, we highly recommend stopping in Captain Bender's. If you're able to plan your stay when Steve and his culinary crew are hosting one of their Speciality Dinners you're definitely in for an incredible treat. These ticketed events feature a four course dinner paired with some of the finest local wines or spirits.
For more information about Captain Bender's Tavern, menu items and future events you can check out their Facebook Page or their Website
Directions
Walking from the Inn the tavern is just a block past the Town Square on the left. Driving, Captain Bender's is along Main Street or MD Route 34. Parking is available along the street or in a parking lot off N. Mechanic Street. (Click here for Google Maps)
Captain Benders Tavern
111 E. Main Street
Sharpsburg, Maryland
Weekly Events & Specials
On Saturday nights you can stay out for LIVE music or karaoke at Bender's and if you plan to take a ghost tour with the Sharpsburg Civil War Ghost Tours, your tour begins and ends  at the tavern.
Monday night – Flagship Trivia
Tuesday night  – Crab Cake Dinner: 5 oz Lump Crab Cake served with choice of 2 sides.
Wednesday night – AYCE Wings and Narragansett drafts or Baltimore Martini's
Friday night – Prime Rib Dinner Special
Saturday night – dinner specials
Sunday all day – Build your burger