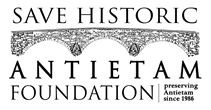 Save Historic Antietam Foundation, or SHAF, is a nonprofit organization that was created in 1986 when there was a threat of development which would destroy the scenic and historic significance of the area.  Since that time, SHAF has been working to promote the preservation and restoration of the scenic area in and around the Antietam Battlefield.
There are still some remaining properties that are very significant to the Battle of Antietam and the Maryland Campaign.  With the ever rising cost of land and battlefield restoration, we wanted to help.  So, one of the first things we established upon taking over the Inn was a donation fund directly for SHAF.   Throughout the year the proceeds from the sale of our Antietam Battlefield postcards in our gift shop went directly to SHAF along with any guest donations.  This was a great start, but that alone just wasn't enough. After much brainstorming we decided that during our annual Civil War Summer Lecture Series we would hold a raffle.
This year proved to be a great success.  On the last Wednesday of this year's lecture series, Rev. John Schildt drew the names of our five lucky winners.  Prizes include a framed print of the Battle of South Mountain, SHAF polo shirts, breakfast for two at the Inn, a SHAF hat & t-shirt, and a dozen homemade scones.  But more importantly we were able to raise $500 for the Save Historic Antietam Foundation!
We would like to thank all the outstanding guest speakers who have volunteered their time to provide  great, informative presentations.  Special thank you to Rev. Delancy Catlett and the Christ Reformed Church for being able to use the church in case of inclement weather (and this year we were there often). Finally, THANK YOU to our guests and all the faithful attendees of the lectures.  Without you and your donations none of this would be possible.  To date, we have raised over $1000 for SHAF!
We look forward to seeing you next summer for another year of new and exciting Civil War Lectures!