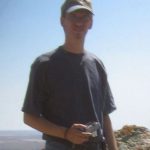 Matt Borders is a 2004 graduate of Michigan State University with a BA in US History and a double cognate in Museum Studies and Historic Preservation. While at MSU he was first an intern and then a seasonal for the National Park Service at Antietam National Battlefield. Following his undergrad he immediately went to Eastern Michigan University for his MS in Historic Preservation, with a focus in Battlefield Interpretation, which he earned in 2006. While at Eastern, Matt again worked at Antietam as a Seasonal Ranger.
Upon graduation he taught for a year at Kalamazoo Valley Community College before accepting a contractor position with the National Park Service's American Battlefield Protection Program. Moving to Maryland in 2007 with his wife Kira, Matt worked as a contract historian for the ABPP for the next four years, personally surveying over 100 different American Civil War battlefields in the deep south and western United States. In 2011 he became a term employee of the ABPP and continued with his work as the program historian as well as additional duties related to the program's preservation grants until 2013. Over this period Matt also became involved with the Frederick County Historical Society as one of the developers of the Frederick City Civil War Walking Tours, a member of the Frederick County Civil War Roundtable and as a volunteer and Certified Battlefield Guide for Antietam National Battlefield.
Currently Matt works as the Assistant Unit Manager and historian for the Antietam and Monocacy Museum Stores. He continues to volunteer regularly, as well as give tours of Antietam, and is currently working on his first book.
On Wednesday, August 23rd, Matt  will present his Summer Lecture Series talk – "From Dred Scott to Secession".  Matt's presentation will be on the turbulent years leading up to the American Civil War. We'll be looking closely at the period from the infamous Dred Scott Decision to the Secession Crisis. What were the issues of the day, who were the major players? What do the writings and speeches of the period tell us about the coming of America's most defining event and what caused it to happen? We will be looking at all of this and it is hoped that you will come away with new information and perhaps new insight into this dramatic era in our nation's history.
Come join leading historians and Antietam Battlefield Guides as they discuss intriguing topics of the Maryland Campaign of 1862 and the Civil War during our Civil War Summer Lecture Series.
These Wednesday evening programs are free and open to the public. They will be held outdoors on the grounds of the Jacob Rohrbach Inn at 7:oo p.m. Feel free to bring a chair or blanket to sit around the event tent. In case of inclement weather talks will be held at the Sharpsburg Christ Reformed United Church of Christ on Main Street. Parking is available on Main and Hall Streets. Check our Facebook page for updates.