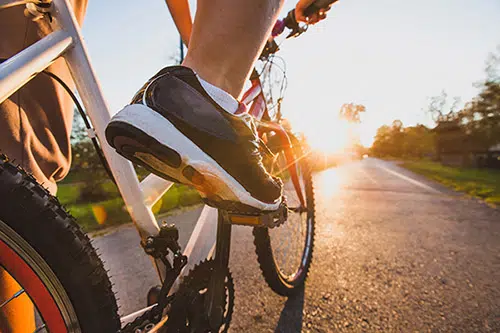 Welcome Cyclists and Hikers, The Jacob Rohrbach Inn is located just off the C&O Canal Towpath, and is the ideal base-camp while exploring Maryland.
Eastbound we are 1.5 miles from Snyder's Landing – mile 76.6 Westbound we are 3 miles from Antietam Aqueduct – mile 69.4 Just a short ride into town via quiet country roads or call for pickup! Check current towpath information and closures here.
Traveling along the canal, a highlight of your journey is the Antietam area near the halfway mark. The Antietam Battlefield preserves the hallowed ground at Sharpsburg, a tribute to our nation and an appropriate way to honor those who fought here on September 17, 1862 when over 23,000 men fell in battle, the bloodiest day in American history.
In the 1830's the C&O canal was completed from Georgetown to Sharpsburg, and many Sharpsburg residents went to work for the canal company or operated canal boats. Snyders Landing at Sharpsburg had a warehouse and a tie-up where cargo was loaded and boats were wintered. On the towpath just downstream from Snyders Landing are several caves in the cliffs lining the river. In 1862 some Sharpsburg residents took shelter in Killiansburg Cave during the battle.
Captain Augustus Hebb and his family operated a canal boat from Sharpsburg for many years. In 1944, one of his children purchased the home now known as the Jacob Rohrbach Inn. In 1992, Ted Hebb, recalled his boyhood experiences growing up on the canal in a National Park Service interview. Today the canal towpath, where mule skinners once coaxed the boats along, is a 184 mile hiking/biking trail from Washington, DC to Cumberland, Maryland. A new trail, the Great Allegheny Passage, now allows continued travel through the Allegheny Mountains from Cumberland to Pittsburgh. For other accommodations along your route see BBBiking.com, a guide to bike-friendly bed & breakfast inns.

At Antietam's Jacob Rohrbach Inn you will find:
A warm welcome for the weary
Complimentary beverages and homemade cookies
Hearty full breakfasts included each day
Beautiful quiet accommodations
An area to clean and service your bikes
Your bikes securely locked in our garage
Restaurants, taverns, deli, ice cream parlor, bakery and convenience store within a few blocks
Available laundry service
Pick up/drop off service for Canal points between Williamsport and Harpers Ferry