Innkeepers
Meet the Antietam B&B Innkeepers of Jacob Rohrbach Inn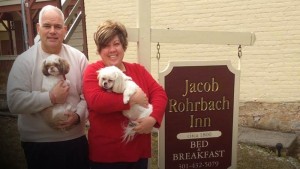 We are pleased to introduce ourselves as the new owners of the Jacob Rohrbach Inn. Our goal is to provide personalized service and attention to detail while offering amenities that exceed the expectations of both new and returning guests at our Antietam B&B located at the Battlefield in Sharpsburg, Maryland.
Over the years we often discussed the idea of owning a Bed & Breakfast near a Civil War site. After moving to Maryland in 2006, we fell in love with Sharpsburg and the Antietam National Battlefield. Our idea became reality in February of 2015 with the purchase of the Inn.
Before becoming innkeepers of this historic Antietam B&B, Chris worked as a defense contractor after retiring from the United States Army. Chris holds a master's degree in Military History, volunteers as a Battlefield Ambassador and is a licensed Battlefield Guide at Antietam. Amy is a RN and continues to work  as an Emergency Room Nurse. When at the Inn you'll often find her in the kitchen trying new recipes or outside taking care of the gardens.
Chris and Amy both hail from the small town of Benton in Columbia County, Pennsylvania. They are the proud parents of two Eagle Scouts – Joshua, who is a graduate student at Arizona State University, and Jacob, who is currently serving in the United States Navy.
Adding to the friendly atmosphere at the Jacob Rohrbach Inn is a pair of Shih Tzu's: Zoey and Maya. Zoey and Maya spend most of their time in the owner's quarters or in the kitchen. They are always excited to greet our guests and love extra attention.