August 4, 2020 by jacobrohrbach
As we close out the Dog Days of Summer and start dreaming of the cool weather of Fall, here's a perfect breakfast or brunch dish to get you in that Autumn mindset.

Baked oatmeal is a traditional and comforting Amish breakfast dish . Unlike regular oatmeal, which is made on the stove-top and has a porridge-like consistency, baked oatmeal is made in the oven and has a consistency similar to bread pudding.
These recipe makes six servings and here are the ingredients you will need:
• 2 cups old-fashioned rolled oats (not instant) 
• ¾ cup light brown sugar 
• 1 cup walnuts or pecans, divided
• ½ cup raisins 
• 1 teaspoon baking powder 
• 2 teaspoons cinnamon 
• ½ teaspoon salt 
• 2 eggs 
• 2 cups milk
• 1 teaspoon Vanilla extract
• 4 Tablespoons unsalted butter, melted, plus more for dish 
• 2 tart yet sweet baking apples, like Honey Crisp, peeled and cut into ½-inch chunks (about 2 cups)
Preheat the oven to 325°F. Grease an 8 or 9-inch baking dish with butter (we use individual ramekins).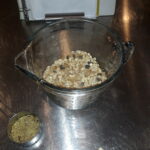 In a medium bowl, combine the oats, brown sugar, ½ cup of the nuts, raisins, baking powder, cinnamon and salt. Mix well.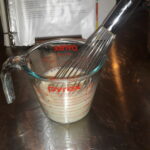 In another bowl, break up the eggs; then whisk in the milk and vanilla until well combined.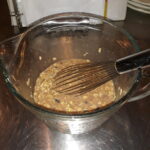 Add the milk mixture to the oat mixture, along with the melted butter.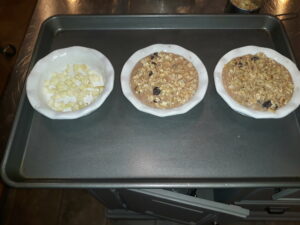 Scatter the apples evenly on the bottom of the prepared baking dish. Pour the oatmeal mixture over top and spread evenly. Sprinkle remaining ½ cup nuts on top. Bake for 40-45 minutes, until the top is golden and the oats are set.
Serve warm or at room temperature. Dust with powdered sugar.
Try our Amish Style Baked Oatmeal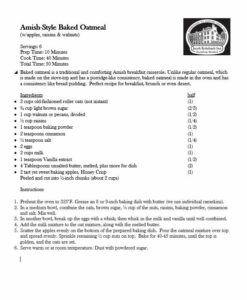 November 3, 2018 by jacobrohrbach
Our favorite time of year at the Inn is Fall.  Not only are the leaves changing colors but the cooler temperatures bring out some of our favorite recipes.  One of those fall favorites is our Apple Cider Scones.  The best part is they are made with apples and cider from a local cidery – Distillery Lane Ciderworks in Burkittsville.
Apple Cider Scones  – serves 8
You will need:
6 TB butter (3/4 stick)
1/8 C buttermilk
6 TB of apple cider
1 bag of Original or Oatmeal Recipe mix
1/4 C  raisins or dried apples
1/2 tsp cinnamon
Cinnamon Butter
1/2 C butter, softened
1/2 – 2/3 C powdered sugar
1 tsp cinnamon
Place 1/2 tsp vanilla in measuring cup. Add 6 TBs of apple cider and enough buttermilk to equal 1/2 C. Keep chilled until ready for use.
Pour contents of bag into mixing bowl.  Add 1/2 tsp of  cinnamon. Cut in 6T chilled butter until mixture is fine and crumbly.
Add raisins or dried apples (diced) to mixture and stir to distribute.
Stir in buttermilk/cider blend. Dough will form a soft ball. Turn dough out onto floured board, and turn gently 3-4 times to lightly coat the ball with flour. (If needed, 1 – 2 TB of extra buttermilk may be added to obtain proper dough consistency.)
Pat out the ball of dough into a flattened circle, 6-7" in diameter, approximately 3/4- 1" thick.
Using a sharp knife, cut circle into eighths.
At this point you may freeze the dough to be used later.
Place scones on parchment lined cookie sheet. Bake in preheated oven at 425 degrees for 13-18 minutes (time will vary with scone size). Top should be light golden brown when done.
As the scones are baking prepare your cinnamon butter.  Combined 1/2 C butter, 1/2C powdered sugar. Then add 1 tsp cinnamon.  Add more powdered sugar if needed to taste.  Chill in refrigerator.
Lightly powder scones and serve warm with a to small scoop of cinnamon butter.
Tips:
– Butter should be really cold, the colder the better
– Treat scones like biscuits, the less you play with them the better
– Place cut scones on parchment/wax paper and freeze, then store in a plastic bag in the freezer. This allows you to remove and bake only what you need.
– Bake from frozen, no need to thaw
(Recipe adopted from our friends at Victorian House Scones)