Leave your velocipede at home and rent one of our easy to use 21-speed Trek bicycles. Explore the Antietam Battlefield, the C&O Canal National Historical Park, and the country roads of our scenic valley. Combine the Battlefield and the Canal in a loop ride, pedal to Harpers Ferry for lunch, or enjoy a shorter ride to the Snyder's Landing Caves, Killiansburg Cave, Bear Cave, or Dam No. 4. from Snyder's Landing.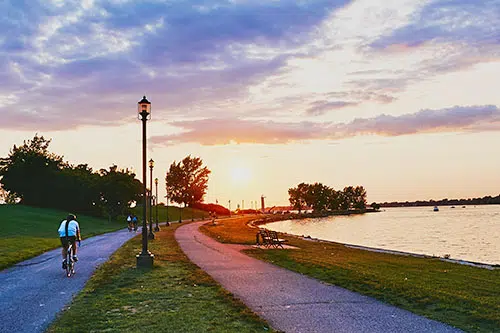 Information for those traveling by bike or foot:
The best way to experience Antietam Battlefield is by bicycle. The tour road is hilly in places but can be easily ridden by a moderately in-shape person using our capable 21 speed bikes, of course you can always walk up a hill. The battlefield loop is about 9 miles long.
The C&O Canal National Park borders Sharpsburg. This 185 mile path follows the Potomac River from Georgetown DC to Cumberland MD. Here the terrain is gentle, and along the scenic tree-lined path you will find historic ruins, cliffs and caves, and some good riverside picnic spots. Shady biking conditions make this trip a great option for those hot summer days. In the fall the trail becomes radiant with the colors of changing leaves. Via the canal, Harpers Ferry is about 12 miles each way from Sharpsburg. In Harpers Ferry there are several restaurants for lunch. For more information on hiking and biking the C&O Canal, read our detailed post here.
Our rentals are available to registered guests and include helmet, lock, water bottle, a handlebar pack, a rear rack, directions and a map.
Bike Rental Rates
Hourly: $8.00/hour (2 hour minimum)
All Day: (24 hours) $32.00
Weekly: (7 days) $130.00
To Insure Availability
Please be sure to reserve your bikes when making your room reservations.
Call: 301-432-5079 • Toll Free in U.S. and Canada: 877-839-4242